As some of you may know I provide SEO and quality content marketing services to successful real estate brokers.
One of the prerequisites to putting up great content is having a website that will support the content & reward SEO efforts.
99% of the time, this means clients need a properly functioning WordPress website.
Current real estate websites
My wife tells me that sometimes in the middle of the night I'll say something weird such as "This content management system sucks!" Yes, apparently, real estate agent's websites give me nightmares.
Why is this so difficult?!
In every single niche out there, be it legal, veterinary, real estate, etc., there is a marketing company that specializes in the niche that began with good intentions but now sucks. I have seen real estate marketing company's website solutions and they are deplorable. Real estate agents everywhere that had no website or had a website that was awful can now dance a little jig and ditch their old "real estate website marketing" company and go to Placester.
Finally, an easy to use WordPress solution for real estate brokers and agents.
Placester is great and starts at only $10/mo.
I am not a designer and I have ZERO desire to sell people websites, but, I will when I have to. What I have done for a recent broker is move him to WordPress and install iHomefinder IDX. I have been pretty happy with this IDX. For those of you that don't know, an IDX pulls in an agent's MLS listings. Finding a theme to work with it is a pain, too, although I've found that the WordPress Striking theme is extremely customizable and plays nice with iHomefinder.
For people who still need maximum control of their site and have the money get a custom site built and maintained, Placester is not for them. For many brokers, they need to check out Placester. And agents, oh my gosh. I don't know any real estate agent that couldn't benefit from Placester. If you are an agent and still do not have your own functioning website separate from the brokerage you work for, you need to check out Placester. ASAP. In other words, Placester is for 99.9% of real estate agents.
A quick review of Placester
I have not explored the back end in depth but as far as I know there are certain limitations, and that is ok. You can not install your favorite plugins or edit certain features of your Placester site like you would a normal WordPress site. Why is this good? Most people don't know how to do this in the first place, and those that do probably already have their own real estate WordPress site. Plugins conflict with other plugins. Plugins get outdated and are vulnerable to attack.
Placester lets you set up a test site for free. So, I did.
Below: Here's my test home page with a stock image.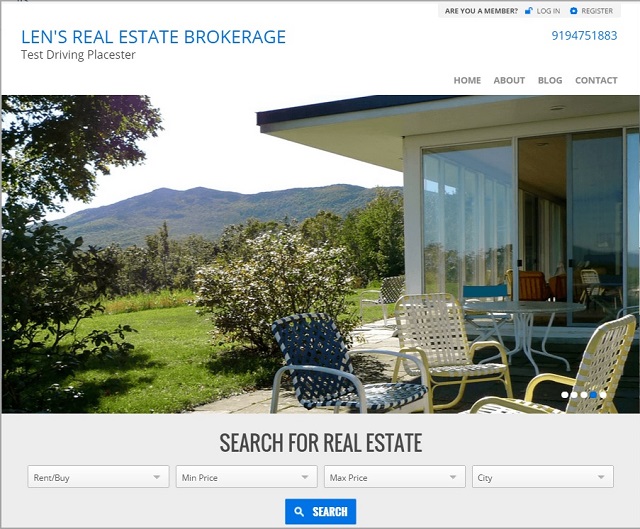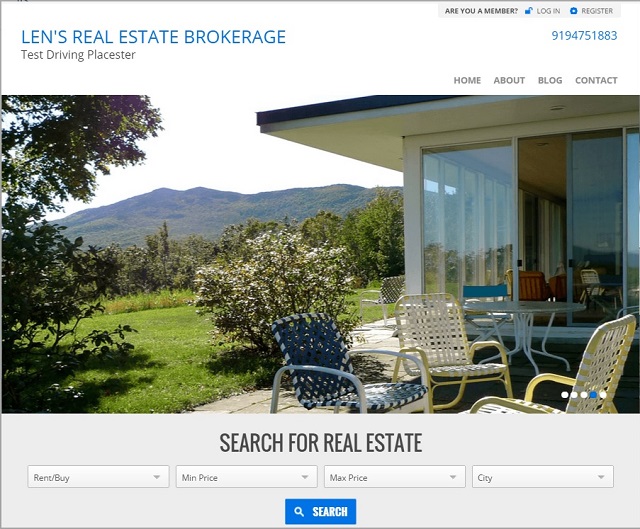 Below:  A functioning blog on the domain. Yes!! This, my friends, is what WordPress is all about; it was what WordPress started out as. A place to put CONTENT. There is no excuse to not create great content now. You have no idea how many times I have seen real estate websites with no place to add content. If you do not yet know about the wonderful world of content I'd advise you to go read up on content marketing for real estate here.)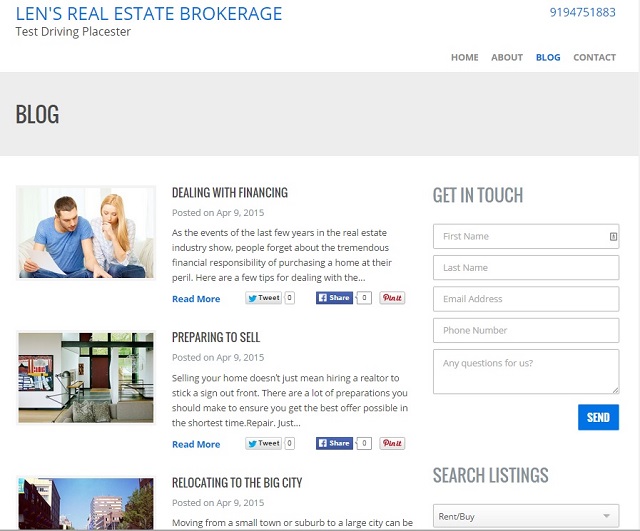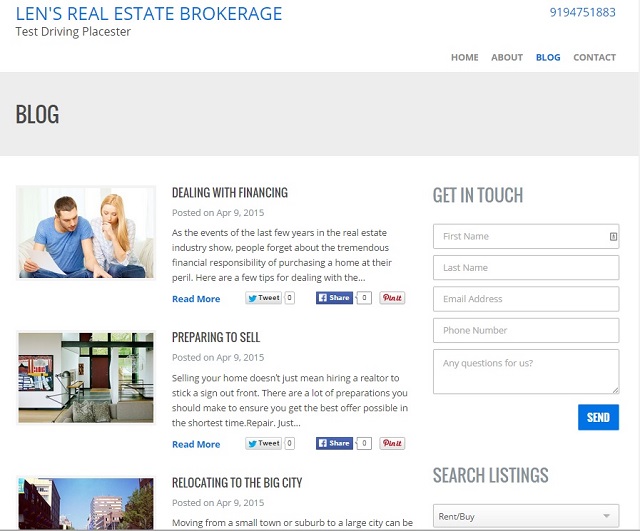 Here's my test blog post: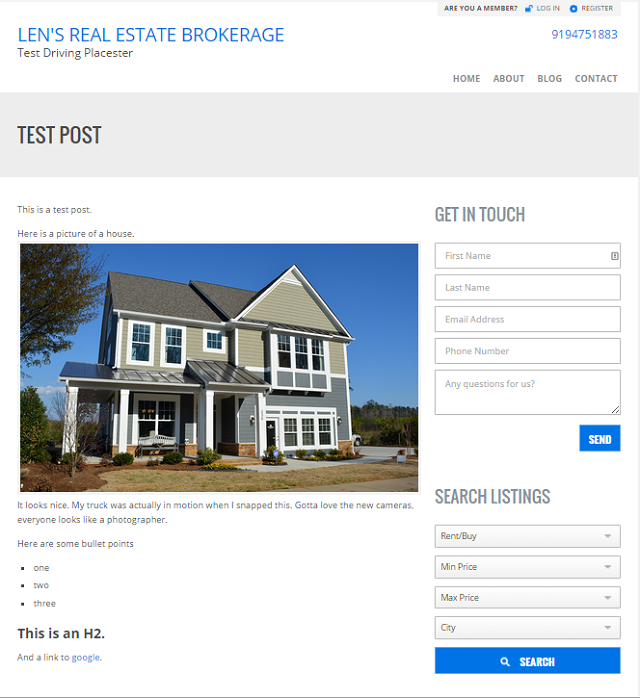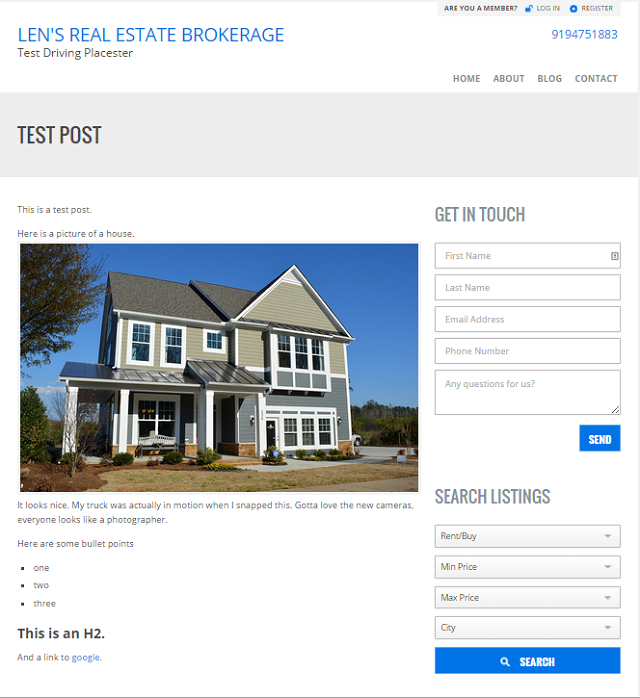 Placester VS _________:
I really don't have anything to compare Placester to. I think Placester is the future. Every niche needs Placester! I suppose if there were a comparison, the alternative would be a WordPress website.
Placester is still advancing. As of April 2015 some of Placesters features include:
Basic setup takes 10 minutes
Basic service, including IDX and hosting costs $10/mo.
All the other real estate stuff you'd expect such as lead capture, lead management
What are you waiting for?
If you are a real estate agent and don't feel like plopping down a couple thousand bucks on a WordPress site, or you do not have an existing site, go get Placester. Now. And, if you do not have an ongoing content marketing strategy, either get one or hire someone that knows what they are doing.