The weird name Telapost (tel-A-post) is (hopefully) Latin for "The future of the Web".
We work with: Law firms, Optometrists, Small & Medium businesses.
We are CEOs, Attorneys, Graphic Designers, and Content creators.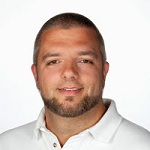 Len CEO of Telapost, SEO Copywriter, SEO Consultant

I owned an operated a brick and mortar company in Cary NC for over a decade. It started from scratch and was bought out in 2012. It was an unbelievable experience to start a company from scratch and build it. During that decade I tried every form of advertising available and nothing even came close to delivering a return on investment like having a strong Internet presence. Developing this is what led to my company's success. With Telapost, I assist other businesses in achieving their goals. Outside of work I am involved with the local schools and Boy Scouts of America. I am a professional BBQ judge, love the beach and mountains, surf fishing, gardening, and many more outdoor activities. To see Len's articles on Telapost go to his profile page.