Real Estate brokers and agents can gain more buyers and sellers online with SEO, copywriting and/or social media. Here's how.
Real Estate brokers and agents typically find SEO and online marketing complicated. There are so many people and companies trying to tell them how to do it. The truth is, every niche and city is different. Most marketers would lead you to believe real estate SEO is an extremely expensive, difficult, competitive, and mysterious niche. That is not the case at all. What does it take to make it to the top of searches that potential buyers and sellers are looking for? Content! Finding someone to provide you with SEO copywriting IS actually difficult. Finding someone who understands local search marketing, search engine optimization, how content helps a website, and real estate marketing all in one package is like trying to find a needle in a haystack. Optionally, social media can be used to amplify your message. How does this work? Read on.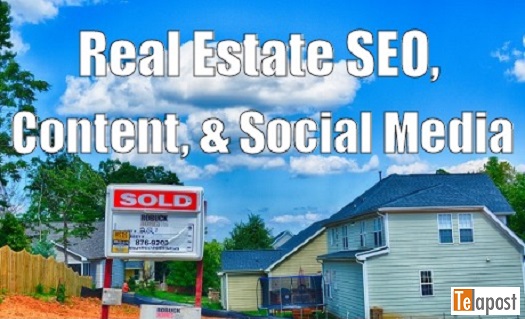 Table of Contents:
How is Real Estate SEO Copywriting and Content going to help?
One of the most important factors in ranking in search is simply the unique content on your website. Some real estate agents concentrate on one single key phrase, such as Real Estate Raleigh NC. This is a bad idea. Sure, it can be a goal, but a long term goal, and an attainable goal. However, there are just as many people searching for things like land for sale, horse farms for sale in Wake County, home in central North Carolina with a porch, basement, pool, tennis court, sauna, bidet, etc, best places to retire in Cary, things to do in Raleigh, a moving checklist, rental properties for Chinese investors, etc. (I could go on the entire day). Adding content to your site based around things people are looking for will get you a huge slice of the pie. Adding content on a regular basis makes the search engines crawl your site on a regular basis. When you consistently put up quality content that informs, educates, or entertains your audience, search engines reward your site as an authority. I personally call this a topical authority domain (check out that article for an extremely long explanation of what a TAD consists of or see this page to see a client ethically dominating Google search: The value of SEO). Once your website becomes a TAD it starts ranking like crazy for nearly everything you write about. If the search engines know you sell land in Houston Texas, you will begin to show up for all sorts of searches related to your niche, even phrases you never even targeted! At Telapost, the future of the web, we think outside the box and generate awesome content that people (and search engines) want to see, for this niche we would call it Real Estate SEO copywriting (if you'd like to read a whole lot more about content visit our content creation page).
Do you need a real estate agent to develop this content?
Some of the best content we've seen in the industry is indeed by real estate agents, however, this content is few and far between. Most brokers and agents do not have the time to create content that people and search engines want. In some cases, this content can even have a negative effect. Are they going to do it with a high level of SEO knowledge? Not usually. Can you outsource this content for generic content from the Phillipines? No. Content needs to be written in a language that potential buyers and sellers speak. Content must be natural. Grammar is important. Overusing certain key phrases is considered keyword stuffing, which is classified by Google as spam. Google wants what they call E-A-T. Human reviewers sometimes check for E-A-T so that Google's engineers can tweak future algorithm changes. E-A-T is expertise, authority, and trustworthiness. In other words, if you slap up poorly written, 400 word articles about "houses for sale in Raleigh" and blast it with text that just sounds unnatural, you risk getting penalized. There is an art and a science to SEO copywriting. We come up with some amazing resources and creative ideas here that people want to read and share. This is organic SEO and a major part of our SEO and Internet marketing packages. We also create real estate content while keeping the realtor's Code Of Ethics and Standard Of Practices in mind.
Technical (on site) SEO and Real Estate Website Design
Technical SEO is still important. While we do not design real estate websites and typically advise against a la carte solutions, we DO work with designers in the real estate field and will be happy to recommend one who will not ruin your new site and waste your time and money. If you are getting ready to redesign your website and want us to market it for you please check with us first before you hire your web designer. Even with the best designs we'll still end up going back through and adding things like Schema, authorship, editing meta descriptions, improving page speed, etc. We do have designers ready to go that will be happy to design your site in the $1,500 range. We also have designers available who will charge you $50k if you want to spend it (it happens). It doesn't matter how pretty it is if people don't see it though, right? A FEW of the many factors that we need correctly accomplished on your website include (these are not just our recommendations, these are also Google's in most cases):
A functional WordPress Blog that seamlessly integrates with the website on the root domain.
A 100% responsive theme (meaning your site will work on mobile devices correctly and provide a pleasant mobile experience).
An SEO friendly IDX. Integrated MLS listings are wonderful unless they are coded with iFrames and garbage that search engines can't read, or produce a trillion duplicate content issues for us to deal with. We can recommend an SEO friendly IDX solution for you and our approved real estate website developers use these.
Doesn't SEO change every few months?
Yes and no; Google's algorithm changes 500+ times each year. I personally get excited about these changes, especially the major changes which get named such as Panda or Penguin. This is because my strategy has changed very little over the last 15+ years. Sure, things do change- like in 2014 Google started using Schema markup from contact pages, and started integrating more of Google+ in to Google search, etc (I could go on all day long about these changes), but one thing remains the same. Quality, unique ontent and a natural backlink portfolio rules, period. I create content that people want to link to- content is created for people based around things that they are looking for. This is precisely what search engines want to deliver. If you spend your time trying to game the search engines and trick them, then sure, you should be terrified of future algorithm changes.
Real Estate Social Media:
People in the real estate industry can usually benefit from social media. This is not required, and at the moment social signals do not play a great role in the overall performance of your website's rankings. Of course, social media can assist an agent's exposure on the Internet and can be integrated in with their Internet marketing strategy. A basic presence is always good but there are times when a social media presence can be detrimental. If you are just throwing up random pictures of houses on Facebook that nobody is actually able to see (now that your Facebook page's reach is nearly 0%) that is only wasting time. We can market your business on social media or even offer coaching to your brokerage's staff members on ways they can use social media to stay in touch with potential buyers and sellers. What works for one agent may not work for another 5 miles away; your social media strategy must be unique to your area and your niche. You can have a YouTube Channel, Flipboard magazine, be active on Google Plus, you can tweet, pin, like, etc. Some agents may even have use for List.ly or RebelMouse. Social media can be used to have a small, engaged audience, a massive presence, amplify your message, or some or none of these things. There is a whole lot more to it than just slapping up a Facebook ad and waiting for the phone to ring.
We even have social media strategies for agencies with drones, remote control helicopters, and GoPro cameras providing amazing aerial footage.
We'll most likely be picking one of these up in 2014 regardless. If you'd like to read more about social media please visit our social media marketing page or better yet contact us for a custom social package.
What do I know about real estate?
I am not a real estate expert but I have no problem ranking a real estate broker's website. I know this as one of my clients is a real estate broker who has 10 agents working for him. While I am a real estate newbie compared to any agent or broker, I know more significantly about real estate than the average "SEO guru". I personally considered becoming an agent because the field just seems so ripe for the picking to me. Even in my area we have a couple of amazing agents such as Linda Craft and Marti Hampton who have a fleet of agents under them. The average agent may be scared of these "big time agents" but even they have left huge windows of opportunities for anyone who wants to take advantage of organic search and holistic SEO. They might be dominating in PPC and radio advertisement but these are probably the most ineffective places a real estate agent can advertise delivering the least return on investment. Those 2 agents have done an amazing job at marketing; I just see plenty of room for other agents. I would be happy to market for them or their competitors. Unlike other "SEO firms" in the area, I work exclusively with one niche per area. Working with someone who is not exclusive presents an enormous disadvantage to any real estate broker or agent.
I personally own investment land near the upcoming Chatham Park in Pittsboro North Carolina which I am already entertaining offers on. I am 37 and seeking to purchase my third home. I have never been an agent but have surfed through the MLS for hundreds of hours studying property values, the psychology of agent's wording on listings, commercial and residential real estate listings, horse farms, beach property, mountain land, free homes in Oklahoma and Alaska, you name it. I have an uncanny curiosity; I study which marketers are successful, how they did it, what their niche is. I have a family member who consults with brokers and comes up with strategies and incentives for their agents to sell more and have discovered interesting strategies offered by him. Before his death, I was a pen pal of Johnny "Boy" Sheffield (from Tarzan)- who was a successful real estate investor in Malibu, California. I met Johnny due to my Internet presence! Before I sold my last IT company, Johnny would ship me his laptop from a home he was working on in Chula Vista, CA all the way to Cary, NC- he saw our power on the Internet and wanted to use me specifically for this reason. He knew from our website rankings and content that we were the trusted authority. (RIP Johnny!) Johnny was an extraordinary human being!
A few of the books I have read are about flipping homes and investing, however, they have given me excellent insight into what buyers and sellers are looking for and the psychology and emotion involved. Books include:
Find It, Fix It, FLIP IT! By Michael Corbett
The No Nonsense Real Estate Investor's Kit by Thomas J. Lucier
The Pre-Foreclosure Property Investor's Kit by Thomas J. Lucier
Investing in Duplexes, Triplexes & Quads by Larry B. Loftis, Esq.
Real Estate Investment Fundamentals by Deborah Long, DREI, EdD
Flipping Houses for Dummies by Ralph R. Roberts with Joe Kraynak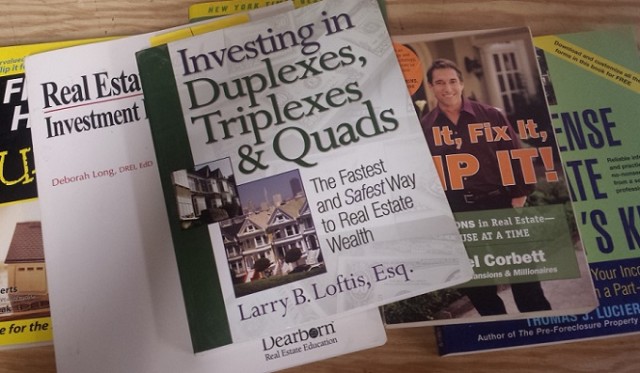 One of my favorite videos from Steven Levitt (a genius economist in my opinion) explains something here that not all listing agents may like. Regardless, the point is, I have read Levitt's amazing books, his thoughts on real estate agents, and more from his website. This particular video explains Levitt's thoughts on how some listing agents may not have a property seller's best interests in mind, and the listing agent's incentives. (This could be used on a real estate agent's site to explain just this, and how they do have the seller's best interests in mind. Posts like this build trust, just as good SEO copywriting should do, in addition to making a real estate website more authoritative):

Buyer's agents, seller's agents, dual agents, brokers, both commercial and residential, can benefit from content like this.
Want to list or sell more homes now?
Well, what are you waiting for? Give us a call or send an email over.