On December 16, 2021, Google announced that they completed an algorithm update which impacted local search results, also known as the "local pack" results. The algorithm change occurred between November 30 and December 8, 2021.
What did the Local Pack Algorithm Update change?
Google announced that the algorithm update "involved a re-balancing of various factors we consider in generating local search results".
Google advised business owners with questions about ranking in the Local Pack to review their page about improving local rankings. Of course, Google's page is very vague, mostly telling readers that their algorithm measures relevance, distance and prominence. (Don't worry, we'll cover local search ranking factors in a moment.)
From our observations, Google basically twisted the dials of their primary ranking factors determining which business is the most relevant to display. That said, a few specific changes we noticed:
Keywords in the business name are less important
Google could have adjusted the distance factor for certain business types
The December 2021 Google Local Pack Algorithm Update did not change organic results.
Local Pack Ranking Factors
In the vast majority of cases, business owners can expect to rank in the local pack based on a handful of factors. The most important factors are:
Organic. In general, businesses that rank well in organic search results have a better shot at ranking in local search results.
Distance. User proximity is a ranking factor, and the local pack changes based on a user's location.
Reviews. Overall rating score, review quantity, and recent reviews play some sort of role. In short, you should get good reviews now & forever into the future. At the very least, you'll look good in the Local Pack if/when you display there.
Business name. Keywords in the title of the business name have clearly been a factor for many many years.
Bizarre changes?
While we focus on personal injury law firms here, we've seen a wide variety of business types appear and disappear in & out of the local pack with this algorithm update.
Lesser known businesses have finally made it to the local pack, based on a user's distance to the business. I think this is good and should be more fluid.
Some law firms which have enjoyed Local Pack rankings for several years have been pushed down in the Local Pack, however it is not clear if this is due to their name, the distance of the user, or their organic rankings slipping.
Here's an example of a Milwaukee personal injury attorney who has lost some visibility in the latest update. The circles represent his ranking position in the Local Pack based on a user's GPS coordinates. As you can see, they still rank well miles away from their location, even though they may not rank in the 3 pack nearby. It's strange.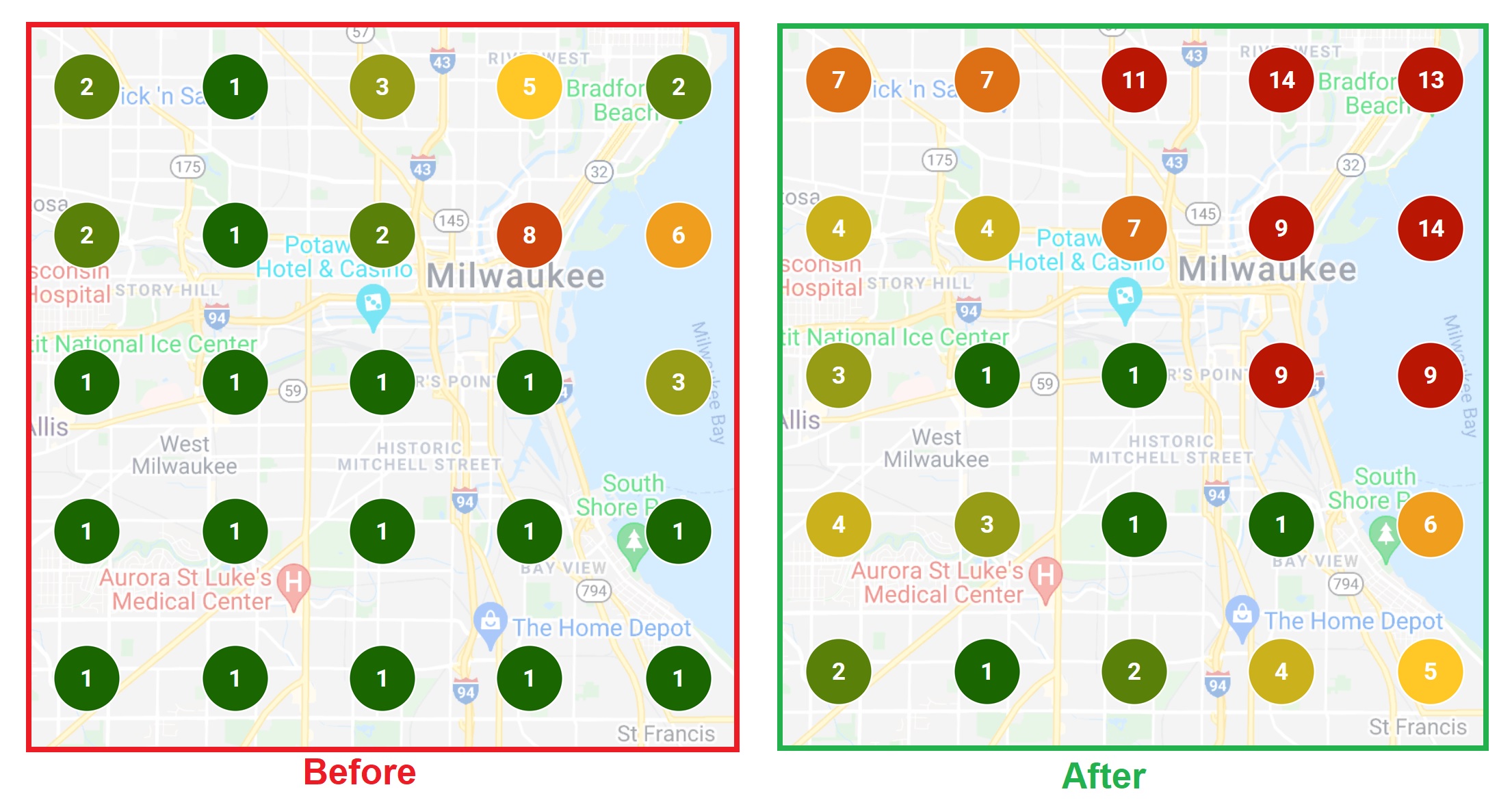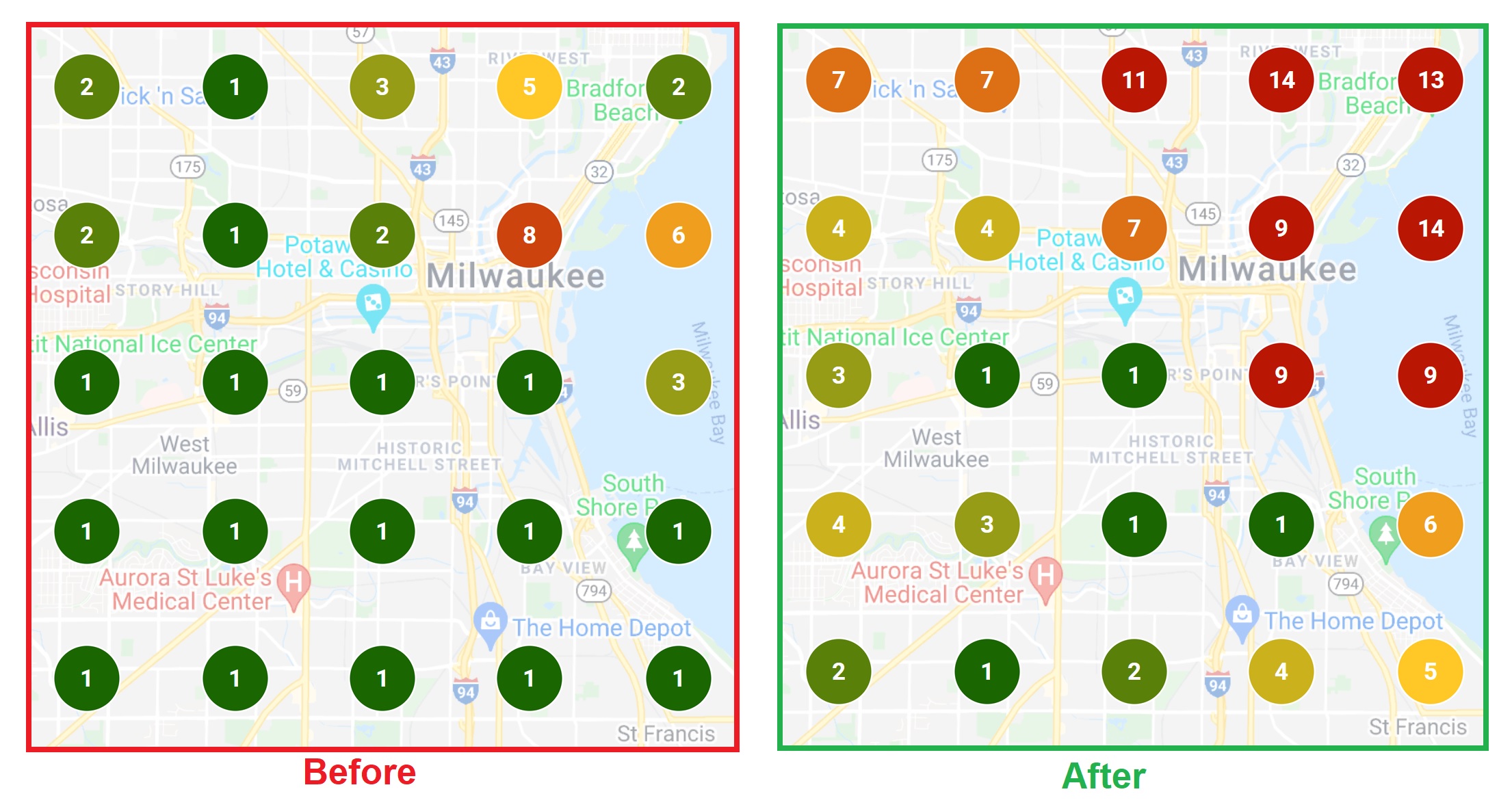 Google Local Pack Layout Update December 9, 2021:
On December 9, 2021, Google changed the layout of the Local Pack on desktop.
We have been documenting Google's test of this change since July 2021.
Here's a before and after of what the local pack looks like:


Did you Lose rankings in the Google Local Pack?
If you lost rankings in the Local Pack, all hope is not lost. To regain the most visibility possible, make sure that you are:
Ranking well organically
Getting as many positive reviews as possible
Make sure your Google My Business profile is filled out 100% with as many pictures as possible and monitor it for changes.
If you lost visibility during The December 2021 Google Local Pack Algorithm Update contact us today and we'll take a look at what you've got going on.