Webmasters who are using Google Webmaster Tools (WMT) and have a website that doesn't work good on a mobile device (like a cell phone) have been receiving a warning message from the Google Webmaster Tools Team telling them to fix "mobile usability issues".
There is a looming algorithm change which will take place on April 21, 2015 which will affect mobile search. For more information on this please see my article Rankings drop for non mobile friendly websites April 21, 2015.
If you are not using WMT, start! For the moment, you can test your site here: Is my website mobile friendly?
What the warning message looks like: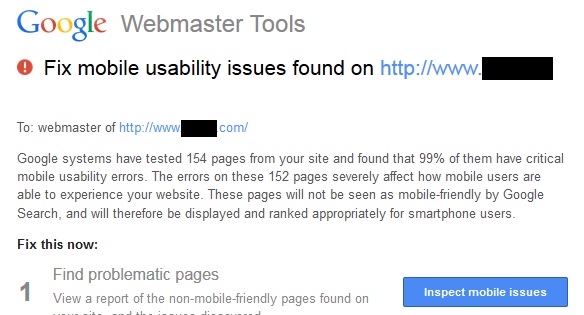 The message reads:
From: Google Webmaster Tools Team <wmx-noreply@google.com>
Subject: Fix mobile usability issues found on http://website.com/
To: webmaster of http://website.com/
Fix mobile usability issues found on http://website.com/
Google systems have tested 29 pages from your site and found that 100% of them have critical mobile usability errors. The errors on these 29 pages severely affect how mobile users are able to experience your website. These pages will not be seen as mobile-friendly by Google Search, and will therefore be displayed and ranked appropriately for smartphone users.
Then over in Google WMT the error looks like this:

How To Fix these mobile usability issues
Google has put in place a confusing page on multi-device layouts. What they're trying to say is that your site sucks and we don't want to send people to it unless it works on everything. This is because about half of your traffic likely comes from a cell phone, not a desktop computer. A "responsive" design cures this problem. To see it in action just make the window you are reading right now very narrow & you will see the page's content shuffle itself around. That is a responsive design. Welcome to 2012. 😉 Further explanation on how to fix this is here:
Static sites: The vast majority of small business owners have a static site (a 5 page site they can't edit) or they are running WordPress. If you have a static site, stop doing that, you have absolutely no idea how much cash you're leaving on the table by not creating content! (WordPress makes this easy). If you need a rapidly deployed responsive WordPress site check out my 48hr WordPress website solution. I am no designer though, if you need one, feel free to email me and I can put you in touch with one.
WordPress sites: If you are using WordPress, the good news is that a theme change will fix all of your problems. The bad news is, sometimes changing themes creates problems, it depends on how your site was customized, how your widgets are configured, and if you have custom pages, etc. Select a responsive theme.
eCommerce and other sites: Many sites, such as BigCommerce, allow you to change the skin fairly easily. If you had custom CSS or HTML you will need to contact your designer once you get moved over to a responsive skin.