On Sunday December 13, 2015 Snapchat featured a story following the annual SantaCon taking place this year throughout the streets of NYC, celebrating the 21st year!
The Snapchat story was titled "SantaCon in NYC" and began the entertaining feed with a fun geofilter of different dancing Santas and a statement that said, "Thousands of Santas are coming to town! Suit up and join us at this annual Santa Claus invasion of New York City." The excitement of the day was evident from the get-go where Snapchat viewers could get a glimpse at the seriously red covered streets of NYC.
Other geofilters throughout the story gave little blurbs about the event including the following…
"SANTACON'S START: An urban adventure club takes credit for throwing the first SantaCon in San Francisco in 1994."
"SANTA'S CODE: A Santa should address all other SantaCon participants as 'Santa'."
"SELFLESS SANTA: In the past three years, SantaCon has raised over $150,000 for charitable causes."
The colorful and vibrant event was filled with jolly Santas making friends with fellow Santas, one Santa even doing pull-ups (shown below) in preparation for the day, and a man dressed as Buddy from the popular holiday movie 'Elf' jumping from one crosswalk line to the next as Will Ferrel does in the movie.
Although we would like to believe all of the Santas that participated in the event that day were on the Nice List, some certain occurrences throughout the day seemed to prove otherwise. The New York Daily News reported that in fact police arrested a total of 5 Santas and handed out summons to another 100. From open containers and public urination to drugs and weapons, it seems these particular Santas need to get their act together before the big day.
9 days and counting until Christmas Eve!
If you missed it, the following pictures are screenshots of the story…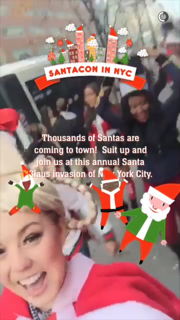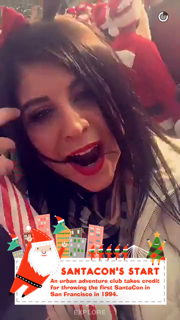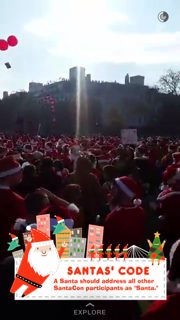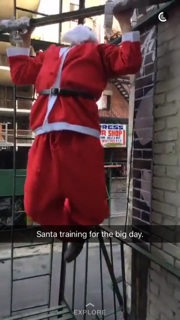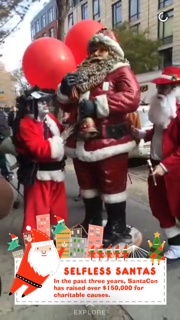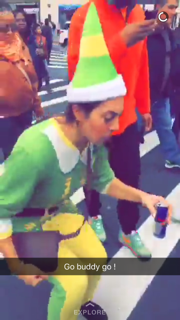 Latest posts by Megan Collier
(see all)