Today we're going to take a look at HVAC companies and Air Conditioning Repair businesses in Cary North Carolina.
A little about Cary, North Carolina:
I know Cary very well as I lived there for several years and my last business was/is there, right on Cary Parkway. Signage in the City of Cary is very limited, and exposure on the Internet is everything. Cary was also named Google's 2013 eCity, meaning that the businesses and users there are very well versed in technology. Businesses here rely on being found in search. Feel free to read more about this in our Cary SEO article.
On to the HVAC SEO Analysis: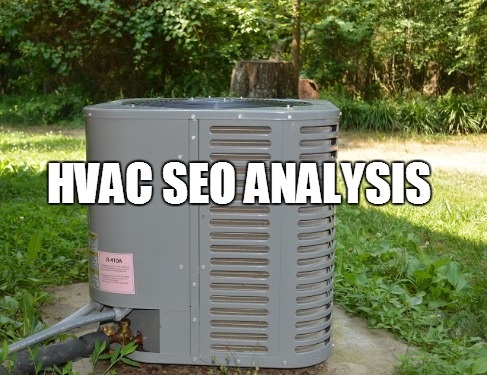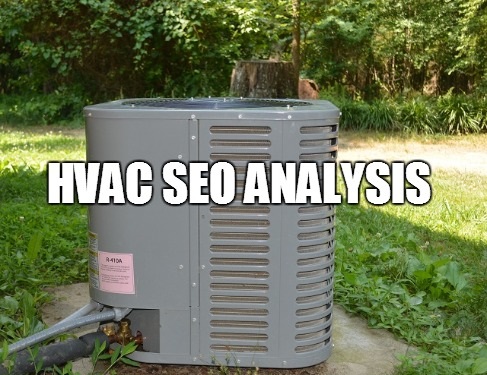 Air Conditioning repair is competitive but with the right budget or determination getting your slice of the pie is absolutely an option in this niche. Having already completely dominated (yes, really, examples coming soon) this market in multiple niches I can tell you first hand precisely what you'll need to do.
Let's take a look at the SERP (Search Engine Results Page):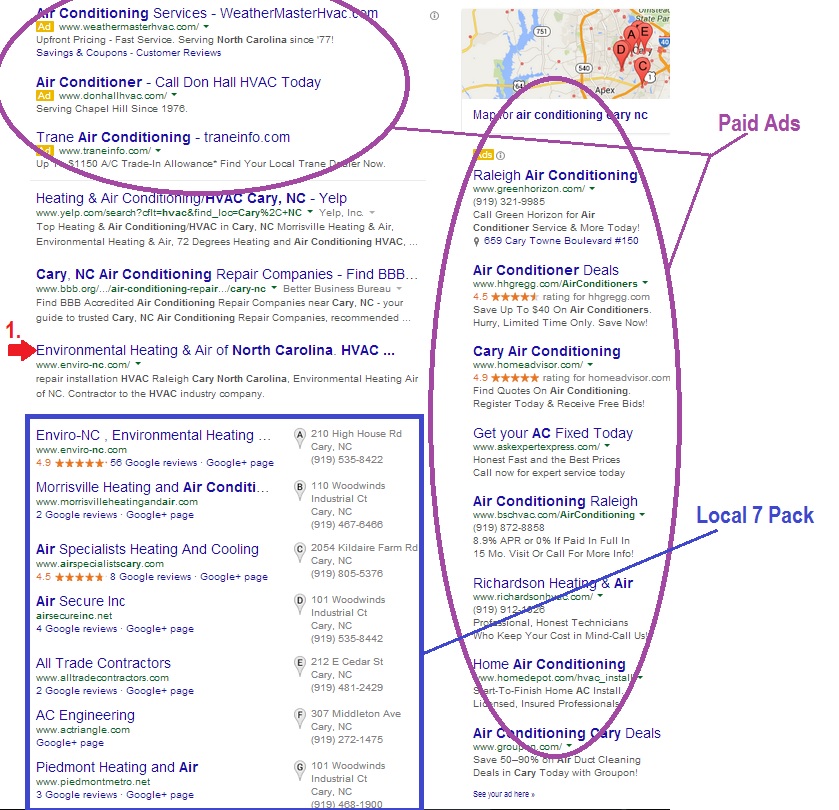 Ok, so first of all we see the paid ads / Adwords PPC ads, which many people skim right past. Plenty of people click them, but organic results are significantly better to have, 500% – 900% in many cases.
Next let's look at the local 7 pack, or Google Places listings. Many people will insist that reviews do not matter in local results, but if you look around online you'll notice that there is always at least one business performing really well, and they have a lot of reviews. Anyways, Enviro-nc.com is the clear winner here. They're on top and they several reviews, many of which are fresh. If you hover over their listing you'll see that they've supplied Google with pictures as well and given Google all of the information they can about their business. Their Google+ Page isn't currently in use but it is claimed and verified, giving them a little more real estate on the front page. Well done!
Now lets take a look at the organic results. You'll see a #1 beside enviro-nc.com's. Aside from Yelp and the BBB, this domain has the top spot in search. Combined with their local listing, they have got to be killing it. It would not surprise me at all if this company were getting 2,000% more telephone calls than the competitors. (Yes, it is that important.) They have a lot of great content on their site, and they also run this interactive Blogspot blog environc.blogspot.com which links back to their site. As long as they keep putting out fresh, unique content they're going to be on top for the foreseeable future.
Here is the rest of the SERP: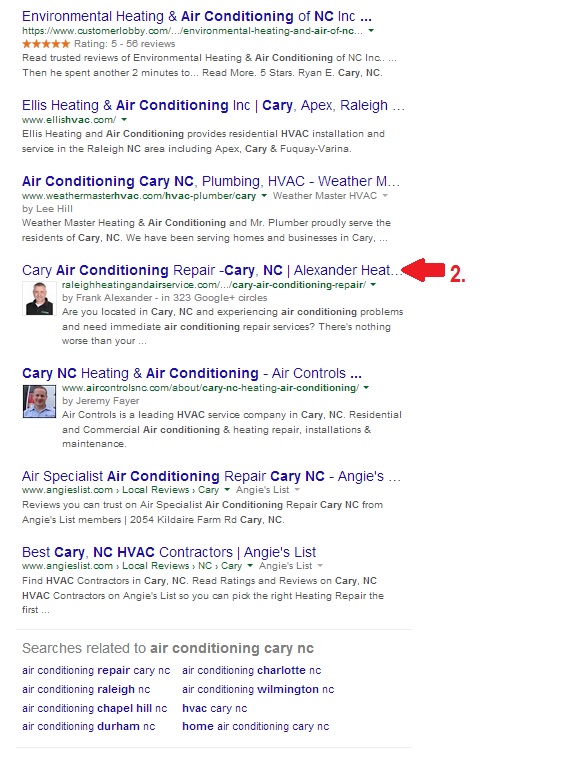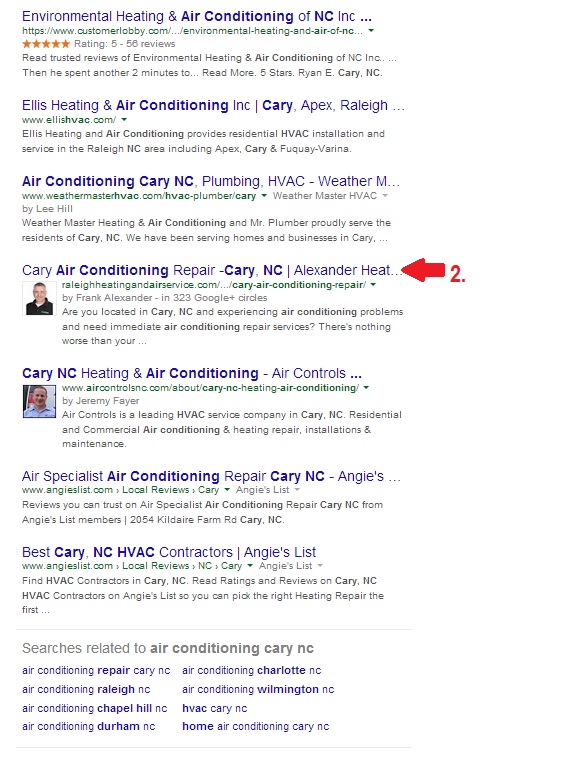 Ok, RaleighHeatingAndAirService.com with the #2 arrow) is doing pretty good. They're not actually located in Cary so they are not in the 7 pack above. This site has been holding steady for a while. It has some content going up onto it from time to time. The page is also active on Google+ and YouTube as well. Authorship is installed (and working), likely giving them a decent clickthrough rate. They are doing a good job.
I won't name names but somewhere on page 1 or 2 is a company that has hired one of the larger design firms (or SEO firms as they call themselves) in Raleigh and their site is temporarily ranking due to spam back links. I am tracking this site for my own knowledge to see how long it takes to be be penalized and disappear from search. I've tracked hundreds of websites like this and I guarantee you that it is only a matter of time before they get caught for their undesirable behavior. If you'd like to know more about how many SEO companies screw you read my article on Q&A with one of the top SEO salesmen in the US.
So, how do you rank YOUR Air Conditioning repair company?
In this case you would need a fast loading, responsive, WordPress site, with fresh and original content going up onto it on a regular basis. I can't even imagine all of the unique things witnessed daily by an HVAC repair person (content GOLD!). Pictures of these things can lead to great content. Any HVAC company in the country can get their site ranked, and above is the SEO formula for it. As for Cary, given the current SEO and content conditions, I'm going to go ahead and say that a site could rank on the first page in around 3-6 months at the most. In this case, backlinks will play a role but not a gigantic ongoing campaign- just getting the business properly listed in the major search engines and respected directories and building out on a social platform such as Google+ would due. HVAC repair companies in more competitive niches may need a slightly more aggressive approach but just starting with the above is going to put you far ahead of the competition. In nearly every niche I look at, the front page results are just sitting there for the taking.
WordPress isn't too hard to use, and anyone can create content. However, sometimes these things are left best in the hands of a professional, just as I could probably install my own Air Conditioner, but it is probably illegal for me to even try (and that might be a good thing). If you need assistance ranking HVAC or any other niche in Cary North Carolina or any other city feel free to contact me here or visit my SEO page or content page.