I'm asked all the time by small business owners: How effective is Facebook advertising is and should I be using it?
Things are sure to change as time goes on. At this point in time, March 2014, Facebook works for some businesses and not for others. Compared with online ratings, search marketing, Google+ marketing and Twitter, many marketers agree that Facebook marketing provides the least value.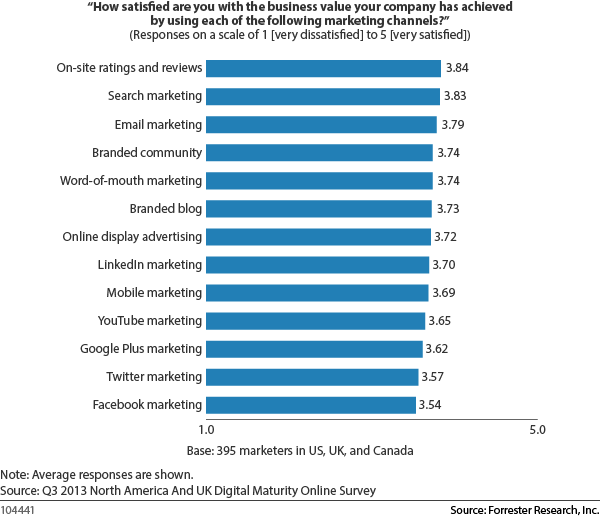 I have experimented with boosting Facebook posts quite a bit this year. I've managed to spend $2000 there lately running experiments just for my own knowledge, and I can tell you that things have become quite a bit more complicated than just putting up an advertisement and boosting the post. Just yesterday I set up a very targeted advertisement (Note that you can either point your ads at your followers and their friends or at a targeted audience). This particular business page doesn't have many fans so I was basically forced to target an audience. The business does very well selling it's products and services at home improvement shows and is a profitable company. They'll be at a home show all weekend so I decided to promote/boost one of their posts to see how it would do. This post explained that they would be at the home show and contained a link to their website. I targeted their main demographic (which is retired people) and selected the city where the home show is located (let's call it Raleigh NC). I ran the ad and it obtained 1,825 impressions resulting in 3 likes, no new followers, and 3 clicks, meaning 3 people clicked through to the company website. My budget for this ad was $15. None of the people called. Did they bookmark the site? Will they go to the home show? I'm not sure, but that would be the very best case scenario. Below is a screenshot of the results: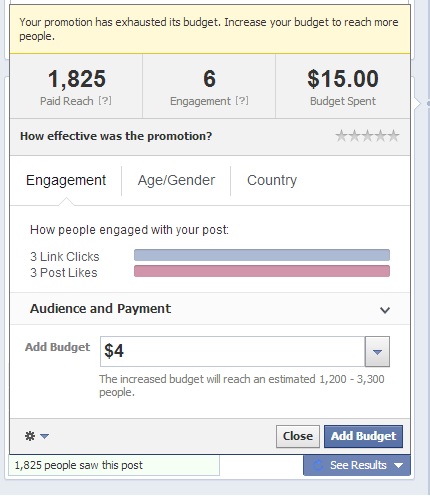 Without paying to boost your ad, most of your fans are not seeing what you're putting out there. Facebook reach is approaching 0%. This means to reach your followers you have to pay Facebook: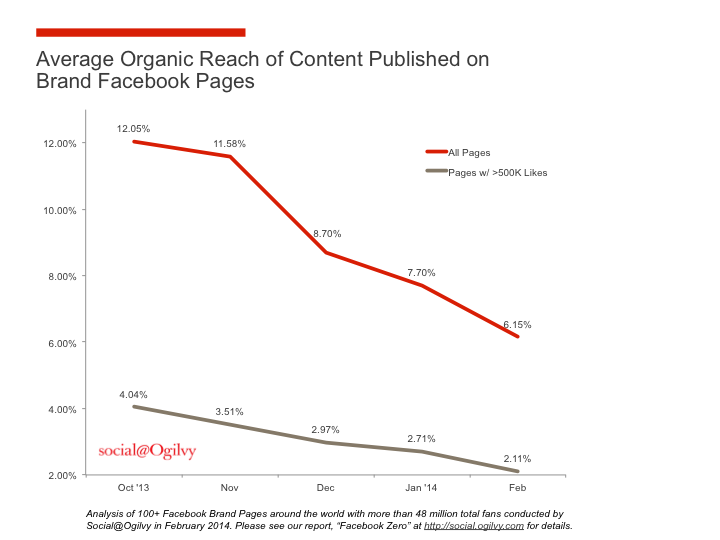 If you don't have followers, trying to reach new ones is going to be very difficult.
If someone has the budget, yes, it can be done.
So, is Facebook advertising effective? There is no good yes or no answer. It depends on what type of business you have, where you're located, if you already have a following or not, and if you're willing to pay to grow a following, pay to reach the following, and pay to advertise. Also, what works for a dentist in one city will not work for a dentist another city.
The ability to target people is great. The ability to influence what fan's friends see is great. There are a ton of people on Facebook. But even with an audience, selling on Facebook is tough simply because people do not visit Facebook to buy things. Using it for brand awareness is helpful but the ROI can be difficult or impossible to get for small business owners.
Creating content is what ranks websites in search and continues to be the most cost effective way of reaching people, hands down. In the case above, a PPC campaign with a $15 budget would have easily reached 300% more people than the Facebook advertisement. I know, because I create content for this company and I also manage their PPC campaign.
So, is Facebook advertising effective? It varies case to case. Without a decent budget and a long term strategy in place, it can be useless. In this particular case, Facebook advertising was absolutely a waste of money.