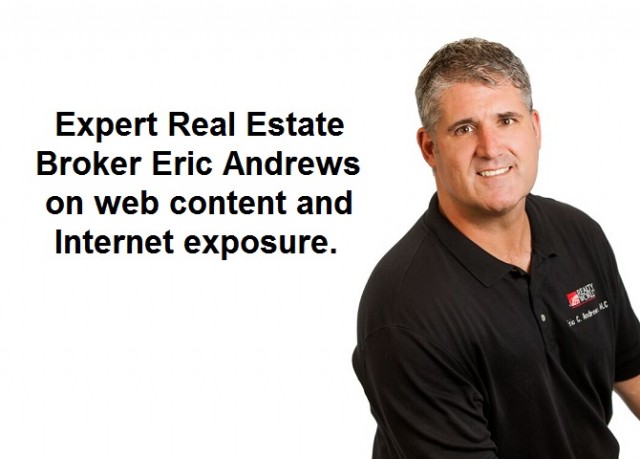 Eric Andrews is a very successful real estate broker. Approximately 1 year ago he added a blog to his website and has been adding videos to his YouTube channel regularly. He has now reached a new milestone of having over 100 active listings. Telephone calls and emails are a daily occurrence as a direct result of creating content.
In the real estate world, what has paid off for Eric Andrews is "being everywhere". Thanks to content, people find him in Google search, and thanks to video, people find him in Google search. But, people also find him via websites such as Trulia, Loopnet, and Realtor.com. It is interesting; in many niches people see you in Google search and call immediately. With real estate, people may need to bump into your name a few times before making a call. This is especially true for potential sellers who are impressed with the massive amount of exposure.
As for search, Eric expresses the importance of being on page #1. Individual blog articles which are unique always rank on page 1, and Eric also ranks on page 1 for many important key phrases.
Here is Eric Andrews doing a short interview with me discussing ways real estate brokers can get more exposure online:
As you can see in the video above, the more listings, the more exposure one can get online. Of course, having 100+ listings is not for everyone. Eric has in place white hat SEO, a real estate copywriter, and on his in house team a paralegal, transaction coordinator, and a buyer's agent, in addition to other people in the field who assist.
If you enjoyed that you may also like this video which discusses how websites are affecting how homes are marketed online:
Related pages: