On Memorial Day, May 28, 2018, Google rolled out "interesting finds" in mobile search results. A second feature they are testing is "videos" in a carousel style format.
There's nothing new about videos being in organic search results, but the videos section is scrollable (left to right) as a block in the organic listings ( a video carousel).
Here's a video result for "Los Angeles Crash":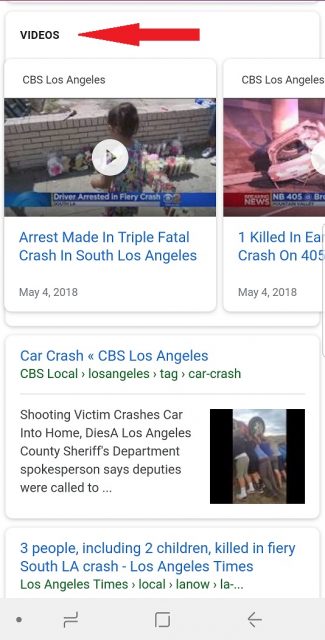 Videos appearing in local search
In some instances, when a local search query is made, the videos section is displaying underneath the local pack (and above the organic results)! These results are few and far between and it could be the case that the video box is not triggered unless enough videos are present.
Does that mean creating a dozen videos about "Dentist in Charlotte NC" will help produce the video pack? At this point, we're not sure.
Is this a test?
At this point, we're not sure if this is just a test or a permanent change. But it is safe to say that 'everything' is a test. Isn't it?
It will be interesting to see if the video box or "Interesting Finds" come to desktop search.