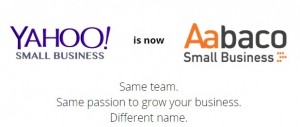 I have never personally worked with Aabaco so I can't personally have nothing negative to say about them. However, I can say that since first writing about Aabaco problems on this website tens of thousands of people have come here looking for solutions to their issues with Aabaco. Countless people have told me they are leaving and that they are looking for a new hosting company.

Before moving you'll need to figure out 3 things:
if you're willing to rebuild your website or not. Chances are it needs some updating anyways.

Where you'd like to register your domain name
Where you will host your website
Are you willing to rebuild your website?
I personally haven't used a website builder like the one Yahoo/Aaaco use in well over a decade. Some other people have a static site or a WordPress site. If you have a WordPress site moving away from Aabaco is much easier. If you have a site built with the Yahoo builder or Aabaco builder you'll have to figure out if you are willing to rebuild or not. If your website is just a few pages, rebuilding will be much easier than it will be to rebuild a 2,000 page website.
If you want a simple builder with no hassle you will want to use Squarespace or Wix.
Choosing a new hosting company 
Where you host your website depends completely on your needs and your budget. A lot of people who were using Yahoo small business hosting had a very cheap $5 or $10 a month plan. These days hosting online can run from $1 – $10 but you get what you pay for. If you need a dirt cheap solution with a web builder to simply build a little 10 page website I would personally use Squarespace. It's like $18/mo and has a little web builder in there for those of you who do not wish to become a HTML5/CSS3 web developer. 🙂

Otherwise, if you are ready to move on to a more standardized platform I would spring for a WordPress website which you can use over on Bluehost for $4/mo!

Further alternatives may be found on my page Where is the best place to host a WordPress Website in 2016?
Taking your domain name?

Your hosting and your domain name are two separate things; your domain name is held by a company called a registrar. Popular registrars include GoDaddy and NameCheap. I personally keep all of my domains at these 2 companies and have for 20 years.

When moving a domain name to GoDaddy I suggest you follow their instructions here. It looks complicated, but have no fear, you will only need to do this once the rest of your life.
Once your doman name is registered at your new registrar you'll need to point the domain at your new web host by editing the nameserver information.

If this is all going way over your head, again, just set up a Squarespace account and find a nice rep to walk you through this process.

Why are you leaving Aabaco?
Tell us your story. What was the final nail in the ol' coffin?If you have other questions please let us know below.