On December 28, 2016, Snapchat exploded with stories containing words or emojis of fruit.
I asked the people of Snap what it meant and I was snapped the game heard around the world in approximately 35 seconds.
Note: see the snapchat animal meanings here.
What do the different fruits mean?
Here are the different fruits and what they mean on Snapchat:
Blueberry = Single
Strawberry = Can't find anyone
Raspberry = I don't want to commit
Pineapple = It's complicated
Cherry = In a relationship
Lemon = Want to be single
Raisin = I want to get married to my partner
Apple = Engaged
Banana = Married
Avocado = I'm the better half




Here is the snap I was sent with a list of the Snapchat story fruit definitions: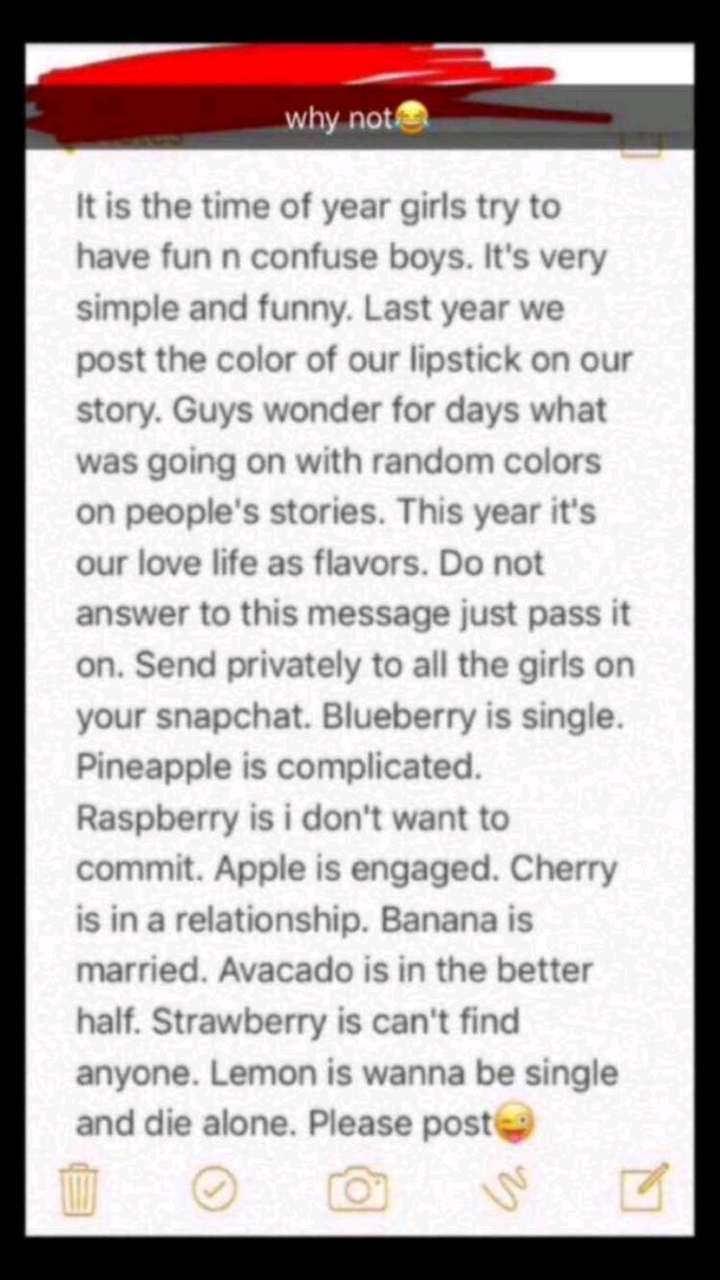 It reads:
It is the time of year girls try to have fun and confuse boys. Last year we post the color of our lipstick on our story. Guys wonder for days what was going on with random colors on people's stories. This year it's our love life as flavors. Do not answer this message just pass it on your Snapchat. Blueberry is single. Pineapple is complicated. Raspberry is i don't want to commit. Cherry is in a relationship. Banana is married. Avocado is in the better half. Strawberry is can't find anyone. Lemon is wanna be single and die alone. Please post
Fruit Emojis for Snapchat
Not all phones and some Android users are missing some of the fruit emojis. Here they are:
Blueberry =
Strawberry = 🍓
Raspberry =
Pineapple = 🍍
Cherry = 🍒
Lemon = 🍋
Raisin =
Apple = 🍎
Banana = 🍌
Avocado = 🥑
Who started adding fruits to their Snapchat story?
Of course, mostly teenagers are playing the game on Snapchat, but before that the old folks used Facebook to play similar games. For example, back in 2010, during breast cancer awareness month, females of Facebook sent this private message around to each other:
Something fun is going on. Write the color of your bra in your status. Just the color, nothing else. And send this on to ONLY women no men. It will be neat to see if this will spread the wings of cancer awareness. It will be fun to see how long it takes before the men wonder why the women have a color in their status… LOL!
After, women everywhere were posting colors, such as "purple", "white", or "pink", and men everywhere were left guessing what was going on. You can read more about this on Snopes here.