Just after fruit went viral on Snapchat, people began posting animals, colors, and candy bars to signal their relationship status.
Here is a complete list of the candy bars people are posting on Snapchat and what they mean.
Twix = in a relationship
Kit Kat = It's complicated
Skittles = Just broke up
M&Ms = I like someone / crushing
Hershey's = Can't find the one
Nerds = Engaged
Milky Way = Married
After putting up the fruit article covering cherries, blueberries, bananas and rasberries, etc, the questions began pouring in about the different types of candy and candy bars.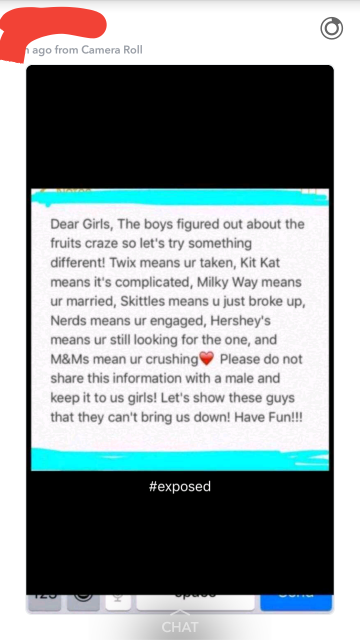 Image credit: imgur
I create content and do SEO for law firms, small businesses and companies worldwide. I have been generating traffic online since 1992. I have owned multiple successful companies. I'm an organic eater, nature lover and German Shepherd owner. Feel free to
contact me here
.