It's fairly rare to be able to say you've seen the best at something in athletics.
Muhammad Ali was the best boxer but his peak was in the early '70s.
Ted Williams is the greatest hitter in the history of baseball; he retired in 1960.
Secretariat was the greatest racehorse of all time; he was finished by 1973.
It just doesn't happen that often. But it is happening now and we should appreciate greatness while it is here.
I refer to Stephen Curry, who has become the greatest shooter in the history of basketball.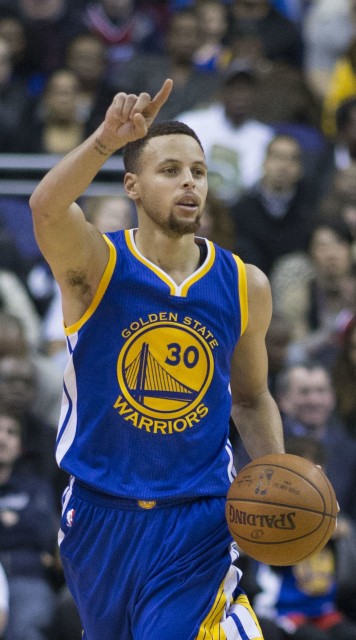 Image credit: Keith Allison [CC BY-SA 2.0], via Wikimedia Commons
Let's consider the other great ones. You'd have to put Larry Bird at the top of the list. Bird was a phenomenal marksmen.
Rick Barry was as well. He had a beautiful shot.
Jerry West for years was the prototype shooting guard.
More recently, Reggie Miller was a brilliant shooting guard for the Indianapolis Pacers.
His battles with the New York Knicks were brilliant. No one who watched will ever forget.
But Curry is better.
Bill Sharman? Nope.
George Gervin? No.
His father, Dell Curry? Ha – nice try. Dell could really shoot too. But no.
Steve Kerr? Kerr's percentage is slightly better, but again, no.
And the funny thing is, some of those guys, like Kerr, had better stats than Curry. But no one ever mastered the mechanics like Curry has, and it's never been as easy for anyone else to hit a deep shot as it is for Curry.
And he's also the Warrior's prime ball handler and the focus of defense night in and night out. And Curry is a mortal 6-3 and 190. And he's not a freak athlete like Michael Jordan.
Watching him be consistently double teamed, hitting really deep threes, you wonder how someone of modest athletic gifts can possibly do it. And he plays nearly 40 minutes per night.
So enjoy him while he hits his falling out of bounds jumpers. Marvel over his running, casual half-court buzzer beaters. Thrill to his ability to beat even the best defenders.
And keep in mind that someday you'll be telling your kids that you witnessed the greatest shooter the game has ever seen.