Now that I am assisting multiple Realtors with their Internet presence I have come to appreciate the battle they are up against. I have also found even more opportunity than I initially expected. One of the Realtors I work with is a commercial broker and land seller. When someone finds him to list a property he usually makes a 10% commission. Every time I land him a $1 million deal he is going to walk away with $100k. We are a perfect match as he can afford the marketing he needs and get an awesome ROI on it. It is a shame that others have been misled or fail to grasp the power of the Internet. In a recent telephone conversation I had with this Realtor he informed me that he has had multiple calls to his telephone where his new client told him "I found you on Google". He also told me that while he was checking out at the grocery store one of his competitors was bagging food. This is bittersweet to me- I like to see everyone get ahead but if people fail to grasp the power of the Internet this is what can happen. My client has over 100 listings at his office and is going to have a long, successful career in real estate.
If you are a Realtor with a budget and would like to make more money feel free to reach out to me or visit our page on Real Estate SEO & Content Marketing.
Problems Realtors face on the Internet
Terrible information from real estate "marketers". One marketing firm I found sets people up with a website. The website is very nice looking and meets the needs of having a website. Unfortunately the pros stop there and the cons begin. The blog is on a subdomain. The content the marketing firm pushes onto their Realtor and Real Estate Agent's site is garbage and duplicated on 700+ other sites. A wonderful looking site is absolutely useless if nobody is getting to it. When I analyzed the site of my most recent client he was getting 1 visit a day to his site. 8 weeks later he is already getting over 20 and his first calls from the Internet. I choose to completely ignore everyone that calls themselves a real estate marketer. I am sure there are some smart people out there, but I looked at 30 or 40 of them and just heard garbage coming out of their mouth, over and over and over, so I gave up.
Big money keywords are dominated. This is where content is gigantic. I find things people are searching for and create content around it. Also with loads of unique content come long tail search terms. Google also displays searches differently depending on where people are located. Concentrating on one "big money keyword" can be a great long term goal but is not my immediate strategy in this field. Search any town or city for "real estate + city name" and you will see several websites which seem to dominate search nationwide. The good news is that these sites do not have relocation guides. They do not have content crafted around hunting, or wells, or basements, or other things that people are looking for. Yes, most people look for Real Estate, Raleigh, NC, but, there are also a LOT that are looking for a home with a well on it. A quick blog post about wells will get you traffic from people looking to buy property, and there are plenty of things people want when they go to sell a property as well. As for the big names dominating in search, they can be beaten but it doesn't happen overnight. Some of them are:
Zillow.com
Realtor.com
Trulia.com
Homes.com
Redfin.com
Movoto.com
Homefinder.com
Oodle.com
Landwatch.com
Landandfarm.com
Loopnet.com
Google changed Local map results for real estate agents. Now that Google has shuffled around local maps results, ranking in organic search is more important than ever. The search term: Real Estate Agent Raleigh NC now produces nothing but organic results. To get a maps result you actually have to type in Real Estate Company. Agents had screwed with the system too much, just like locksmiths. Also with this update, called the pigeon update, results vary a lot depending on where you are located when you perform a search. See below for a screenshot of a local result in search.
Real estate is NOT about trust. Ok, it is, but check this out. Every time I bump into an agent they all think that being in real estate is about trust. And that is great. It works. If my mother introduces me to an agent I will use them. Wonderful. But what if Google introduces someone to an agent? People trust Google! You have no idea how many times I have heard "I found you on the front page of Google search, so you must be the best". I can't make stuff like this up. If you haven't ranked, you haven't heard this phone call, and it may be hard for you to believe. For over 15 years now I have turned business away in all 3 of the businesses which I have had the fortune of owning. Why is this? I am able to pick and choose what I want to take on, just like a successful personal injury attorney can sit back and only take on big cases, and a successful Realtor can throw their feet onto their desk, lean back, and only accept properties worth over $700k+. It happens.
Not all Realtors need the Internet. The same thing happens with attorneys. If a Realtor already has their sign in 150 yards, the radio commercials, 20 years of experience, a huge email list, a team of employees, etc. do they need a strong Internet presence? Do they need to rank in search? Heck, do they even need a website? Some agents have accomplished this; Kudos to them.
Social Media stinks! On Google+, you can find a few agents that spend way too much time there. When I see one of them I immediately know they do not have many listings, although Google+ shouldn't be ignored. Facebook, who knows; if you have a brand page you're probably in trouble. If you have a personal page and have networked with potential buyers/sellers, wonderful, just keep in mind that ranking in search is going to literally be around 20x more important (or more). Pinterest! Pinterest is pretty much awesome for real estate agents. Why aren't you using it?! The first thing I do for my Realtors is go crazy on Pinterest. Pinboards rank well in search, each pin is a new DoFollow link to your site, and, people actually use Pinterest to look for things that they are going to buy, so, it should be on the top of your priority list if you are going to do social media at all.
Real Estate Agents in Local Search Results:
As mentioned above local search results have changed. Here is a screenshot taken October 16, 2014 of Raleigh real estate companies. Even when these local results DO show, as you can see, most companies have failed hard with their marketing online. Just a glance here shows Linda Craft really taking advantage of local results. Just having recent reviews and a claimed / configured Google Plus page is going to drastically help her stand out in these results: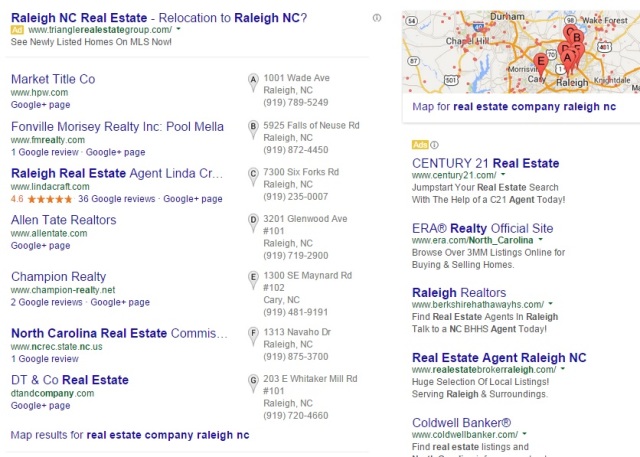 Conclusion:
When I entered the world of content marketing for Realtors I was confident I knew I could offer a nice return on investment. Now, I am confident I can absolutely kill it. I am killing it. The solution is a WordPress site with a good IDX plugin and content marketing on a blog right on the website. Most packages fail to meet these simple needs. If you are a Realtor that would like to list more property feel free to reach out to me or visit our page on Real Estate SEO & Content.