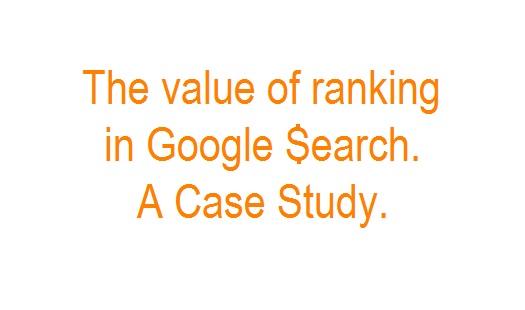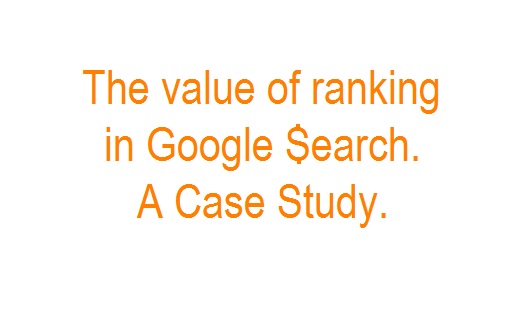 Please read this first: What you are about to witness is the power of brilliant white hat SEO which includes unique content. I rarely share client information but have pulled this together with the permission of my client. I had the permission years ago but have finally decided to share this. This is a website in a niche full of computer guys. Some of them are very smart and play by the rules. Some of them are complete idiots and break every rule possible. Many of the techies in this vertical are even self proclaimed SEO geniuses.
Also, this website has weathered many storms, most recently copyright infringement. If you investigate the competition you will even find other repair facilities in the area which have copied the entire website nearly word for word. This has happened 3 times now. I have encouraged the owner of the business to issue DMCA take down notices and/or sue the infringing companies for their inexcusable actions. It isn't that bad though; I have seen every trick in the book since the days of Excite of people who game the system. My clients in high competition niches such as criminal defense and personal injury attorneys have to deal with issues like this on a daily basis.
The Value of Ranking on Page 1 in Google Search by SEO:
Most people who have not ranked on the front page of search and experienced this success do not understand what it means. What it means in this and many other verticals is thriving or failing. This small business now has 4 telephone lines and 5 employees and is rapidly growing and eyeballing expanding into new locations. Over the years of representing this company I have unfortunately witnessed many of the competitors go out of business. One very nice man even became so stressed out that he had a heart attack and died right in his storefront. My background is in IT and I personally know many of the repair facilities and computer experts in the area. I also believe small business is the heartbeat of America. When I take a client on, my job is to get exposure for them and deliver a very cost effective return on investment. I do not wish harm on anyone, and every business owner that chooses to invest in their online marketing can get a slice of the pie. The harsh reality of being in business though is that most of them fail. This business has just done very well, and ranks for thousands of keywords. They specialize in laptop repair, and have had units shipped in from all over the world.
Let's explore this website's outstanding Internet presence.
First of all, the site utilizes every Google service available. Assisting the search engines by providing them with all of the information you can about your business is Internet 101. Below is an exceptional example of what a company website can look like when when you Google the company name. On the left is the company website. It shows the Google star rating under the website as the website is properly tied in with the company's Google Plus Local Page. You see a map marker showing the store location. Under that we have 6 more pages from the company's website (directions, contact, about, laptop repair, used laptops, and blog). Of course below that are other results from Yelp, the BBB, Angie's List, etc.
On the right we have the Google Knowledge Graph. Here you see a picture of the storefront, the maps location, the business name, address and phone number. It says "closed now" as I took this screenshot after business hours. Further down in the knowledge graph you will see reviews, and even a post that was just placed on it's Google+ page 3 minutes ago.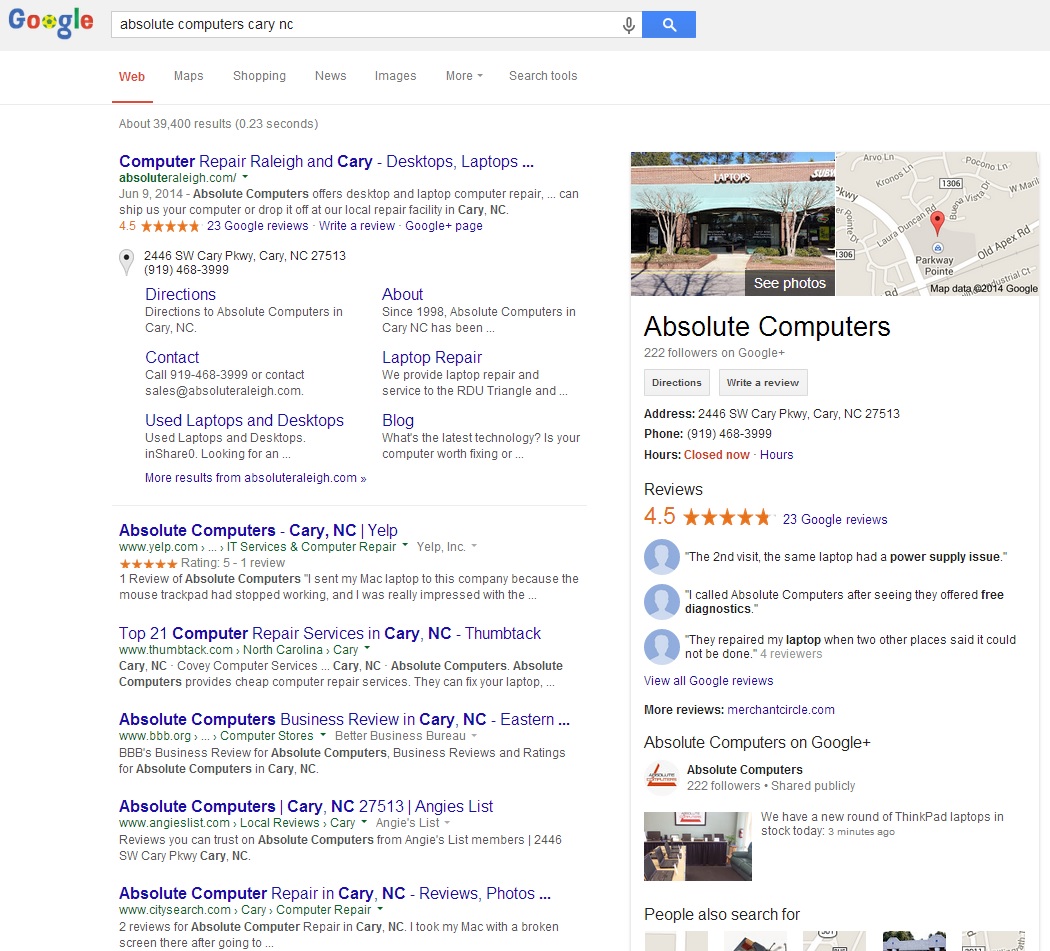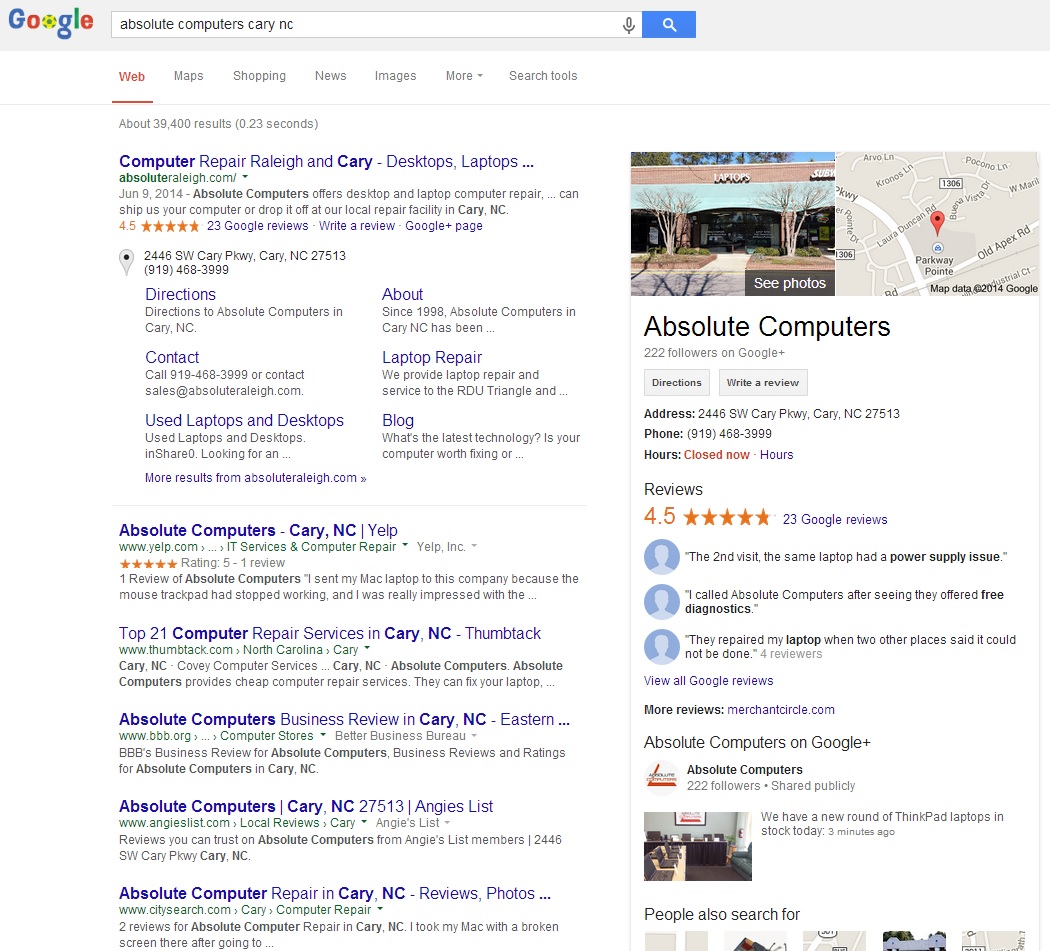 Ok, now for the fun stuff. Let's see this page absolutely dominating the front page. Here. We. Go. The store is located in Cary North Carolina. Cary is a suburb of Raleigh. A funny thing happens when people search- many people search for the nearest large city when searching locally, unless they are looking for the nearest restaurant. "Raleigh laptop repair" is the money keyword here, but the site dominates both cities anyways. As you can see, there is also an AdWords PPC campaign running. Page 1, hit 1, with an ad on top. Boom.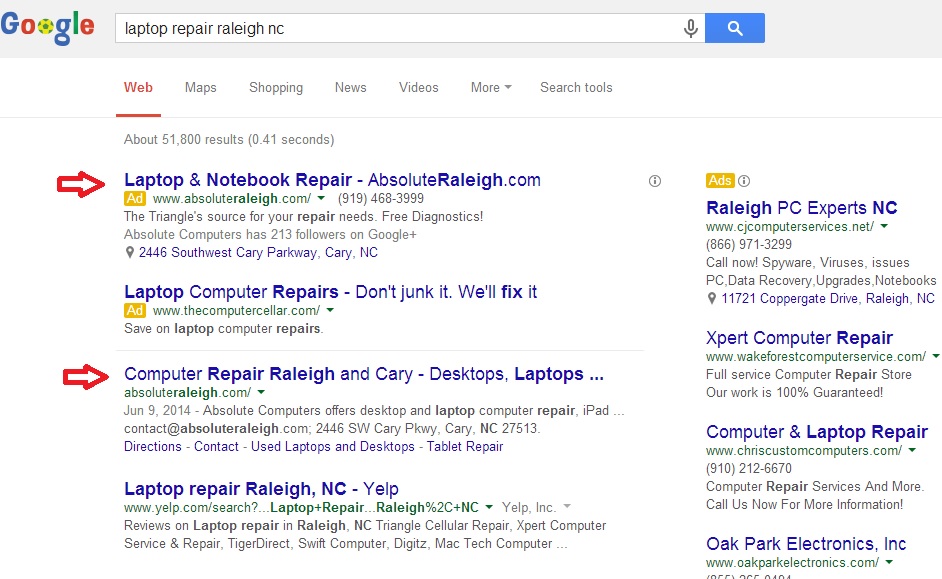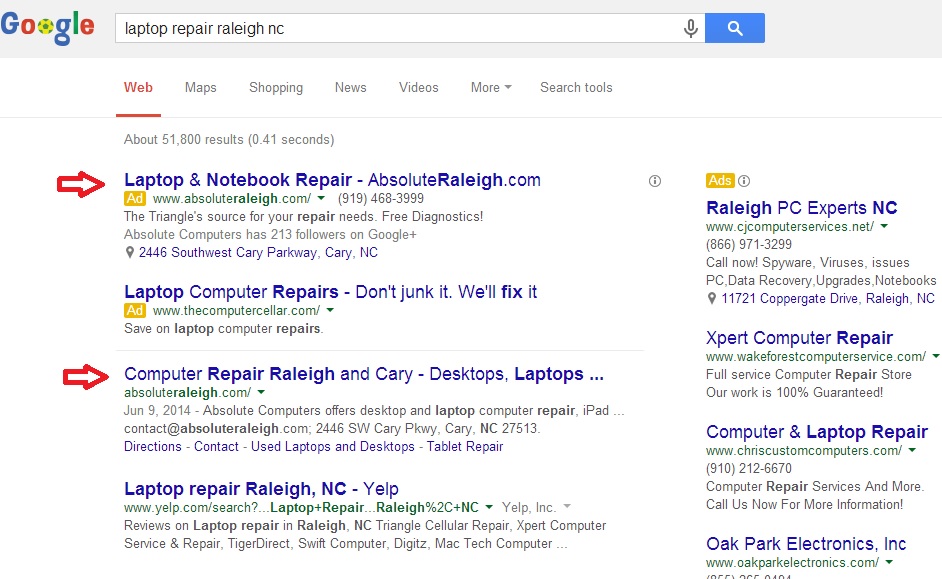 Page 1, hit 1. Again. Yes.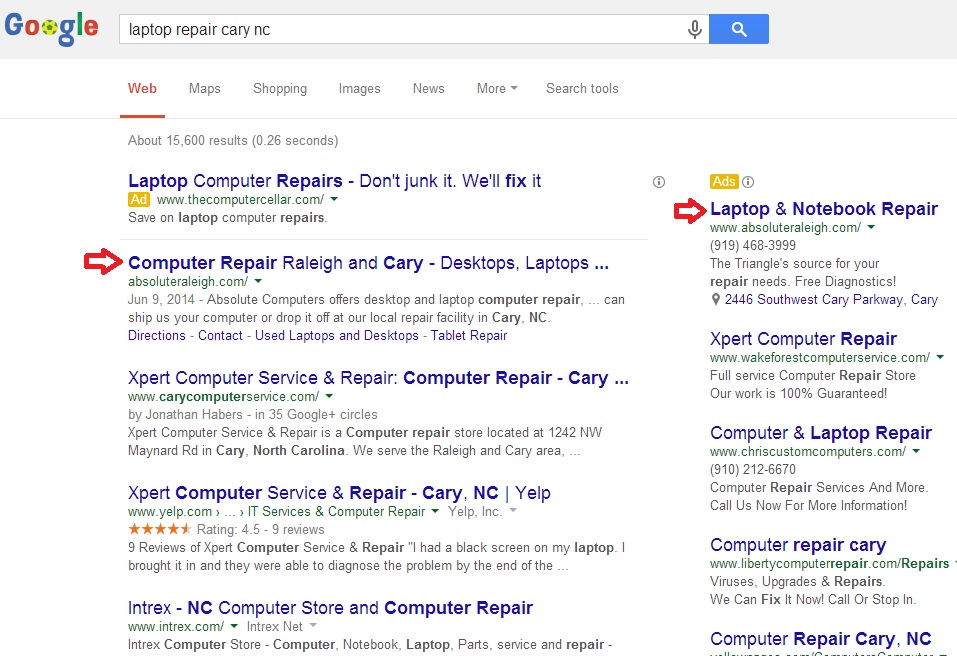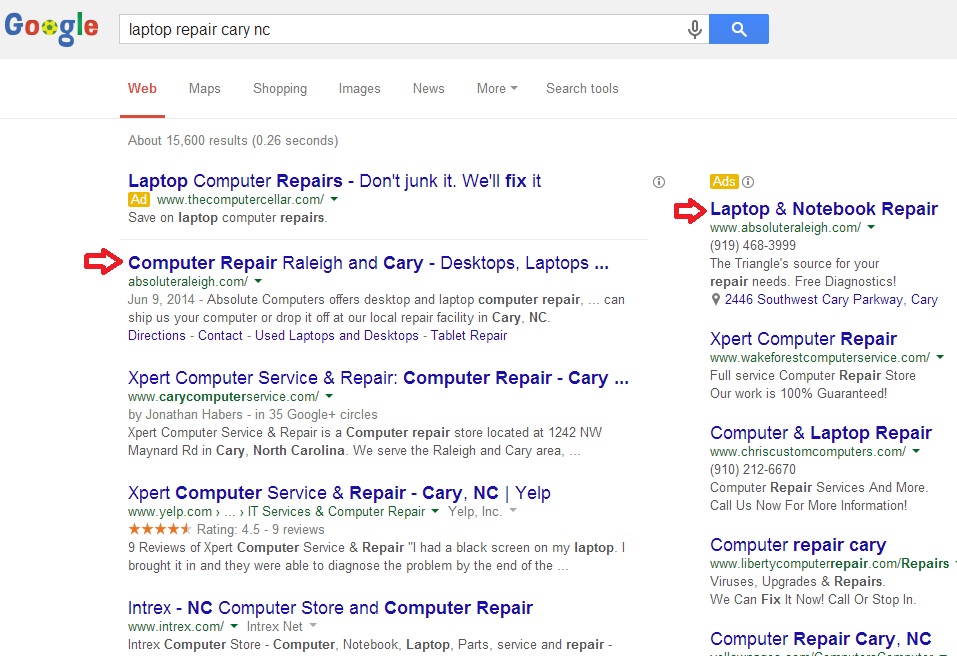 They do more than repair laptops though. This business also offers data recovery. Page 1. Hit 1. The CPC (cost per click) on data recovery is a little crazy in this market. Also, we've run them, and people are around 900% more likely to click the organic listings anyways. No need to run PPC on this keyword, let the others fight over it.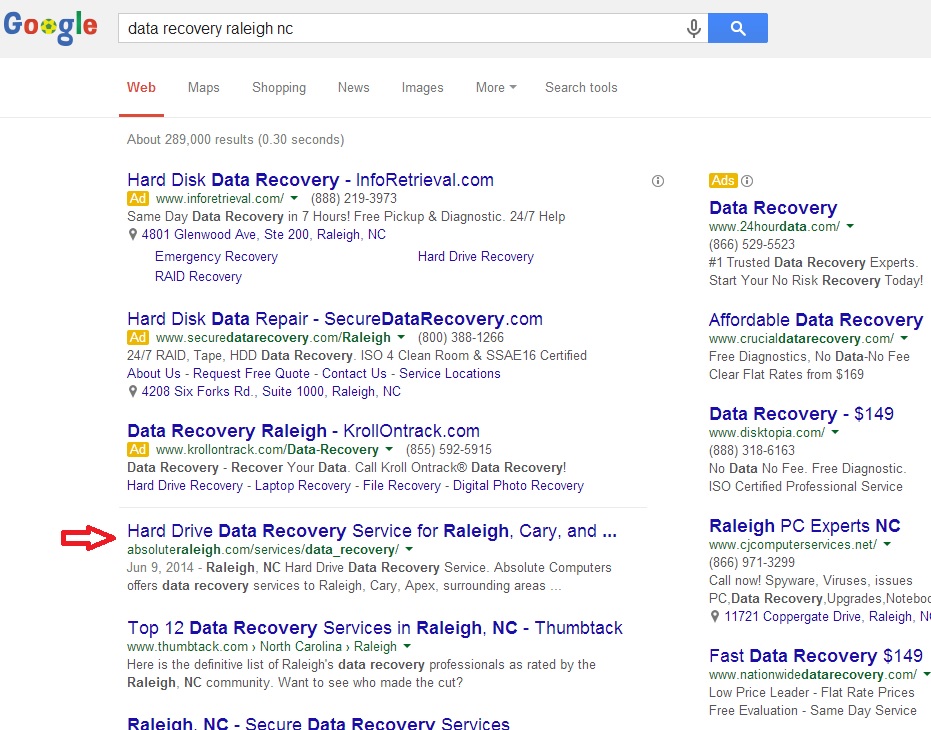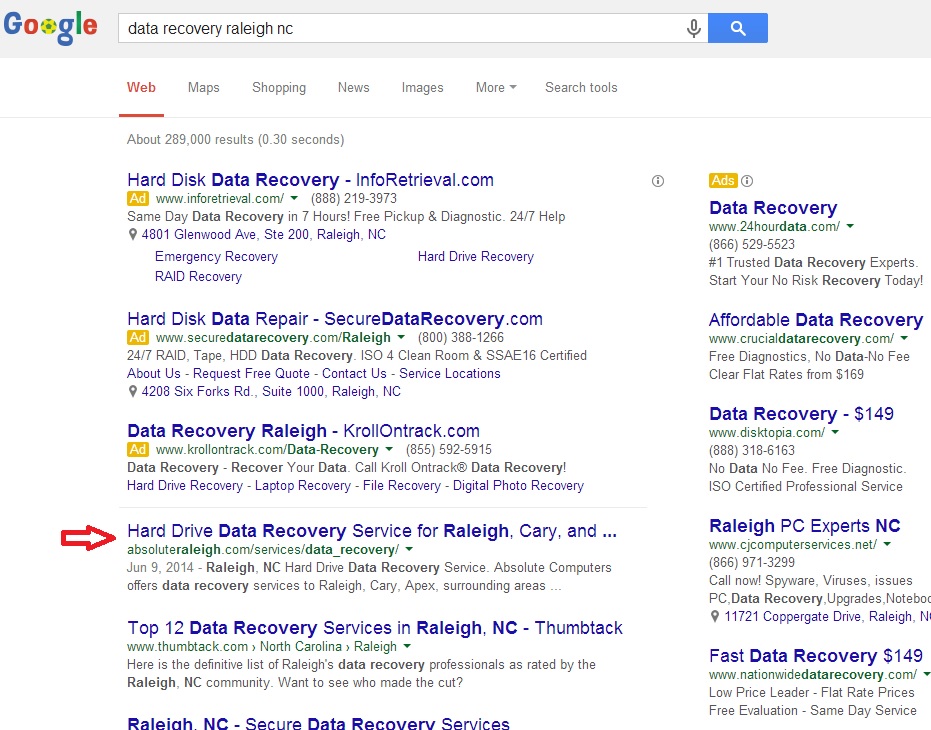 But wait, there's more. They also offer tablet repair. The domain is so powerful at this point they can easily dominate any key phrase they target. Take a look: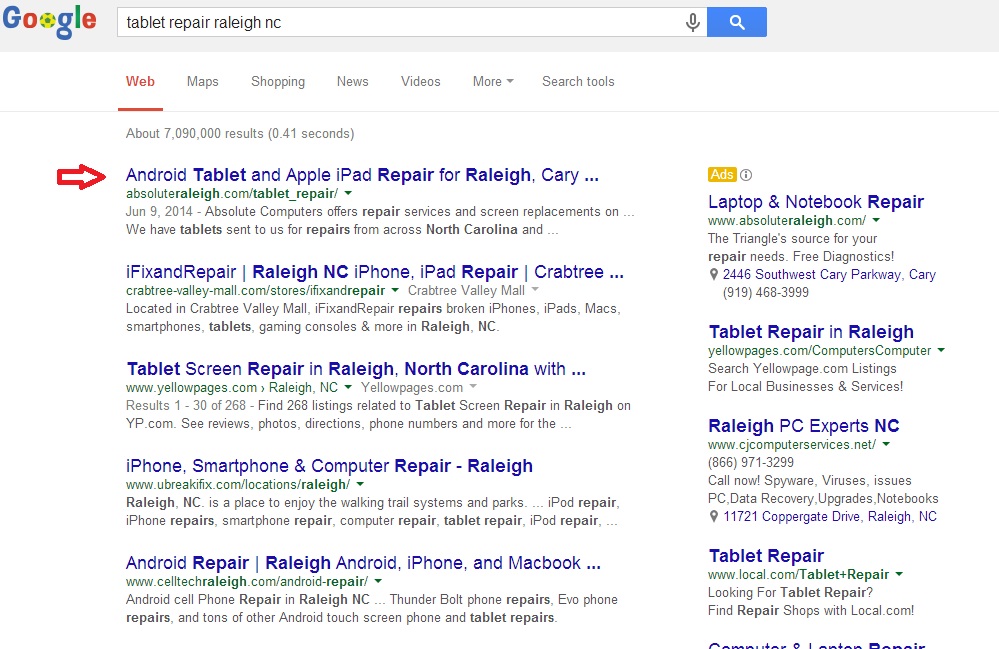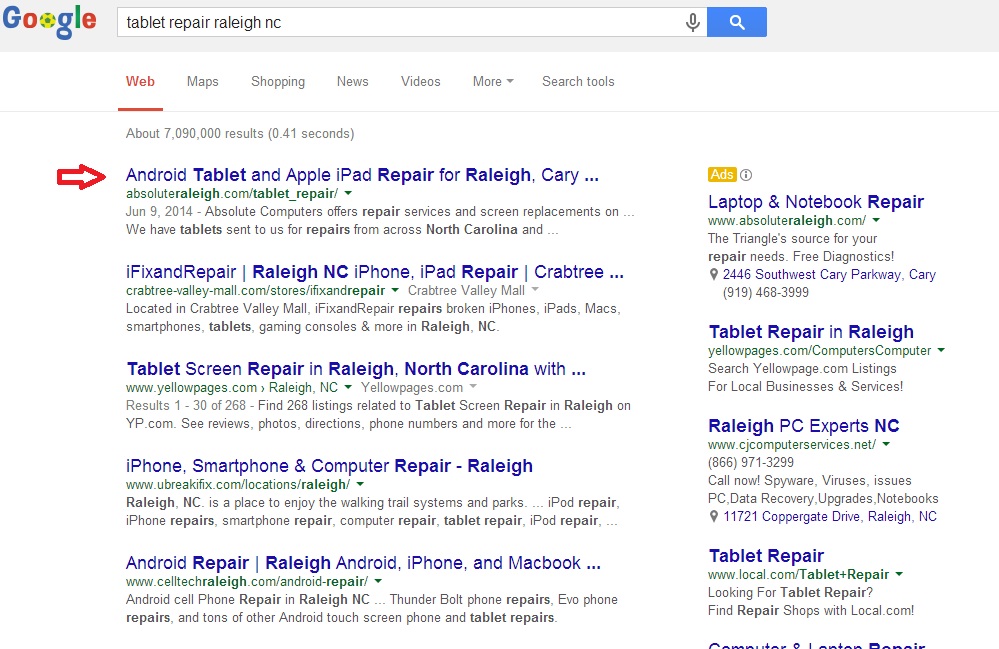 Remember I said they rank for thousands of keywords? The long tail SEO on this site is downright wacky. If you didn't know, Lenovo is kind of the manufacturer of these fine machines and worth billions of dollars.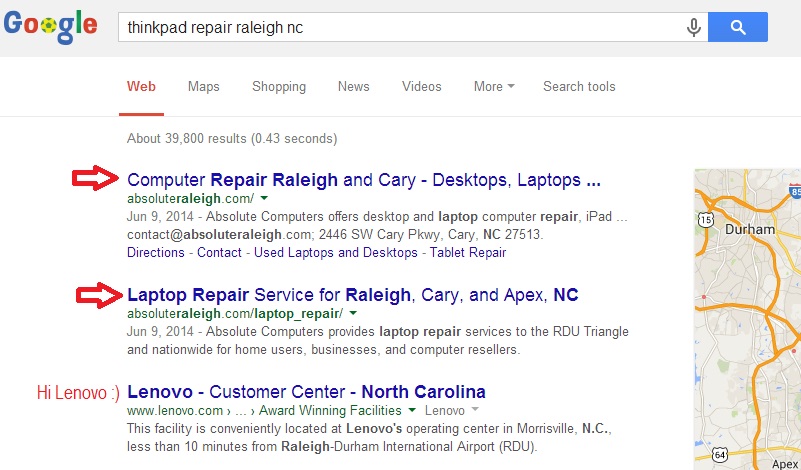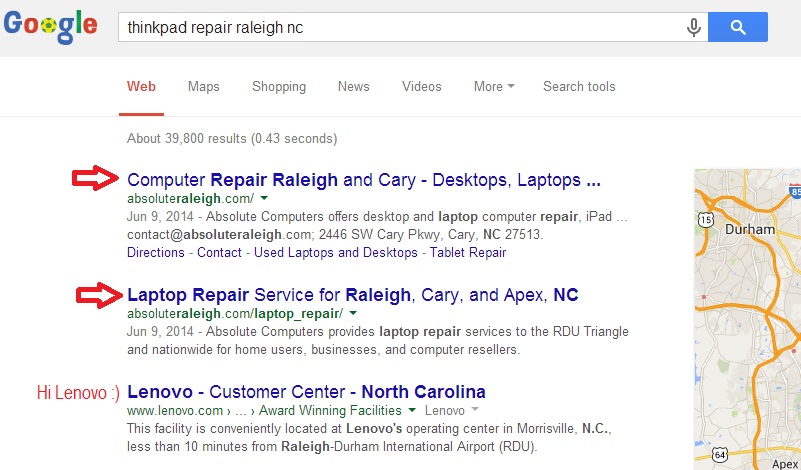 A common problem with laptops is the failure of the power jack. This is more long tail SEO at work here. Are you starting to see the value of true SEO and ranking in Google search? Take a look below. Google has done a great job here. There were no tricks. This company truly is the king of power jack repairs with thousand dollar soldering stations and hundreds of different power jacks in stock. No games, no gimmicks, the algorithm is actually working out great here.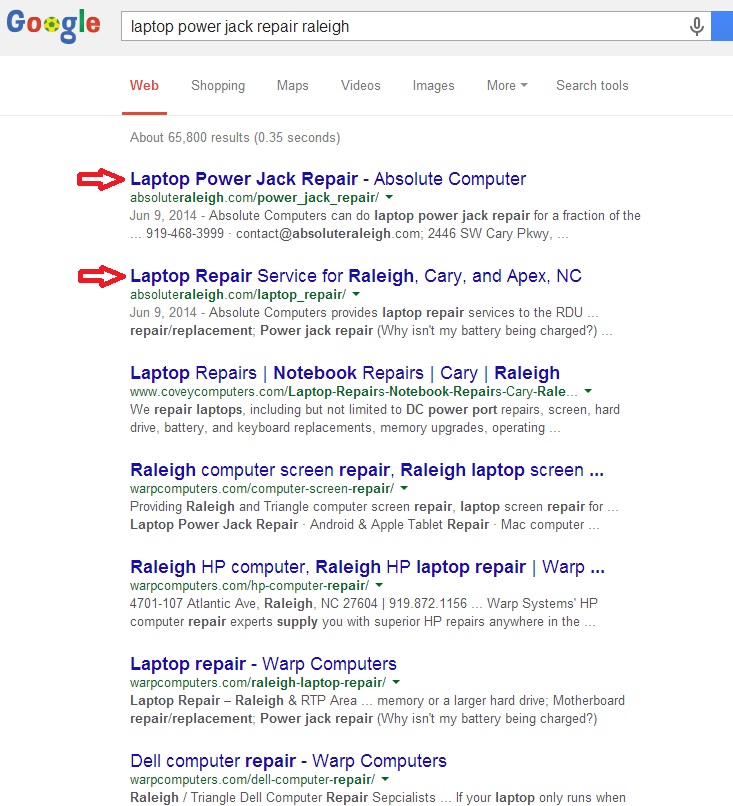 Yes, they fix screens too: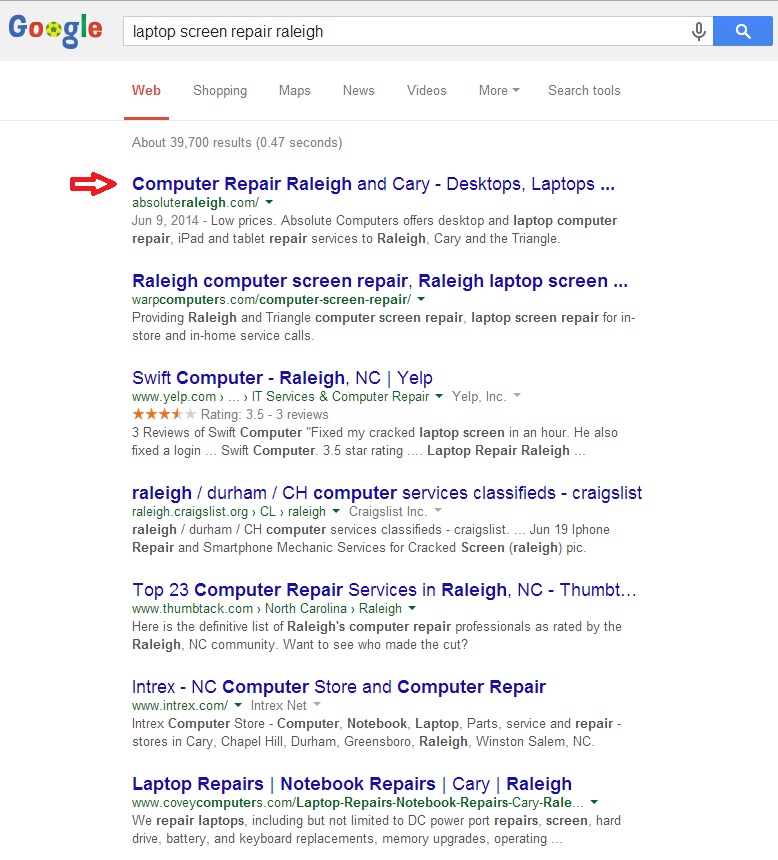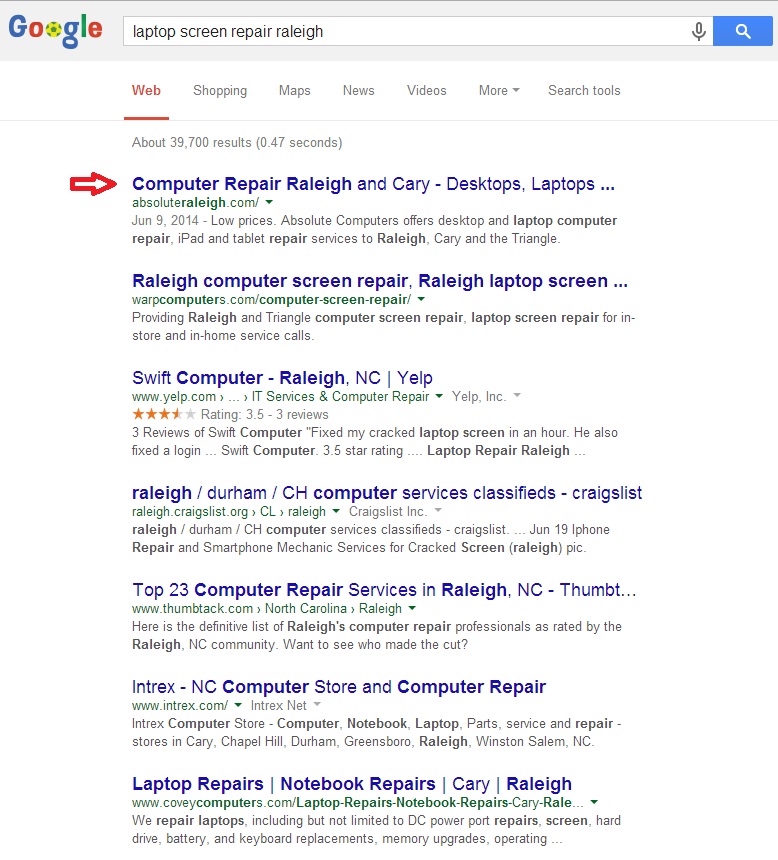 Some people call screens "LCDs":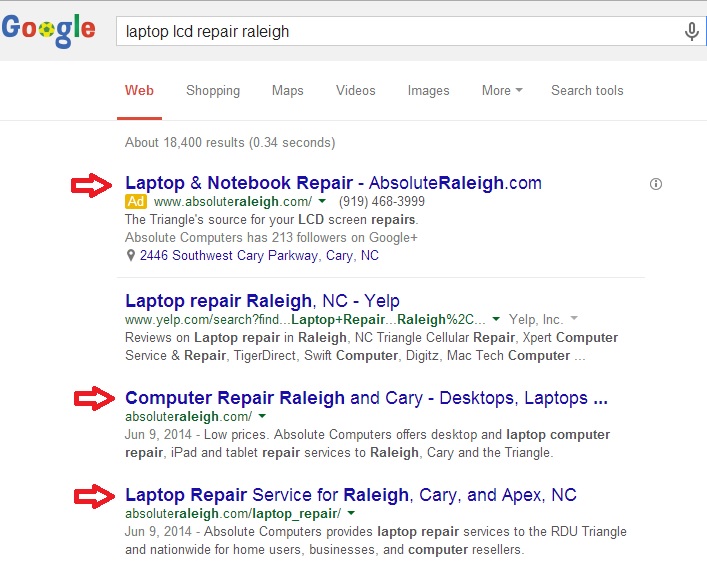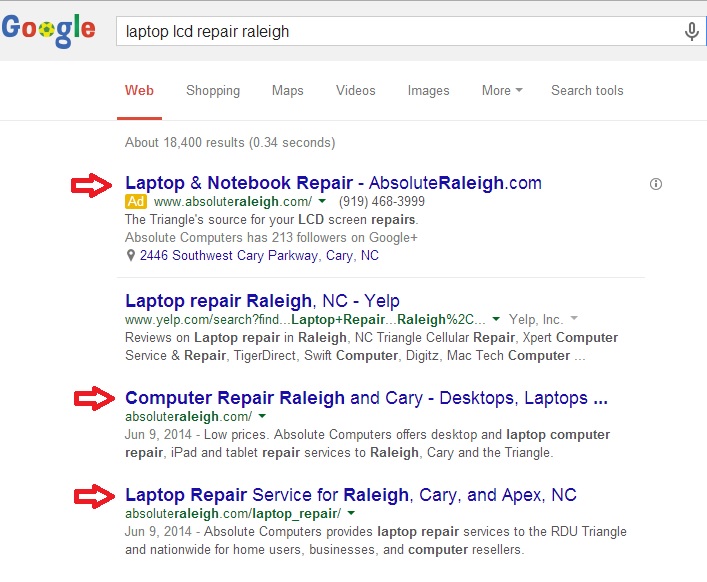 Are you seeing the value yet? If you visit this business you will likely encounter phone lines ringing and see that there usually hundreds of machines in the repair process at any given moment. You'd be surprised at what I find in my SEO research. People type things like this in all the time: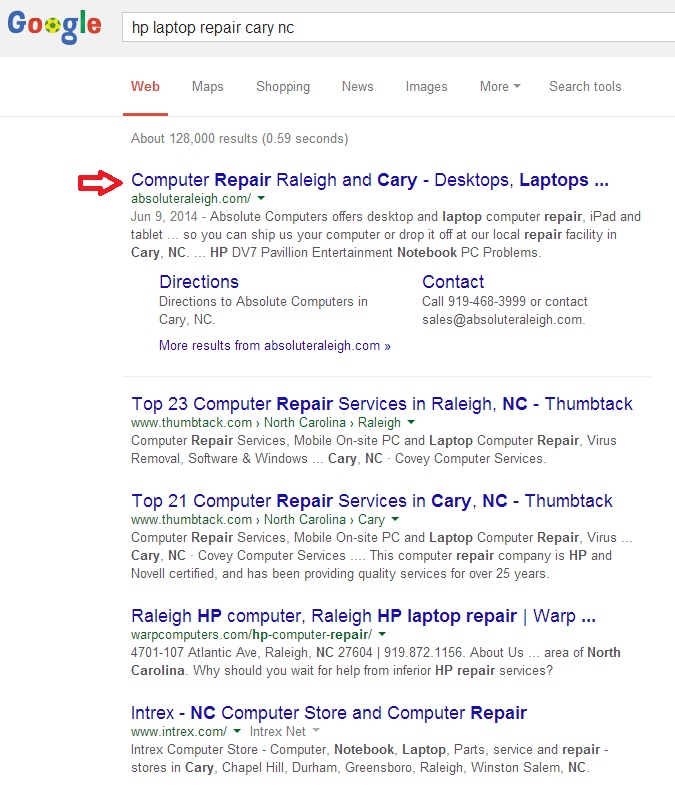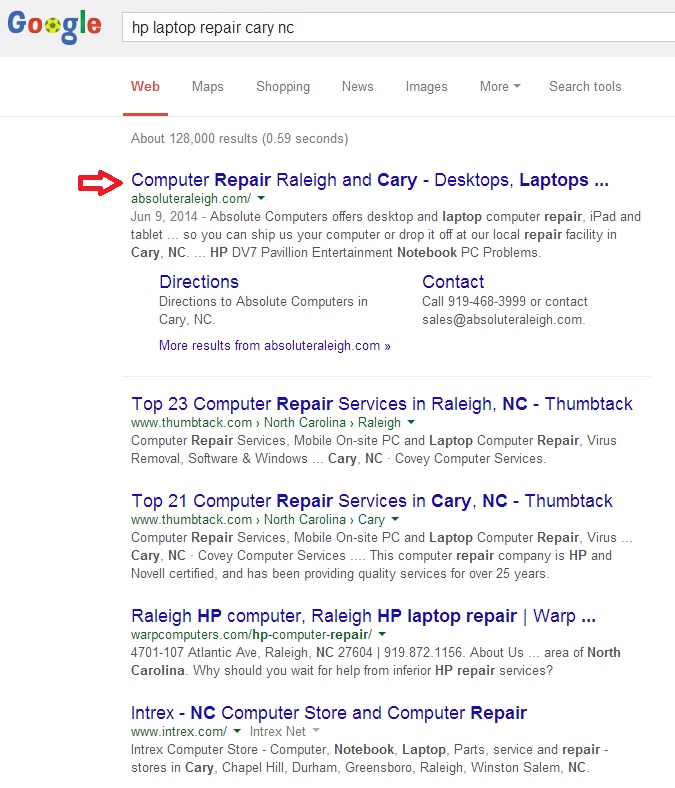 Nearby city names: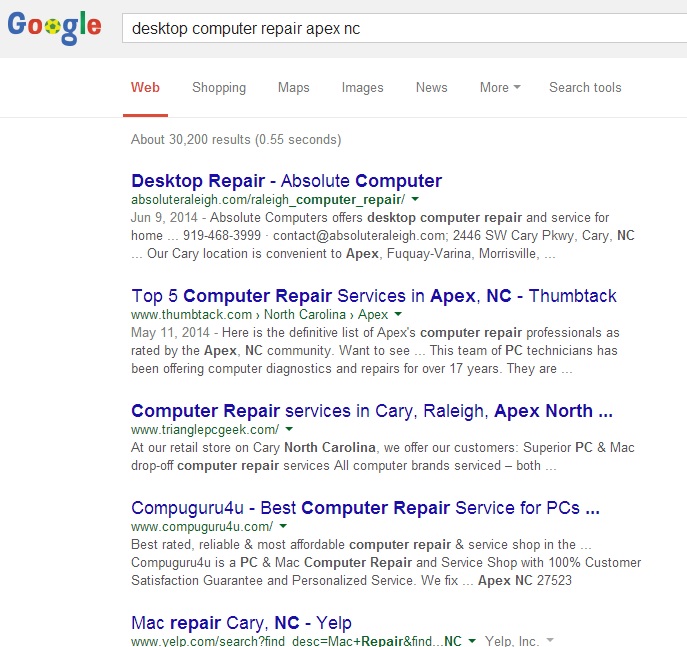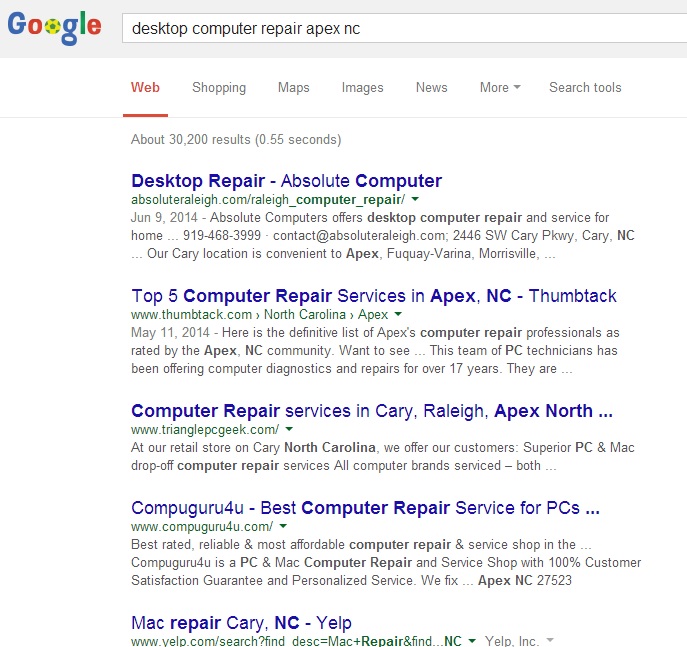 Now, if you had any doubt at this point where you should get your laptop fixed, you could always ask Google. It is amazing, this site even shows up in local results and it isn't even located in Raleigh.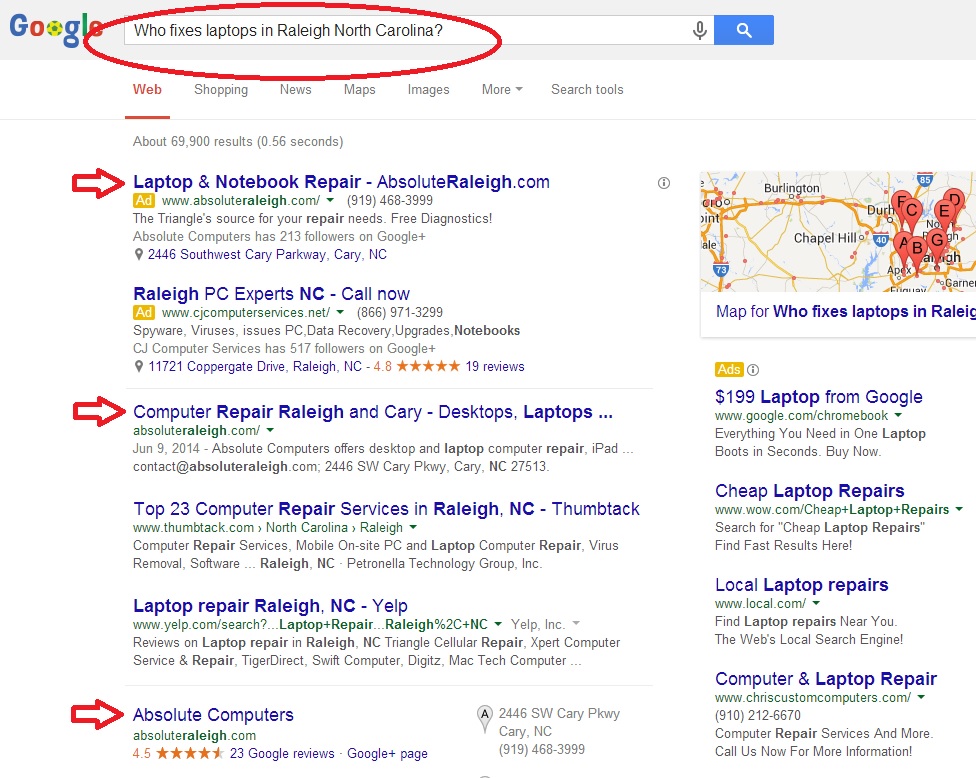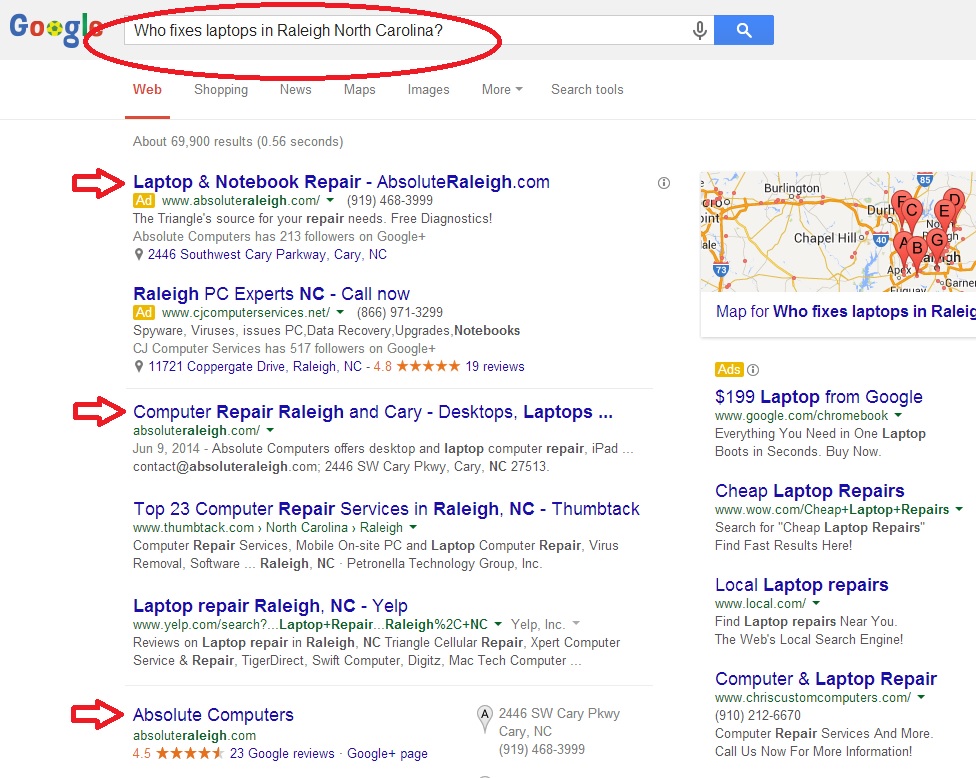 Ok, ok, we get it. The value of ranking in local search with purely white hat SEO is freakin' amazing. But wait, we can take it nationwide as well. And yes, people do ship their computers in from California, Alaska, Puerto Rico, and even little islands in the middle of the ocean that you didn't know existed. This page actually needs some help, I'll have to brush it up soon. Also note, this is no longer a priority in this business, but people from all over the place do keep sending their hardware in.
Recap:
So, now you know. The value of ranking in search prevents untimely death and creates jobs. I have a deep understanding on how, but I never ever try to game the system. Search engines want you to return to them and use them again; it is how they make money. You just need to assist them in helping them find you. And you must deliver great results to the search engine's users. If you provide value to Google, they will place you on the front page. The value of ranking in search is huge. Please keep in mind none of this happens overnight. This site in particular is one that I have worked on on and off for quite some time, but I have achieved this for many different verticals. 90% or more of the clicks come from being on page 1. Page 5? Forget about it, you're getting well under 0.5% of the traffic you could be getting. There are only a handful of people out there that can accomplish ranking sites via white hat methods for long term keyword domination. If you'd like to read about the average SEO firm's business practices, just read my article Q&A with one of the top SEO salesmen in the United States.
Are you going to tank or rank?
These days I primarily take on websites and SEO projects in high competition markets that have an advertising budget an understand the value of content and ranking in search. If you would like to get more business drop what you're doing and email me before your competition does.