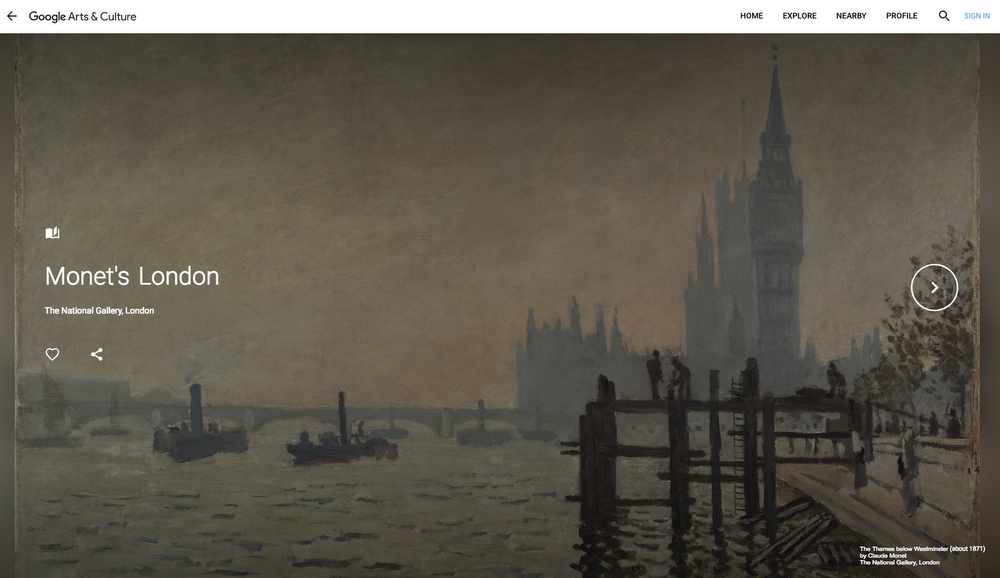 Even if you're not an art buff, you've probably seen French Impressionist Claude Monet's water lily paintings before. Have you ever wondered why these seemingly simplistic paintings have become so iconic? If so, then you need to check out Google's brand new Monet exhibition.
In a recent blog post, Google announced that it teamed up with the National Gallery London to put together a temporary online exhibition celebrating the life & work of Claude Monet. While you'll find info on those famous water lilies here, most of Google's exhibits center around canvasses inspired by Monet's European sojourns.
Entitled "Monet Was Here," this totally free online portal allows guests to get up-close and personal with some of Monet's masterworks. In addition to zooming into Monet's many canvasses, users can learn about the great artist's life and how he revolutionized European painting.
In addition to exploring the art, visitors can take a tour of the cities Monet used to call home thanks to Google Earth. Google engineers incorporated satellite images, StreetViews, and even Google Earth Voyager to take users to the locations Monet drew artistic inspiration from.
As you explore the "Monet Was Here" exhibits, you'll get to visit three of Europe's finest cities through Monet's eyes: London, Paris, and Venice. Online users will also learn about Monet's affection for the Rouen Cathedral in Normandy as well as his paintings of humble French villages.
Google's "Monet Was Here" coincides with the National Gallery London's "Credit Suisse Exhibition: Monet and Architecture." Lasting from April 9th to July 29th, "Monet and Architecture" is the first Monet-only exhibition in the United Kingdom in the past two decades. Curators at the museum say they want the visitors to get a better sense of Monet's many architecture-inspired paintings in this collection.
Once you're finished with "Monet Was Here," feel free to check out the dozens of articles on other Monet masterpieces in Google Arts & Culture's database. Just a few awe-inspiring paintings you can take an in-depth look at include Sunrise (Marine) at the J. Paul Getty Museum, The Water Lily Pond in the Evening at the Kunsthaus Zürich, and The Church at Vétheuil at the National Galleries of Scotland.
Claude Monet (1840 – 1926) was one of the key figures in the 19th century French Impressionist movement along with Édouard Manet, Edgar Degas, and Pierre-Auguste Renoir. Indeed, Monet was so central to Impressionism that art historians used the title of one of his paintings (Impression, Sunrise) to name this movement.
As you'll soon find out in Google's exhibit, Monet would often paint the same subject hundreds of times at different hours and in different seasons. He did this in part to capture the wide range of color and lighting variations.
Fun fact: Monet developed cataracts around the time he was composing his famous water lily paintings. Art historians believe his blurred vision may have contributed to his later experimentation with color and brushstrokes.
To check out "Monet Was Here" for yourself, simply visit Google Arts & Culture's website or download the Arts & Culture app onto your Apple or Android device. You can learn more about the National Gallery London's "Monet and Architecture" exhibit at this webpage.