What are Google +Post Ads?
A Google +Post Ad is an interactive advertisement on the Google Display Network. The ad itself is your Google+ content which is promoted as an ad. Ads on the Display Network do not show up on the Search Network.
In case you're wondering, Search Network ads are the ads you see when you are searching Google (or a search partner). The Display Network (formerly known as the Content Network) ads are the ads you see when browsing a website.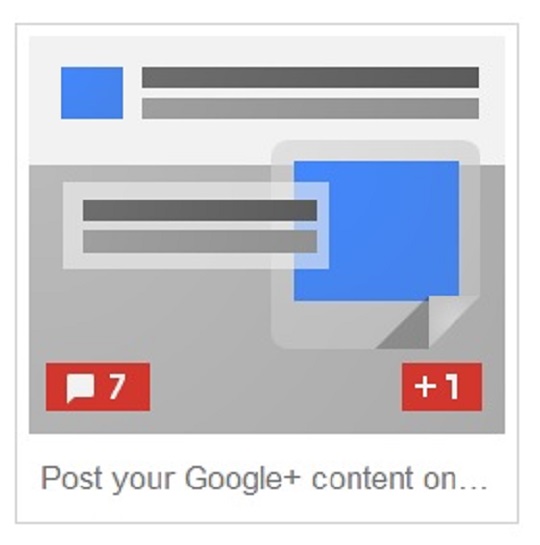 How big is the Google Display Network?
Comscore states that the Google Display Network has over 2 million websites in it that reach over 90% of Internet users worldwide.
What exactly is Google+ Content?
Google+ content which may be used as an interactive ad includes your posts on Google+. This includes YouTube videos, which are Google+ content. Posts which may be advertised include:
Google+ Posts
Google+ Images
YouTube Videos
Hangouts On Air
Excited yet?
Let's say you own a car dealership. You create a video advertisement for the latest SUV. You want to hit a targeted audience with your new video advertisement. You post it on YouTube. You promote the video with a +Post Ad. The ad starts displaying on websites all over the Internet (to your target audience). If that weren't awesome enough for you, you can optionally enable engagement. This drastically amplifies your Google+ presence and brings a social aspect to traditional display advertising.
Used to Facebook?
If you are only familiar with Facebook, think of it this way. Instead of boosting a post on Facebook, with +Post Ads you're able to put your content all over the web. Imagine your Facebook content streaming across the Internet instead of being just another ad on Facebook which is arguably the most inefficient place possible to advertise.
Do +Post Ads display on Google+?
No. At this time there are no advertisements on the Google+ social media platform itself. +Post Ads display to everyone, not just Google+ users.
How do I get started advertising with Google +Post Ads?
There are a few prerequisites, the most important is that you must have a verified Google+ Page with over 1,000 followers. If you need assistance building your presence on Google+ contact me here.
Can I promote my personal profile page?
Yes. At this time Google+ personal profiles do work with +Post Ads, but only for profiles with over 1,000 followers and shared endorsements enabled.
More:
As time goes on and we experiment more with +Post Ads we will update this resource.
As with all things Google, things are constantly changing. I know very few business owners who have any interest in (efficiently) running their own advertising campaigns. If you need someone to run +Post Ads for you please visit our +Post Ads Advertising Page, and if you want to run your own or would like to stay on top of +Post Ads news visit the +Post Ads Google+ Community for the latest news.