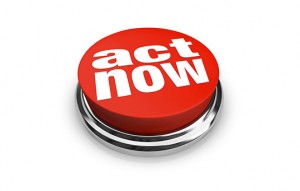 If you need assistance creating great, unique content which shows up in search results and contains a call to action which people act upon contact me today.
When people write content, blog posts, articles, or main pages of their website, they usually add a call to action of sorts to the page.
Above is how I personally create my call to actions. The very first sentence of the article (to be clear, the CTA is in bold text).
Why? Because that is where well over 90% of people stop reading.
Welcome to Internet 101.
Is it really that simple?
You can ask 100 marketers where the best place for a CTA is and get 100 different answers. To be fair, some of these people have much more experience than I do when it comes to print ads, radio commercials, phone books ads, and many other forms of analog marketing.
On every web page resides what I call the "main content". This is not the header, the footer, or the sidebar; it is the main content, usually residing in the center of the page.
On most websites, especially sites which offer a specific product or service, people get to the page and reach out to make contact as quickly as possible. If I am searching for a dentist, and I see one with good reviews, and I go to their website, I just want the phone number. I don't want to hear how great they are; I'm going to be dealing with their dental hygienist anyways. I elaborate more on this in my article Content Marketing Tip: Nobody Cares About You.
I've been analyzing user behavior online for over 20 years. Attention spans have always been very short, and they continue to get shorter.
Shouldn't it go at the bottom of the page?
Everyone thinks that people are going to go grab a cup of coffee and read their article. This is, simply put, extremely rare. I have heard it from everyone. Even personal injury lawyers who write on topics such as children killed by drunk drivers. Everyone, even victims grieving the death of a family member, can work with the CTA at the top of the page.
If it is at the top, even if people read through all of your content, they'll remember that it is at the top. Or, feel free to add it at the bottom, too. If you are providing unique information and content of value, people don't mind a brief sentence of self promotion.
Every topic is different
Someone who has a deep understanding of content and use behavior can decide where a CTA is best fit on each individual page. Until you have personally ranked thousands of pages in search and generated millions of dollars there, just stick it at the top.
On this blog, for example, many of my pages have no call to action at all. Sometimes, it is right at the top. Sometimes, it is at the bottom. There are many readers I wish to discourage from contacting me. I recently wrote about a major problem with Yahoo Web Hosting. There is no call to action on the page. I get several phone calls each day from this from people thinking I am Yahoo. Well, I am not Yahoo, but people don't know this, because they don't read. Heck, my phone number isn't even on the page!
See? People don't read.
Deal with it. Put your call to action at the top of your post, make your phone number clearly visible, and make sure your website works perfect on cell phones. Worried? Stick it at the bottom too. Whatever.
Done.