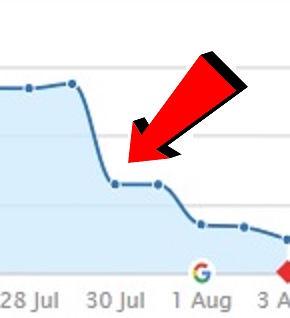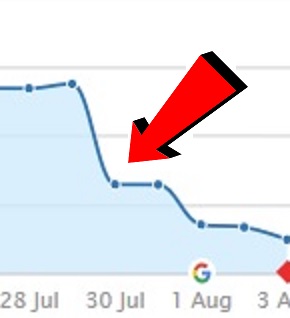 On August 1, 2018 and August 2, 2018, many webmasters around the globe felt the effects of Google's latest "broad core" algorithm update. The update may have began rolling out on July 27th and is continuing throughout the first week of August.
Page posted: 8/4/2018
Page last updated: 8/20/2018
Menu:
Intro to the August 2018 Algorithm Change
I'd like to start with a quick note.
I thank Google for their efforts in making the web a better place. I was online long before there were search engines (or even websites). The web is exploding with content, both good and bad. Nobody wants to sift through garbage to get to the answers they're looking for, and Google most definitely doesn't want to provide people with answers or websites which provide bad information. Algorithms have a long way to go but I do feel that most of the changes Google has made throughout 2018 have been "good". They're not perfect – in fact, I just wrote an article the other day about Google allowing fake reviews in search results and ignoring spam reports. But, overall, they're running their search engine fairly close to the way I'd operate mine if I owned one. I am seeing sites in search which shouldn't be there, so don't be surprised if there is a tweak again soon in August or September.

What is a Broad Core Update?
A "broad core" update is when Google makes several (broad) changes to their main (core) algorithm. Some of these updates could include a variety of factors such as the increasing the importance of high quality backlinks or decreasing the importance of pages with a poor user experience. Broad core updates are different than the other tweaks Google makes to the search results hundreds of times each year since they are "broad" and encompass several ranking factors.

The Official Google Announcement
The SEO world doesn't always get an official announcement, but this was a broad core update and Google gave the world some insight via Twitter.
Google announced: This week we released a broad core algorithm update, as we do several times per year. Our guidance about such updates remains the same as in March, as we covered here:
Previous announcement (in March): Each day, Google usually releases one or more changes designed to improve our results. Some are focused around specific improvements. Some are broad changes. Last week, we released a broad core algorithm update. We do these routinely several times per year…. As with any update, some sites may note drops or gains. There's nothing wrong with pages that may now perform less well. Instead, it's that changes to our systems are benefiting pages that were previously under-rewarded…. There's no "fix" for pages that may perform less well other than to remain focused on building great content. Over time, it may be that your content may rise relative to other pages.
Danny Sullivan of Google "clarified" later: Want to do better with a broad change? Have great content. Yeah, the same boring answer. But if you want a better idea of what we consider great content, read our raters guidelines. That's like almost 200 pages of things to consider: goo.gl/hJmPrU

Confused?
Some people would find these answers vague and confusing or even irritating. My translation is this: Google changes something in their search results on a daily basis. The larger, "broad" changes to their "core algorithm" simply mean that Google is attempting to reward quality sites with quality content by making not one but a variety of tweaks.
Note: Just create quality content? Ehh….
It's not that simple. A lot of people hear this blanket statement, write an epic article about something, then are dismayed when they rank on page 31 and get zero traffic. As someone who creates great content for a living, I wish this were true, and maybe it will be sometime in my lifetime. But, as of 2018, links are still critical, and most importantly, this advice simply does not apply to all niches. So, if you have a blog about poodles, grilling accessories, paint colors, dog houses, kitchen appliances, hunting knives, vacuum cleaners, baking accessories, weed whackers or toolboxes, this advice isn't 100% actionable. More on this in the E-A-T section below.

Types of Websites Affected by the August 2018 Algorithm Update:
Websites of all types could have been impacted by this update. The most visible were:
Medical websites including but not limited to: Health, diet, nutrition, drug facts, drug addiction, drug rehabilitation, websites with sections pertaining to diseases, and sites which name medical conditions such as heart disease, cancer, or mental health. Also, it seems that anything that offers a natural alternative to pharmaceuticals got hammered.
eCommerce websites were negatively impacted. Many of these sites that I've glanced at had thin content.
Financial websites discussing finances and/or stocks or investments were impacted.
Other types of websites were also affected which had other issues, or several issues, including but not limited to, content problems or quality problems such as intrusive banners, intrusive ads in the main content making life difficult for users or deceptive ads.
Rich snippets: Lots of sites either gained rich snippets or lost them during this update.
Featured snippets: Sites which lost rankings also lost their featured snippets.
"Interesting Finds" in Mobile Local Searches: I am seeing "Interesting Finds" in searches for local businesses which I've never seen before. I am guessing that local businesses could experience a minor loss of traffic if they rank below "interesting finds" in organic search results.

Factors Involved in the August 2018 Algorithm Update
First of all, I'll state that the factors involved are open to anyone's interpretation, and, of course, nobody knows all of the factors in the algorithm. I am, however, indeed seeing three main factors impacting sites:
Authority. I'll get to this more in the two sections below on E-A-T and how authority is measured, however, much of what I'm seeing points to backlinks.
User Experience. This includes ad placement, even of Google AdSense Ads. It also includes problems where it is difficult to read the Main Content (MC).
Content Problems. When Google evaluates a site, they take into account every page on the website. eCommerce sites, for example, frequently have dozens or even hundreds of pages with no text content. In my opinion, Google's algorithm probably should not be hurting these sites, but, it does. In these cases, these thin content pages may be NoIndex, but there are many options for solving thin content and other content problems which can trick the algorithm into thinking that your website sucks. Outdated, aged content also appears to be a problem.
YMYL Explained:
YMYL pages have been hit hard during the August 1, 2018 Google Broad Core Algorithm Update.
YMYL is an acronym for "Your Money or Your Life". In Google's own words, YMYL pages are pages which "could potentially impact the future happiness, health, financial stability, or safety of users."
YMYL pages include, but are not limited to, shopping or financial transaction websites, financial information pages, medical information pages, legal information pages, news articles and much more. I don't think the timing is a coincidence here. Google just released their latest "Quality Rater Guidelines" less than 2 weeks ago. Section 2.3 describes YMYL in further detail for anyone interested. In fact, in the QRG Google lists YMYL medical information pages specifically as "webpages that provide advice or information about health, drugs, specific diseases or conditions, mental health, nutrition, etc."
A hypothetical example: Bob shows us why YMYL is important.
People trust Google and websites they find in search (much more than they should). Let's look at a hypothetical example. Bob has the warning signs for melanoma skin cancer. Bob searches Google for answers. Hopefully Bob finds a website like Mayo Clinic which provides content authored by a Doctor who advises him to see a dermatologist immediately. Using old, antiquated methods of ranking pages solely by "page rank" or "domain authority", Bob could possibly land on a page telling him to "click here now to buy tea tree oil!!".  Even though Bob would smell pretty, Bob will die without proper care. Nobody wants Bob dead. If Bob dies, he won't be able to click on any more AdWords ads, and everyone loses. Sorry Bob.

E-A-T (Expertise, Authority and Trustworthiness):
Three important points:
As mentioned above, Google just released their latest "Quality Rater Guidelines". It's hundreds of pages of good information. In a nutshell, the guidelines help raters rate websites, and their ratings provide feedback to Google's engineers. Something raters take into account is E-A-T. The timing was not a coincidence.
Having E-A-T is much more than just adding an author byline to content. Please pay attention to this section, especially the section on trustworthiness below.
The August 2018 Algorithm Update affected much more than E-A-T and in many cases has absolutely nothing to do with E-A-T.
E-A-T stands for Expertise, Authority and Trustworthiness. Remember, Google wants users to get good information from a credible sources. Throughout 2018, I have spoken to several webmasters who operate websites who have lost traffic after the last "broad core" algorithm update on March 9, 2018. Many of these sites served up general health, nutritional, medical or financial content, however sites delivering advice on things such as electronics were affected as well.
After looking at hundreds of sites, I personally feel that Google is paying the most attention to the "trustworthiness" of a site. I'm not 100% sure how, but we'll examine my thoughts and findings below in the next section.

But first let's check out E-A-T:
In section 3.2. of the QRG, Google categorizes pages into two broad categories.
Low quality pages with no beneficial purpose: "Websites or pages without some sort of beneficial purpose, including pages that are created with no attempt to help users, or pages that potentially spread hate, cause harm, or misinform or deceive users, should receive the lowest rating."
Pages that do have a beneficial purpose: "the amount of expertise, authoritativeness, and trustworthiness (E-A-T)is very important."
To evaluate E-A-T, Google asks quality raters to consider:
The expertise of the creator of the MC (main content)
The authoritativeness of the creator of the MC, the MC itself, and the website.
The trustworthiness of the creator of the MC, the MC itself, and the website
On medical content, Google says:
"High E-A-T medical advice should be written or produced by people or organizations with appropriate medical expertise or accreditation. High E-A-T medical advice or information should be written or produced in a professional style and should be edited, reviewed, and updated on a regular basis."
I have seen numerous health websites impacted, not because of the author name, but due to aged content which needs updating, content which is not produced in a good style (no headings, broken up by ads or other chunks), etc.
On news content, Google says:
"High E-A-T news articles should be produced with journalistic professionalism—they should contain factually
accurate content presented in a way that helps users achieve a better understanding of events. High E-A-T news
sources typically have published established editorial policies and robust review processes."
On scientific content, Google says:
"High E-A-T information pages on scientific topics should be produced by people or organizations with appropriate
scientific expertise and represent well-established scientific consensus on issues where such consensus exists."
I have seen numerous websites on alternative medicine slammed on this update.
On financial content, Google says:
High E-A-T financial advice, legal advice, tax advice, etc., should come from trustworthy sources and be
maintained and updated regularly.
On misc content topics, Google says:
"Some topics require less formal expertise. Many people write extremely detailed, helpful reviews of products or
restaurants. Many people share tips and life experiences on forums, blogs, etc. These ordinary people may be
considered experts in topics where they have life experience. If it seems as if the person creating the content has the
type and amount of life experience to make him or her an "expert" on the topic, we will value this "everyday expertise" and
not penalize the person/webpage/website for not having "formal" education or training in the field."
How is Google Measuring Authority and Trustworthiness? Backlinks are playing a role.
The way Google and other search engines have ranked websites over the years has always relied on backlinks. Of course, the way they evaluate the quality of a link has been evolving since the beginning and indeed still has a long way to go. In my opinion, backlink quality is a huge factor in the August 2018 Google Core Algorithm Update, or at least in YMYL medical websites impacted around August 1.
Fact: Many of the medical, health and drug related websites positively impacted by the algorithm update had great links. "Great links" for drug rehabilitation clinics include links from samhsa.gov and other links from extremely powerful, contextually and/or topically relevant resource pages. "Great links" for health sites could include inbound .gov links or links from authority sites such as lung.org or arthritis.ca.
Fact: Many YMYL websites negatively impacted lacked these great links or they were receiving their links from other sites which were also negatively impacted.
I guess you could call this a correlation rather than causation, and no, I can't prove any of this. However, if I owned a search engine and I wanted my algorithm to display the most trusted results, how would I program it? It's tough to measure expertise – anyone can call themselves a doctor. So, how do you teach the computer to measure trust and authority? A highly reputable site is going to attract links from other well known sites. That said, Google could be looking at author reputation, although this appears impossible to police. For example, I could say this article was written by Dr. Sanjay Gupta if I wanted to. Who's going to stop me?
This all said, exactly how Google is measuring authority is indeed a bit of a mystery. Below, we'll see screenshots of sites negatively impacted. Feel free to draw your own conclusions and post them in the comments section.

Sites Negatively Impacted (losing rankings and traffic):
Please note, below is a mix of actual screenshots from Google Analytics and also traffic estimates via Semrush. Also, I will provide notes of some things that some websites are doing wrong. That does NOT mean they have only one single issue.
DrugAbuse.com
They lost ~33% of their traffic 8/1/2018. They just came up in a list of sites I was checking about prescription drugs. That one is going to hurt in the morning. I wonder if they know about this yet or if they'll find out next week. Ouch.


Thepaleodiet.com:
Not sure what's going on here without digging in to the site, however, there are many ads on the site which I'd consider to be disruptive, at least on the very small number of pages that I sampled.



Nutrition site gets hit twice:
This is a nutrition site run by a reputable doctor. A big issue on this site is the overuse of ads. In every in depth article, there are 5 – 6 Adsense ads in the Main Content. This is a site that I just gained access to, and as you can see, the site was hit on June 16, 2018 and again August 1, 2018. They didn't realize this until I checked out their Analytics profile. This is a site that has at least 3 major issues and a good example of a site run by a single person who was actually doing very good until the broad core algorithm came along:



Health site gets whacked twice:
This is a website in the Netherlands which focuses on skin health, diet, eye health and more. This site has several issues, however, at first glance, their issues include intrusive ads in the Main Content and a major lack of E-A-T.


Small UK eCommerce site gets hit for thin content:
I didn't audit this website but after the August 2018 Google Algorithm Update the owner contact me right away. His lost 20% of his traffic, and unfortunately, 90% of his sales. I think this sucks as he has an IT hardware site, and I used to run one of those myself back in the early 2000's! Anyways, as I stated above, Google looks at ALL pages on a site. This site in particular had several little cable clips for sale and number pages with less than a single sentence of text. Google sees this and says "ah, 40% of this website has no content, it sucks" and then you lose traffic:



Herbal / Alternative Health site:
This one lacks E-A-T and I haven't dug into it yet but there could be content which contradicts medical consensus:



Sports Medicine:
This site covers injuries, nutrition, and other information for athletes. Unfortunately, there's no E-A-T to be found anywhere, their backlink portfolio is no good, and there are intrusive ads including, sigh, autoplay videos:



In addition to the above, I have examined many sites related to mental health, drug withdrawal symptoms, drug rehabilitation clinics and more which all have major problems.

Sites Positively Impacted
Below I will make any notes possible which could correlate or cause a boost in the rankings.
An international eCommerce health site (client):
I can't disclose who this is, but I assist with their SEO strategy and content development. The site sells internationally and focuses on eye health. The content is authored by an optometrist and professionally written. While the page does have some "thinner" content pages, we were careful to add reviews to product pages and have added well over 1,500 informative pages to the site. The quality content to eCommerce content ratio is huge. Furthermore, the site has amazing links from industry related authority sites:



MedlinePlus.gov got a big boost August 1.
I have yet to see anyone discussing July 27, 2018, but I have seen several sites gain traffic on that date. Regardless, Semrush estimates that MedlinePlus just ratcheted their traffic up. Dang, that's a lot of traffic. And I thought my dog blog was popular…



HealthLine.com gets a healthy boost.
Another site initially affected on July 27, HealthLine is getting a nice boost.



A personal site began in 2017:
Yes, back before "quality was cool" I saw the writing on the walls. I have a side project – it is a site about dogs. While I'm not ready to share it here yet, I am indeed building it out to be the epitome of an authority site. I have hired veterinarians to author the medical content, trainers for the training content, and groomers for the grooming content. On top of that, I cover what I know from personal experience accompanied by pictures and/or videos. There are no ads other than the occasional mention of an Amazon Affiliate product. I don't think social media plays much of a role, but my dog is very popular and has thousands of fans on multiple platforms. Sounds silly, but hey it is worth noting IMO.



TheRecoveryVillage.com:
This site didn't recover but wow is it growing. The Recovery Village or one of their competitors is actually a perfect and ideal client for me as they're killing it and I could literally throw fuel onto a fire like that. I rarely say this, but, they have done really well obtaining great, authority links. Anyways, I find the drug rehabilitation niche very interesting. You have crazy people peddling snake oil, rehab brokers, good information, bad information – it's a dream come true for an advanced, creative SEO guy like me. That all said, I haven't checked them out to see if they're one of the good guys or one of the bad guys, but, they are killing it. Anyways, if your rehabilitation clinic has lost traffic you need to study these guys or hire someone who can compete with them.



A publisher / client recovery:
Here is a news publisher I began working with after the February and March algorithm changes. Their site wasn't secure, they had no author information, they were missing an address, there was no way to contact the editors, there was no phone number, they had too many ads above the fold and the site was slow. We secured the site, got it on a CDN, added contact information, added their (real) address, shuffled the ads around, gave bylines to authors, created author pages and more. They're finally making progress:
Want someone to examine your Analytics Data?
I normally charge to look at Google Analytics data, however, in an effort to collect as much data as possible to analyze algorithm changes, I will look over your data and provide basic feedback to you free of charge in exchange for basic read-only access to data for the sole purpose of analyzing algorithm changes. If it's over my head, I'll connect you with one of my recommended SEO consultants. NDAs are perfectly acceptable. I currently have Analytics data for over 200 websites, including the some of largest law firms in the USA, brands which are household names, publishers, and International eCommerce organizations. Your data will not be shared and I'll even refrain from posting anonymized screenshots upon request.
This is legitimately a limited time offer with no strings attached. You may email me here.

Advice for Sites Negatively Impacted by the August 1, 2018 Algorithm Update
I have now done an audit on multiple websites belonging to mental health, health rehabilitation clinic and other websites, and in every case, there are a variety of issues.  Sometimes, there is old, stale content which hasn't been updated, isn't formatted nicely, has no clear author, has links from crummy websites and/or other issues.
As mentioned above, there are so many different types of websites, it is really impossible to create a single "Here's how to fix your website" chunk of text but I'll give it a shot below.
If you get in over your head or need a second set of eyes on everything, you're definitely going to want a professional audit done on your site. Feel free to contact me here and I'll either connect you with one of my recommended SEO consultants or offer to audit your site. There are no (good) tools to audit a site and a seasoned consultant is often required to properly examine a website.
Google Quality Rater Guidelines
For some of us who have been doing SEO and/or building out great websites for years, we've been focused on User Experience, quality content and users for so long, we're relieved to see hard work rewarded. For the average website owner who operates a single site, they may be totally confused as to what's happening. Google's 2018 Google Quality Rater Guidelines show you precisely what a quality website consists of. Examples:
Did a Doctor write this medical content?
Does this website have a privacy policy?
Is this site which accepts credit cards secure?
What is the site's reputation?
Is the site selling something, and if so what is their customer service #?
Does a small business have an about page?
The guidelines discuss "low quality pages" in detail in section 6. Specifically, the describe "low quality" as  pages which:
Lack E-A-T
Low quality content
Unsatisfying amount of information about the content creator
The "lowest quality" pages are pages which:
Are missing content
Have copied content
Have auto-generated content
Have inaccessible or obstructed content
Have outdated content
Spread hate
etc.
This advice has not and will not change (for most bloggers and small businesses):
I look back at every site I've built from the 1990s until just last week and there's one thing that never changes. (As I am typing I realize this is not as apparent to people who aren't online as much as I am, but here it goes..) Just build nice, usable websites with great content (and get good links to that website). There is honestly no SEO article I've ever read in my entire life and no algorithm change which has ever changed or will ever change these simple facts. Sure, natural links occurred much easier in the 2000-2010 era than they do now and in some verticals you're forced to build links, but most links may be built using white hat tactics. Of course, if you're an affiliate, announce it. If you're a business, make the business hours, location, and about page available so people know who you're dealing with. If you're a restaurant, provide a menu. If you're a major healthcare site, prove it to the search engines by getting mentioned and linked to from educational, non-profit and government organizations.
The writing is on the wall for future updates.
Search engines will be forced to more rigorously evaluate website quality and content quality as time goes on. Websites handling banking information should be secure. Medical content should be authored by a doctor. Search engines have a long way to go as millions of new web pages pop up every hour. Use common sense. If you only use the Internet an hour or two a week, hire a professional.
As mentioned earlier, on the side, I recently began working on a website about dogs. Someone has a head start on me, and their website is horrendous. The content is authored by someone who has obviously never even owned a dog of any type before, it's written by someone who barely understands English, the site is plastered in ads, and, it gives out completely WRONG information. Now, I'm sure that this isn't the top priority for Google, but a quality site with content authored by certified trainers, registered Veterinarians, dog groomers and other pet lovers should destroy the other site. Eventually, it will. When it does, I'll share more here. Until then, there are indeed many poor quality websites ranking in a variety of niches and they will be negatively impacted in the next Google Broad Core Algorithm Update.

Share Your Thoughts and Experience.
We want to hear about your experience with the August 2018 Broad Core Algorithm update. Did you gain rankings? Did you lose traffic even though you shouldn't have? Do you have a random website sitting on the back burner which is suddenly ranking? Were your local rankings or map pack results changed?