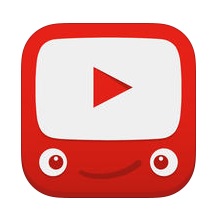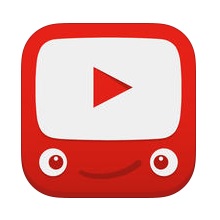 On February 23, 2015, Google released their first product built from the ground up for children: YouTube Kids.
I though I'd give it a whirl and post a review online.
Below are some of the questions that I had, and what I found out while reviewing this new app.
First, here is the the YouTube intro from Google:
How To Get YouTube Kids:
I heard the news on Twitter that YouTube for Kids was released. I went to the Play Store and searched for YouTube for Kids. On top was "Kids Video Player for YouTube".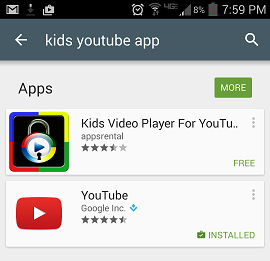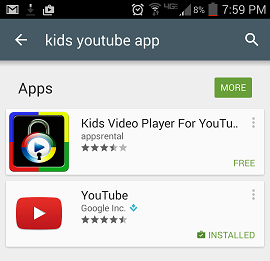 Nope, that wasn't it. That app is by appsrental, not Google. After punching in a few things I found YouTube Kids: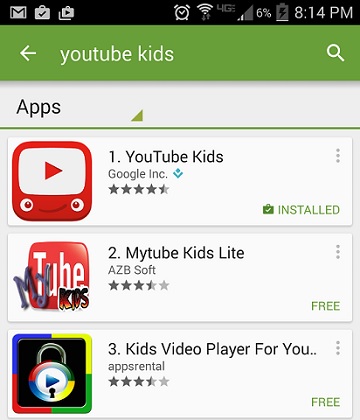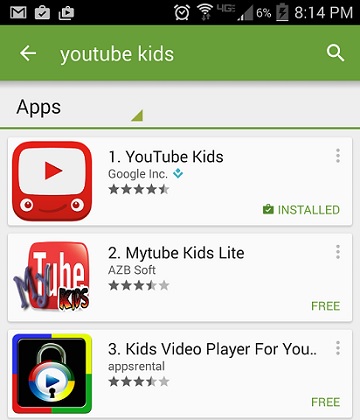 I expect that this will be ranking faster in the Play Store in no time as more people download and review it. I also expect it to go very positive reviews.
The direct links to download YouTube Kids from the Play Store and for iOS are at the bottom of this page.
Installing YouTube Kids:
Installation of the app on my Galaxy S4 phone was a snap. I tried it on an iPad and had a similar experience. It asks for basic permissions and use of the Microphone, Wi-Fi connection information, and Device ID & Call Information, all normal stuff.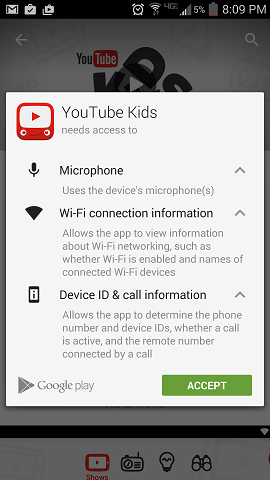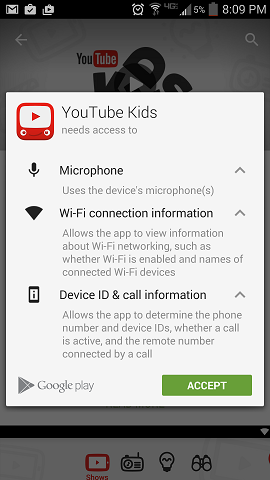 Once it is installed there is a little creature that pops up, showing parents the easy to use lock button to access parental controls.
YouTube Kids parental controls
Upon entering the parental controls section you are greeted with a randomly generated password. You can't lose it. Then again, if your kid is over the age of 4 they can probably bypass this security.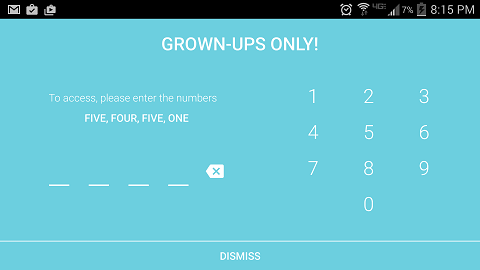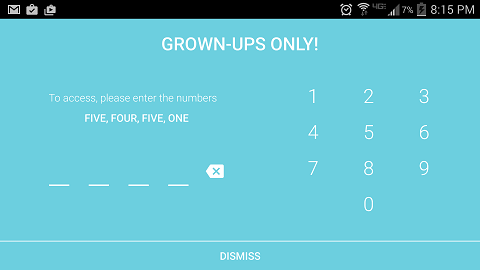 The parental controls consist of Feedback, Settings, and Timer.
The settings button allows for parents to turn the search feature on or off and controls the sound affects. Do yourself a favor and shut them off; I think most people will agree that they are pretty annoying. With every finger swipe there is a "bloop" sound which gets old after 2 or 3 swipes. But maybe kids will like it, who knows.
The timer sets the amount of time kids are allowed to use the app. When the time runs out, the screen locks. Kids can leave this screen by pressing the multitasking button.
Is YouTube Kids safe for kids?
Other than the minor issue above, the YouTube Kids app appears excellent and perfect for kids. My first thought is, kids can just exit the app before the timer runs out and load the normal YouTube app if the rest of the device isn't locked down.
The app itself is very nice though. I tried searching for all kinds of random things and I couldn't bypass the filter to get any questionable material.
Which YouTube videos are kids allowed to view in YouTube Kids?
User generated YouTube videos do display in the app in search. I'm not 100% how these are filtered. Search aside (covered in greater detail below), there are 4 main sections: Shows, Music, Learning, and Explore.
Shows. This section takes you to approved YouTube channels. Some of these channels are: Sesame Street, Thomas and Friends, Pocoyo, Talking Tom and Friends, The FuZees, Jim Henson Family TV, The Official Peppa Pig, HISHE Kids, Barney, Smartoonz, etc.
Music. This section takes you to more YouTube channels such as: Mother Goose Club, KIDZ BOP Kids, The Piano Guys, Little Baby Bum, The Learning Station, Lullaby World, Baby Mozart, etc.
Learning. This area contains even more channels. A few of these channels are: PBS Kids, TED-Ed, WhizKidScience, Organic Learning, It's okay to be smart, DJC Kids, BabyFirst TV, etc.
Explore. More Channels. Some of these channels include: LEGO, stampylonghead, Fun2draw, EvanTubeHDPlay-Doh Official, PianoKeyz, etc.
YouTube Kids App Search Function:
I had the most fun playing with search. I searched  for Katy Perry and was given about 5 results: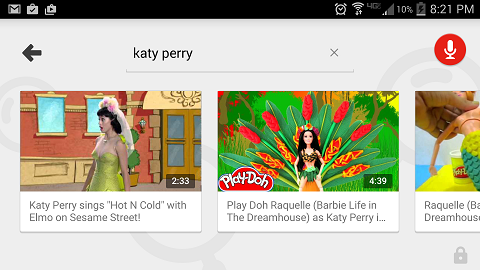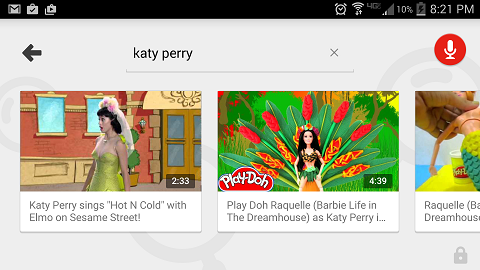 I searched for "bikini" and it told me no: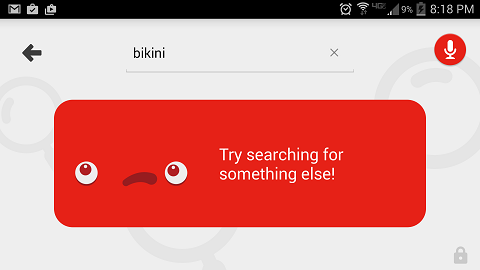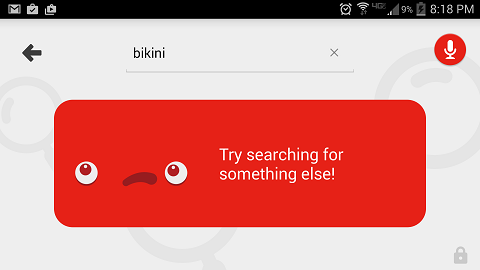 Determined to find a bikini I searched for beaches: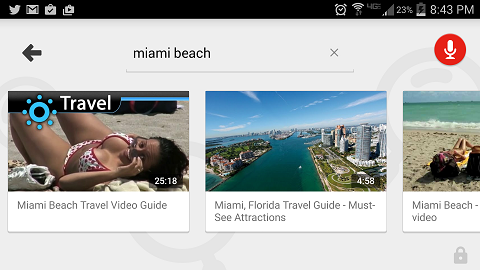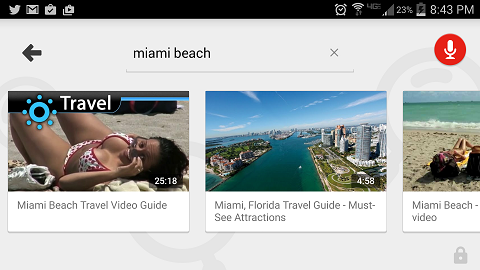 Kim Kardashian is not suitable for children: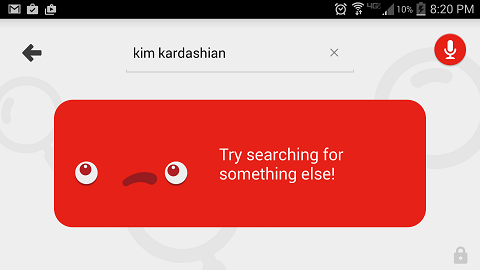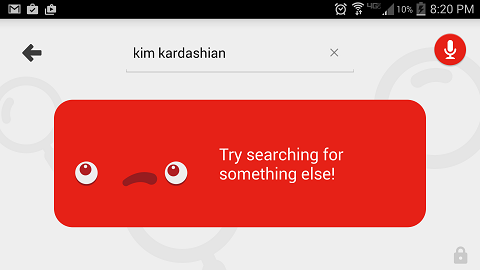 I was able to find user generated YouTube videos from puppies to plenty of Mincraft videos: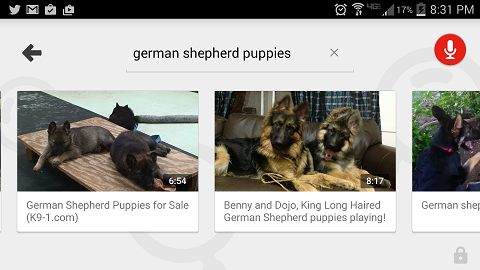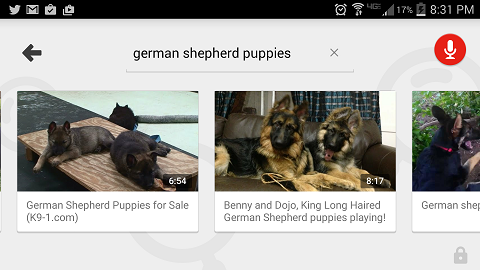 This is the Internet, so of course there are cats: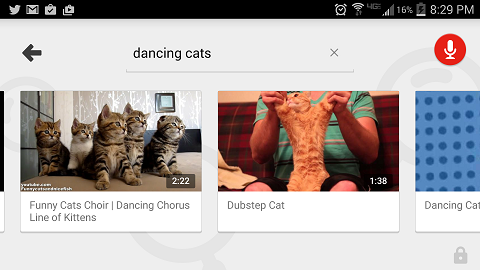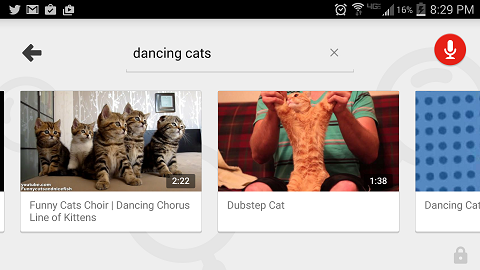 I'm not quite sure how the search auto-fill function works. Are these things that other people are searching for?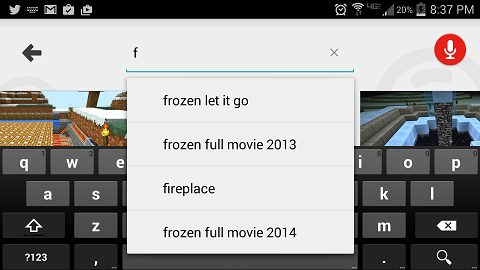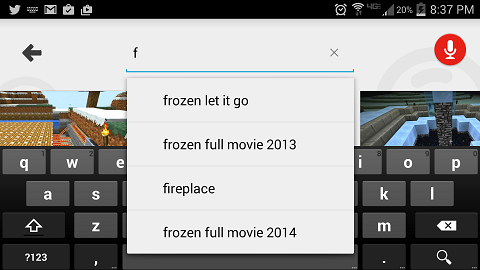 Q&A that I asked myself:
Can kids see YouTube Comments?
In the YouTube Kids app, comments are not visible.
Are there advertisements like on normal YouTube?
Yes, and they are geared for kids. This is brilliant.
Will ads be based on user behavior?
No, the app just accesses the Internet, it does not appear to track usage and does not require a login.
Is the app COPPA compliant?
The Children's Online Privacy Protection Act (COPPA) is a law created to protect the privacy of children under 13. Since the app doesn't collect data from the user, the app is COPPA compliant.
Will the next version of Andoird come with more parental controls?
This is to be determined.
Conclusion:
I'd like to conclude this YouTube Kids app review with this: I think the app is excellent! Most parents are going to love it. The app is extremely easy to use, and kids can find hours and hours of video content without bumping into anything but G-rated material just by swiping and tapping. It is interesting to see the "feedback" option built in; I think Google will take parent's feedback and apply it to future revisions of the app. Video content is huge and rapidly growing, and is how Google makes money, so the app seems like a win for Google, parents, and kids. It is obvious that this will spur new video ads directed at kids, new channels for kids, and new kids shows for YouTube.
For Reference:
Announcement on the YouTube Official Blog here.
Announcement on the Google Official Blog here.
Get it here on Google Play.
Get it here on the Apple App Store.
Google's Shimrit Ben-Yair's interview with The Guardian.