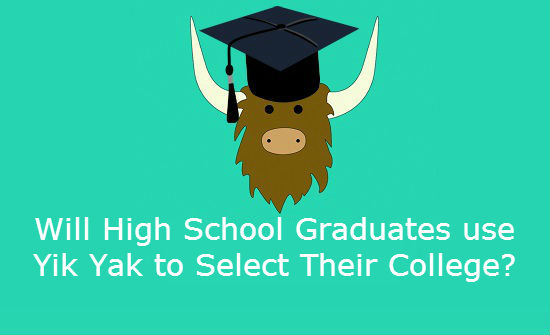 It should be no surprise that seniors are using social media to research things. The generation is connected and armed with smartphones. Many marketers, businesses, and colleges use social media to broadcast their message. The only problem is, it is their message.
It is great to hear what a college has to say about themselves. It is fun to follow some colleges on social media. What trumps this when selecting a college? Hearing what the students have to say.
Take a Peek
Using Yik Yak's "Peek" feature, distant onlookers can read exactly what students at colleges are saying in real time. Yik Yak is extremely popular at college campuses. (If you aren't familiar with Yik Yak, it is like an anonymous geo-social Twitter. Instead of posting tweets, users post yaks. You must be in about a 1.5mi radius of a Yak to engage with said yaks. Ref: What is Yik Yak?)
Today, I bumped into an article: Yik Yak: A more social way to find a college. A student in the article says it all herself: "Social media is just another way to find out about the schools. It gives you information that's different from what's on the college websites and mailings…… It's not the official stuff that they want you to see."
In case you missed it, last week I called Yik Yak's Peek The most important thing to happen in social media in 2014. If more adults start using Yik Yak, this is sure to come true. This senior's use of yik Yak is yet another legitimate use for Yik Yak's Peek feature.
This student is on to something that I had not previously considered. High school seniors will use Yik Yak to select their college. When Yik Yak started getting popular I covered the funniest Yik Yaks by college. From these yaks, you can see what students are talking about, or what is most popular at particular campuses. (Using Peek, you do not have to see just the most popular yaks- you can see the current stream of yaks as well.)
Good Yaks and Bad Yaks
Yaks from some colleges are not nearly as good as yaks from other colleges (depending on what your personal definition of good is). It becomes obvious that some colleges have students that are very witty, and that witty yaks are the most popular. Some colleges have students which simply post about "nothing"- they could be excellent screenwriters for Seinfeld I suppose. At other colleges, drinking, and smoking are popular activities, and students at these colleges often sit around bored or complain about their teachers and tell fellow yakkers how bad they feel that their tuition was wasted.
Here are some yaks where one could possibly conclude that students are having a positive or negative experience:
"With all the geniuses at Duke, I'm pretty sure my only purpose here is to lower the curve on exams." – Duke University
"Sometimes I feel like I'm the only one on this campus that doesn't drink or smoke" – Western Michigan University
"Final exam grade has me really hoping my future husband is out there somewhere making A's" – UNC Chapel Hill
"My teacher assigned a ten thousand word essay today. Some dude in the back got up and said I don't even know ten thousand words n left the room" – Georgia State University
"Teachers should really have a trial period… Because some of them f***ing suck" – Bocconi University
Ride the Yak
Who would have thought that an anonymous app like Yik Yak could become so important so fast?