In November 2018, Yelp changed their algorithm, also known as their "recommendation software". Millions of Yelp reviews were lost in what one Yelp representative called the "Yelp Purge of 2018".
Yelp filtering reviews is nothing new, but the way Yelp filters which reviews are prominently displayed as "recommended reviews" completely changed in November 2018. The changes appear to affect nearly everyone in every niche.
This may sound alarming, but what I have found is that Yelp may now be filtering reviews when there are too many positive reviews (more on this below).
The discovery:
This is a comprehensive follow up to my previous article Yelp's November 2018 Algorithm Change and Sudden Loss of Reviews. I wrote that article after it was brought to my attention that businesses were losing reviews. Lots of reviews. In some cases, 50%, 75% of their reviews, or more.
Here are the numbers for one business I monitor which has 108 total reviews. This particular business is well respected and has nearly all 5 star reviews.
Of course, there has been a huge backlash on social media. Here are some surprised, frustrated and unhappy business owners…
Maxine Evans, Celebrity Newborn Baby Photographer:

Tampa Rug Cleaners:

Fix It Nick, a Rancho Cucamonga Handyman service now only has 26 of his 68 reviews showing:

Yelp's response to business owners:
I personally owned a company with a storefront for nearly 13 years. I know how hard it is to earn reviews. As an entrepreneur, all I can really ask for is a level playing field and communication.
In my opinion, if you're going to filter reviews, you really should tell people how, who, when, why and convey that message crystal clear. Otherwise people are simply going to hear "No reviews for you!"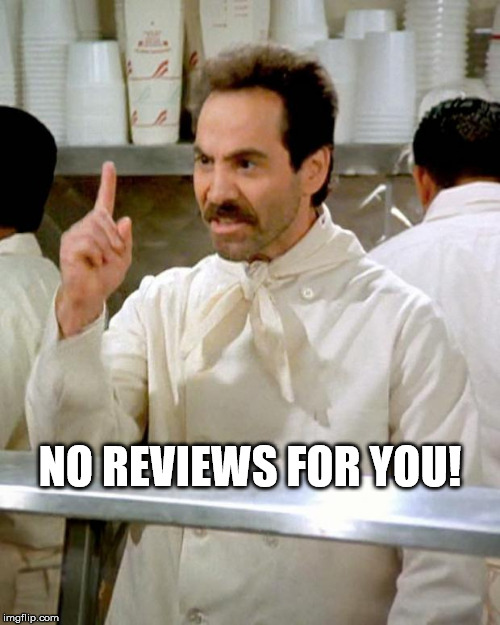 From what I have observed, if you tweet Yelp and ask them where your reviews are, they simply reply with this canned reply:

I haven't met anyone satisfied with this response yet…

"Recommended Reviews" vs "Not Currently Recommended Reviews":
Let's get the correct terminology down real quick…
Many people call their "recommended reviews" their "reviews", "total reviews" or "displayed reviews", and "Not Currently Recommended Reviews" their "filtered reviews" or "buried reviews". To be clear:
How Yelp's algorithm USED to work
Previously, Yelp filtered reviews from Yelpers who had only left a few reviews. Fluctuations in review counts were normal. For example, a client with 108 reviews used to have 75 "recommend reviews". Historically, if you visited the Yelp page, you may see 75, or 74, or 77. But at the time of this article, he's now down to 34. That leaves 74 of his (legitimate) reviews buried.
The last study of Yelp's algorithm was conducted in 2013 by the Harvard Business School. If you'd like, you can read it here. In a nutshell:
The NEW Yelp Algorithm (recommendation software):
When the algorithm rolled out and businesses began losing reviews I wasn't certain what was taking place. It appeared to me that Yelp tightened up their filter system even more than before – so users who had only left one or two reviews were having their reviews filtered. However, there were plenty of "not currently recommended" reviews that were from users who had left 10, 20, 40 or 50 reviews. Additionally, some of these users had large groups of friends, profile pictures and very obviously legitimate accounts.
According to a call my client had with Yelp, they were finally able to get a Yelp employee to tell us what happened. Please note that nobody truly knows how the algorithm works and the rep could have been just making stuff up, but after looking around I have no reason to not believe what she stated are indeed new ranking factors involved in the Yelp Purge of 2018.
Wait, What is Yelp's "Recommendation Software"?
Their "recommendation software" is Yelp's terminology for "algorithm". Basically, the Yelp algorithm changed.
In Yelp's own words:
We use automated software developed by our engineers to recommend reviews from the Yelp community. The software looks at dozens of different signals, including various measures of quality, reliability, and activity on Yelp. Most of all, however, it's looking for people who are intrinsically motivated to share the wide range of rich and detailed experiences they have every day with local businesses.
On that page, Yelp does specifically state that "We hope to continually improve the recommendation software…" Of course they do. That's to be expected.
However… Historically, the "Recommended Reviews" number fluctuates a little every month. I personally monitor a page with 108 reviews. Sometimes it has 75 "recommended reviews", sometimes it has 74, or 76.. So, Yelp tweaks their algorithm frequently, and that's (usually) good for everyone. Normally, companies like this try to keep their user's best interest in mind.
What Yelp's software determines is a "recommended review" does indeed change frequently, it's just never taken such a wild swing before.
Questions and Answers:
I have been slammed with Q&As about this new algorithm since mentioning it here on my blog, so below I will provide FAQs to the most commonly asked questions. Of course, feel free to ask questions or comment in the blog section as well.
How can I tell Yelp I dislike the algorithm?
I have heard from dozens of business owners who have told me they are making their voices known by pulling their advertising dollars (I am not advising you do or not do that), others are venting in blog comments, others are calling in and others are complaining online. I'm not sure if this goes to a black hole or not, but you can indeed offer feedback here.
Am I being extorted?
I don't work there so I do not know for sure, however, I can tell you that there are plenty of paying customers who have had their reviews filtered. Yelp's motive definitely does not appear to be to show negative reviews unless you pay them.
Now here's where most people say that Yelp was cleared of this in a court of law. That's not entirely true. Yes, a group of business owners sued Yelp for extortion. And yes, they lost.  However, this attorney makes clear that Yelp can legally manage its database of user reviews however it wants to. But, that said, Yelp does promise us that advertising with them does not give you a higher rating, remove negative reviews or promote positive reviews. I believe them, and I haven't seen anything to lead me to believe otherwise. While I do not have a mountain of data in front of me – I do see people's Yelp reviews several times per day every day, and I have never witnessed any extortion of any type.
Is this due to Yelp's stock price?
Yelp is indeed a publicly traded company. And it appears the algorithm rolled out close to the same time the stock tanked. But, that's all I know. I'm not sure if the algorithm change rolled out before or after or in response to the stock price. I do know Yelp is making several changes.
How do users feel about this?
I do not know how every user feels or even what the consensus is. I do however know that some users have noticed that their reviews are being filtered and they aren't happy about it. It's very difficult to get some people to leave reviews in the first place, so obviously those people aren't going to be too excited if/when they discover their reviews are filtered. Case in point:


Did you lose your reviews?
If you had a mostly 5 star review rating, we'd love to know your historic and current review counts. Please feel free to post them below.
Do you think Yelp should filter your 5 star reviews?
Please feel free to comment below with any other information you may have about the Yelp Purge of 2018.