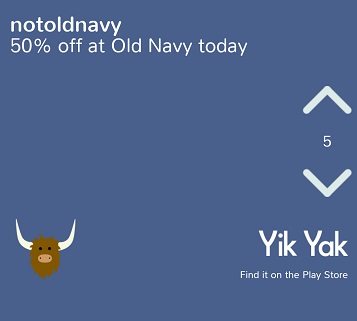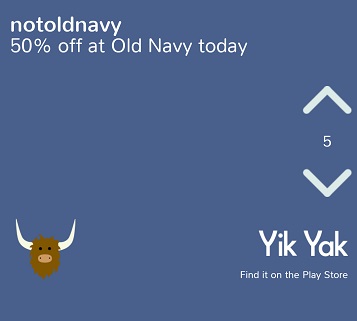 I do not do much shopping, or Black Friday shopping, but this Black Friday, November 28, 2104, I was out driving someone around at midnight. We just went to 2 stores, and I waited out in the car.
I read the news, checked in on Yelp, and then went onto Twitter to see if there were any Black Friday deals. As I sat outside of the Apex, NC Old Navy I looked for #Apex. Nothing recent.. Then I went to @OldNavy. 50% sale, ok, I knew that already- the signs in the window said so. I realized there was, yet again, no good way to communicate with other people in the area. Oh wait, yes there is, Yik Yak!
I fire up Yik Yak. What do I see? Nothing related to shopping. Hmm. I throw a test post out at 1am- I simply state that Old Navy has a 50% off sale. Immediately, people start upvoting it. By 2am the yak has 5 upvotes. This is not a ton of interaction, but it goes to show that people are indeed looking for shopping tips via Yik Yak. Are they college students home on break?
In malls and shopping centers using Yik Yak could be an invaluable tool to find great deals, or places to avoid. Will retailers start using Yik Yak? Will anonymous location based social media become a popular Black Friday shopping tool in the future? Will Black Friday become #YakFriday?