November 10, 2015, Yahoo made a change to the way small business listings are handled.
If you attempt to log in to Yahoo! Small Business you are forwarded to www.aabacosmallbusiness.com. The page says "Yahoo! Small Business is now Aabaco Small Busness." "Same team."
Sounds easy enough, right?
Can you manage your Yahoo Small Business Listing in Aabaco?
Note: If you are experiencing problems with hosting, read this: Aabaco small business hosting problems.
I attempted to log in to Aabaco Small Business just to poke around and make sure that a company's Name, Address, and Phone # were ok. That is all really needed; the business I was managing ranks excellent and shows up well in the map results, and it isn't like Yahoo drives any traffic to it anyways.
Well, that didn't happen.
The first screen tells you to simply enter your email address and your account information will be emailed to you.
That didn't happen.
The screen says if you do not get an email to call their toll free number. I tried that and was given a "Luminate" URL at the 800# to go to.
Can you manage your Yahoo Small Business Listing at Luminate?
I went to the Luminate.com URL and it gave me an incident number and told me to call Small Business Support at 408-916-2149. I called that at 12:39PM. At 2:07PM I would get a human who would treat me like I was nuts.He said "Oh, we only take paying customers here, Yahoo Small Business customers must call YEXT, we have nothing to do with Yahoo Small Business listings.
What the?!
Off to Yext I went.
Can you manage your Yahoo Small Business Listing at Yext?
Yahoo's website specifically states "If you have an existing Local Basic Listing with Yahoo, once your claim is approved you'll be able to edit and manage your Local Basic Listing from a Yext dashboard starting in November 2015. You'll be notified once your dashboard is ready."
Great.
I go to submit my Yext claim using the correct URL. This is what the first page looks like:
Once you hit "Submit" the sales pitch begins and Yext informs you that you have a massive error rate in local directories such as Facebook and Bing, which was completely inaccurate. It also claimed that the Facebook page "was not standing out". Huh?
In addition it lists websites such as merchantcircle, Whitepages, LocalDatabase, Tupala, and Avantar. None of these are relevant to the niche I was working with, nor do they affect search ranking; in fact, I do NOT want the business listed in any of those directories.
At the bottom of the screen is a big "Continue" button and above it reads "fix your local listings everywhere".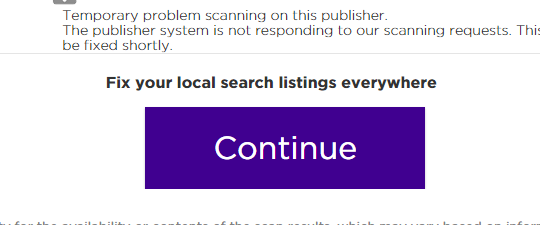 This sounds absolutely horrifying. I am working with a huge law firm and the last thing I want to do is have Yext "FIX" all of these things (which are not broken).
So, I call Yext.
Upon calling Yext a lady answers the phone who was clueless and sends me off to a sales rep. The sales rep was extremely aggressive and tried to sell me a $499/yr package that would make my Yahoo listing "pop". I do not know if he has ever used Yahoo or not but "pop" is not how I would describe anyone's Yahoo listing.
It took 17 minutes and 4 seconds (I timed it) for him to tell me that if I click "continue", then fill out all of the information on the next page and click "continue" that I would eventually be presented with a page full of text and graphics and that "hidden" (his words) at the bottom of it was some "tiny" (again, his words) text to claim my free listing.
Prior to that he insisted there was never a way to enter information into Yahoo- that all of the listings were pulled from public information and that business owners could not manage it. Of course, this was a total lie.
Here's what the page looks like where you have to click continue:
Did it work?
Supposedly an email was going to be sent to an owner of the business and a Yext representative was going to call the business to verify the (already verified) listing.
So far, neither has happened.
In addition, I am not seeing the business listing in search results, and yes it was there 24hsr ago.
Conclusion
I will continue to monitor Yahoo's massive problem and see what becomes of it and post any updates here. I am left to wonder:
Is Yext removing business listings that don't pay them?
If you are having problems claiming your Yahoo basic listing please let me know below.
UPDATE 1/28/2016:
I have submitted multiple businesses to Yext to see if the free listing worked. After months of trying, so far, NOBODY has gotten their free listing.  This is fully documented on my post here: Users Unable to Manage Yahoo Local Business Listing with Yext.