The biggest change coming with WordPress 5.0 Gutenberg is the "Editor", however, changes to the WordPress core, PHP and JavaScript will indeed crash some websites with incompatible themes or plugins which have yet to be updated to be compatible with WordPress 5.0.
WordPress 5.0 Gutenberg will be Released December 6, 2018
WordPress 5.0 is expected to be released on December 6, 2018. If that's news to you, you're not alone. WordPress dropped this little bomb on millions of us December 4th (See: WordPress release dates).
The only thing worse than their timing and communication skills are the reviews of Gutenberg. Up until now, people have been able to install the Gutenberg editor as a plugin and check it out. In a nutshell, the vast majority of reviewers for the Gutenberg Editor plugin aren't happy: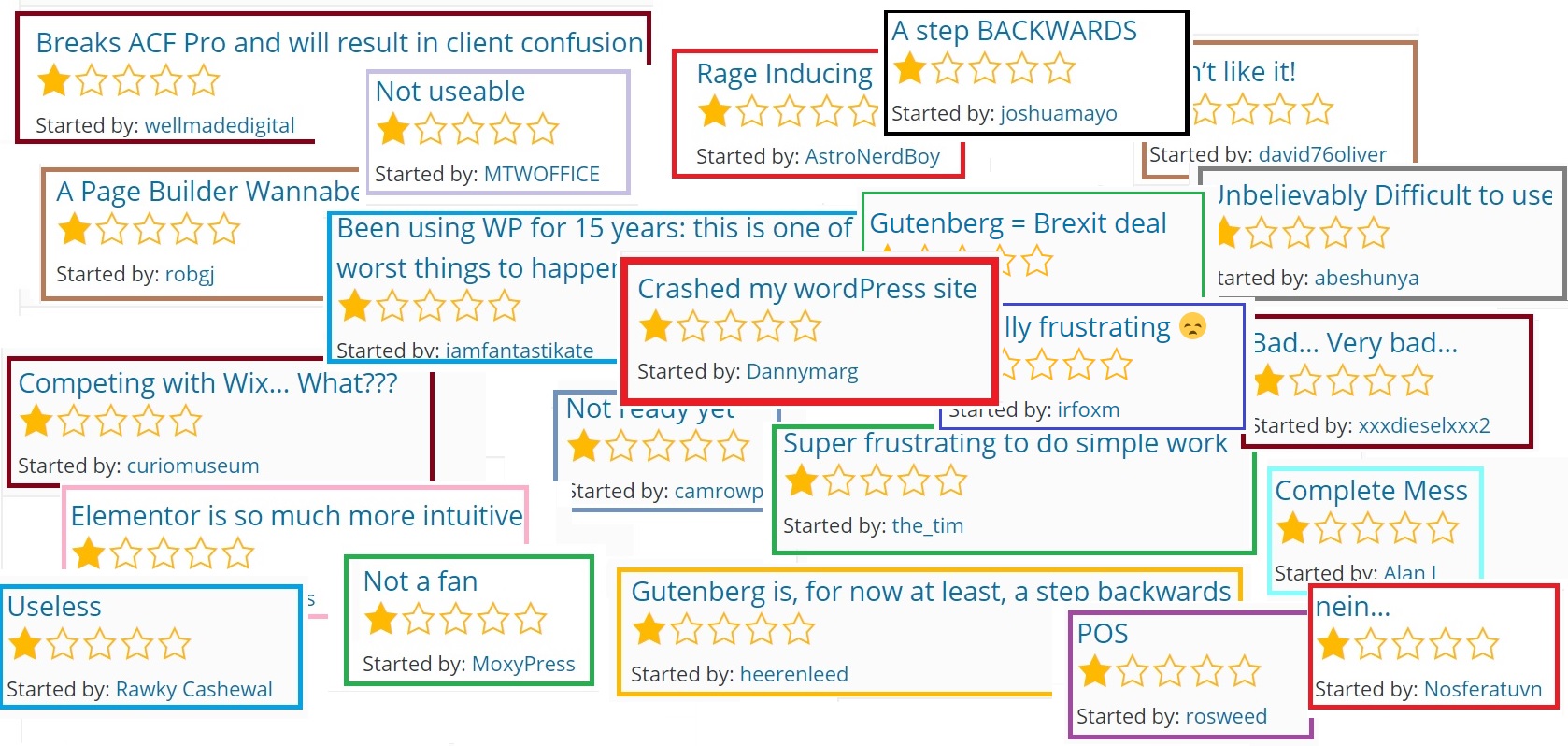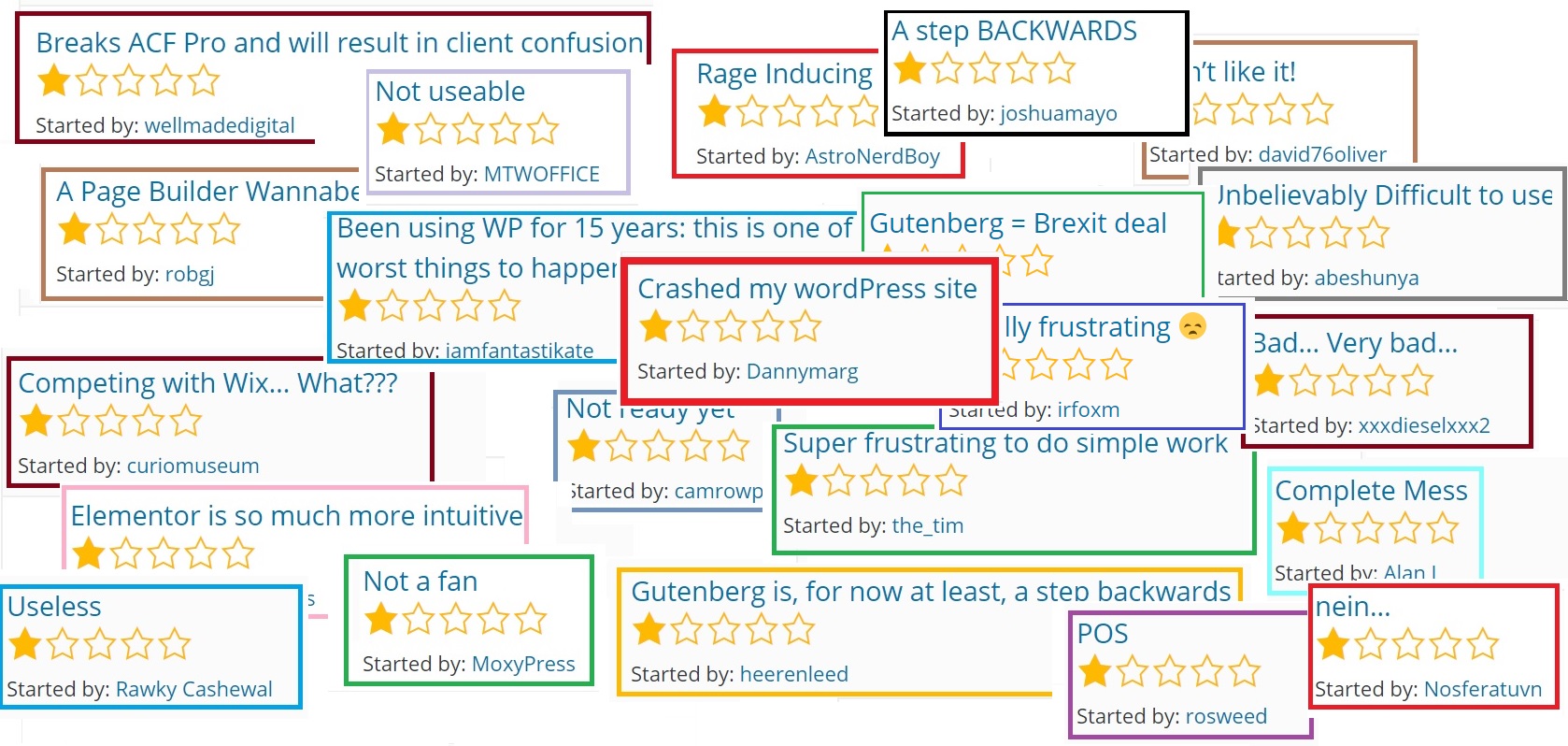 Can I find out if WordPress 5.0 will crash my site before upgrading?
If you asked this question, you've probably used WordPress in the past. Once a site is damaged, recovering it is a real pain.
Unfortunately, there's no great way to test your site in advance. One way to do this is to duplicate the site onto test environment, run the upgrade and see what happens.
Do Not Upgrade Yet.
This is the only logical advice, especially if you're running an array of plugins or have a custom website.
If you've worked with computers for any length of time, you know that upgrading to Windows 10 means you probably need to buy a bunch of new software and throw your printer in the trash or if you're a Mac user you have to replace pretty much everything in your house, including the kitchen sink (you do have an i-sink, don't you?)
Let everyone else install it and work out the kinks. Expect patched Gutenberg updates in the very near future.
To Do Now: Disable Automatic updates.
To disable automatic updates, you have two options:
Use this plugin: Easy Updates Manager.
(UPDATE 12/18/2019: THIS PLUGIN FAILS TO STOP GUTENBERG)
Edit your config.php file as per these instructions from WordPress.
From what I am being told by developers I communicate with you should install the Classic Editor Plugin ahead of time, which should disable most of the Gutenberg functionality.
Preparing to install WordPress 5.0
To be honest, I have no clue what is changing in the Core or how it will crash themes, but one of my developers told me that there will be changes to calls to the do_blocks($content) function in the the_content filter, and custom themes may have issues with JavaScript and the Document Object Model (DOM).
But, I still have some tips. Here they are:
Be 100% certain sites are totally backed up prior to updating.
Upgrade plugins BEFORE upgrading WordPress
Make sure those plugins are Gutenberg compatible
Hire a developer if it's an important site. Even though I manage well over 100 WordPress sites, that's what I'm doing here. This is indeed a weak point for me and I'm not afraid to confess.
Run the upgrade on a staging server? If it's a mission critical site, do duplicate it and test it before pushing the changes to the production server.
WordPress 5.0 Gutenberg – a Good Thing?
Overall WordPress is still the best option for most businesses, especially those of which consistently produce content or eCommerce sites running WooCommerce and multilingual sites running WPML.
Most major plugin creators have been preparing for WP5 since back in 2017.
WordPress is indeed still my CMS of choice, hands down. My experience with the editor is limited and I like the old one, but it's time for a new one and this is what I'm getting.
It will be a challenge but not the end of the world and I am guessing plenty of positive things will come from it.
December 7, 2018 Update: Gutenberg crashed my test site.
Well, this isn't good. I have a test site running a very basic theme called Hueman. I upgraded all of my plugins and ran the WordPress 5.0 update. The install went well, then I visited the home page to discover that columns were displaying on the wrong side of the page. I installed the Classic Editor plugin (mentioned above) and now the pages are larger than my screen and showing in the wrong resolution. I don't know what is wrong, but according to WordPress, this one theme is currently active on over 70,000 sites. That means there are MILLIONS of sites out there who will have problems if they upgrade to WordPress 5.0…
Did WordPress 5.0 Gutenberg Crash Your Website?
As time allows I will post updates here, however, I'm probably not going to get to most client sites until early 2019.
Please feel free to comment below and let us know how the upgrade went for you. If a specific theme or plugin crashed the site because it was incompatible with Gutenberg, please add that to your comment.