What is Caturday on Google+?
Cats have infiltrated much of the Internet. They started on websites, blogs, and forums  and then worked their way into the social networks and are very active on Google+ or Google Plus.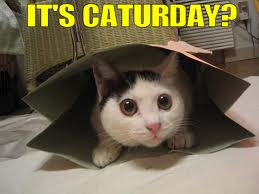 They started gaining traction as shared images in 2005-2006. Then they were high resolution images. Then came cat mems, cat pics with captions, LOLcats, I Can Has Cheeseburger, etc. If none of this is ringing a bell you may want to read up on Caturday over at knowyourmeme.com and if you don't know what a meme is please read What is an Internet Meme?
There are multiple communities on Google+ specifically for Caturday. Some people choose to share with their public circles and the hashtag #caturday while others share in the Caturday community. Google+ supports animated gifs and high resolution images which makes Caturday on Google+ a unique experience. On Google+, every Saturday is Caturday.
Can a business benefit from Caturday?
Of course, many people would shrug Caturday off as a waste of time, but a business can definitely benefit from Caturday. I am writing this article specifically for Caturday and will share it on a Caturday! I am primarily writing it for future reference though, and any time someone asks me what Caturday is, I can simply reference them to this article.
Some of the brands I manage on social networks celebrate Caturday. One of them is a laptop repair center. Laptops put off a lot of heat, so cats love sitting on them. Sometimes they even "chase the mouse" on the screen. There are literally thousands of images on the Internet of cats playing on laptops, scratching screens, "typing", etc.
Cats on roofs can be related to roofing companies. Cats in gutters can be used with gutter installation companies. Close up images of cat's eyes could be used for an optometrist or ophthalmologist. Attorneys can use cat memes. The list goes on. Any business can utilize or celebrate Caturday. Sharing these images on Google+ can result in new followers. Businesses can also act on Google+ just like a personal profile, meaning they can join these communities and engage with people posting cat pictures. If they are not spamming or overly promoting themselves, the Caturday community on Google Plus has been very receptive to interacting with businesses (not all communities are so welcoming). Of course, not every business needs to use Caturday, but it can easily be used professionally occasionally by anyone.

Final note: I am normally very careful with image attribution. Some cat pictures though- there is just no telling where they came from. Use at your own risk! I am overly protective when managing a client's reputation and profile online. For this blog post though, I am going to go ahead and share some funny cat images. Please note, these pictures are not of a cat I own and I can not attribute the author because I have absolutely no idea where the images came from, but, I am sharing them anyways in this case. These are entirely here for your enjoyment which is what they were intended for- a good laugh.
Happy Caturday!