I have been doing a lot of HTTPS migrations this year and clients have been asking me some common questions which include:
Should I expect a loss in traffic?
Will I get more traffic?
Will my rankings change?
What will happen in Google Analytics?
There are a lot of guides on the Internet that say your rankings will suffer a temporary drop. This has not been my experience. Ever. With any type of redirection. Of course, I am the one doing them. If you screw it up, well, yes, you can expect all sorts of problems.
What should my traffic look like after an HTTPS migration?
I recently wrote a complete "How To" guide to upgrading WordPress to HTTPS. In it, I mention that you will need to configure new properties in Google Search Console and Google Analytics. The day of the change you should be monitoring both.
Now the chart below is from a website which has volatile traffic, so please do not look at it and assume that you will get more traffic just from upgrading. That said, the site is getting more traffic from upgrading. Search rankings did not necessarily change much, so I believe some users are more likely to click on an HTTPS site than an HTTP site. I will run a new chart on another site with more consistent traffic patterns in the near future, so stay tuned.
Anyways, what is most important in the chart below is the big transfer in traffic which we can see take place on January 31, 2017. There is still a little traffic coming in on the HTTPS site but that is just a trickle of some Twitter referral traffic.
When a HTTPS migration has worked properly, you will see traffic drop off of one site and pop up onto the next.
To build this chart I exported website visits from both the HTTP site and the HTTPS site, threw everything into a CSV file and imported it into an online chart builder.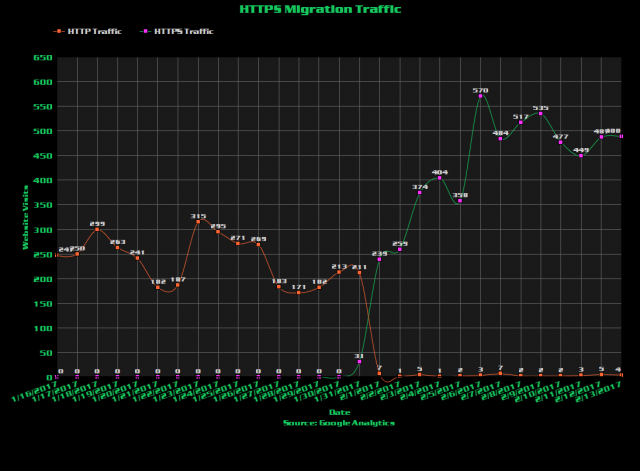 Have you migrated to HTTPS?
Have you been afraid to take the plunge? Did you do a migration which failed? Did you successfully go to HTTPS?
If you have migrated your site to HTTPS please feel to comment below with any questions, concerns, horror or success stories.