I saw something new today underneath a business's Google My Business listing in Google Local Results. There was a special section which read "Their Website Mentions". Google specifically quotes content from the website in local results.
Google Local looks at website content?!
Yes, of course it does. For years, all sorts of businesses produced local packs specifically due to the keywords which they rank for.
For example, I know a real estate agent who didn't rank organically for "real estate agent". So, we put together a page for his website called "real estate agent + city name". Once he ranked organically for that, he was then in the local pack for that particular search (prior to that he was focused on something much different). We did the same thing with "broker" as well.
Google Local Results reading website content
In this case, I had googled "deer processing" to see what would show up. I had just shot a nice buck with my crossbow. Every time that happens, I do a web search to see if their are any processors near me. There never are, and I wouldn't use them anyways as I enjoy doing it myself.
Anyways, here is the screenshot:
In this case, there is probably no good category for deer processing and with so few local results they had to dig a little. But it still confirms for anyone in denial that Google does indeed know what is on your website.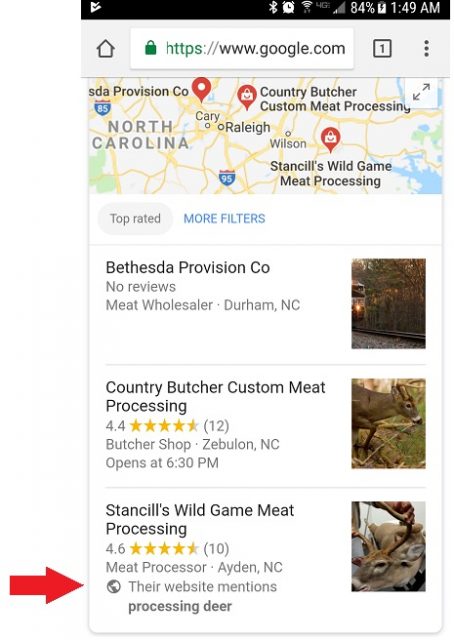 In addition to the content, Google knows what you have listed as your business name, address and phone number. There are ways to help them along using "markup", but that is beyond the scope of this article.
Have you seen this?
If you have seen local results in the local pack or in Google Maps like this we would love to hear from you. Please let us know the exact search term used to trigger the result!