Today I was on my local news website, WRAL.com, and I saw one an ad box which screamed "SCAM" at me. Having been online since 1988, I tend to see these things from a mile away. The headlines were just too outlandish. So, of course I clicked on all of them. As an Internet marketer, I like seeing the way people make money online, even the scam artists.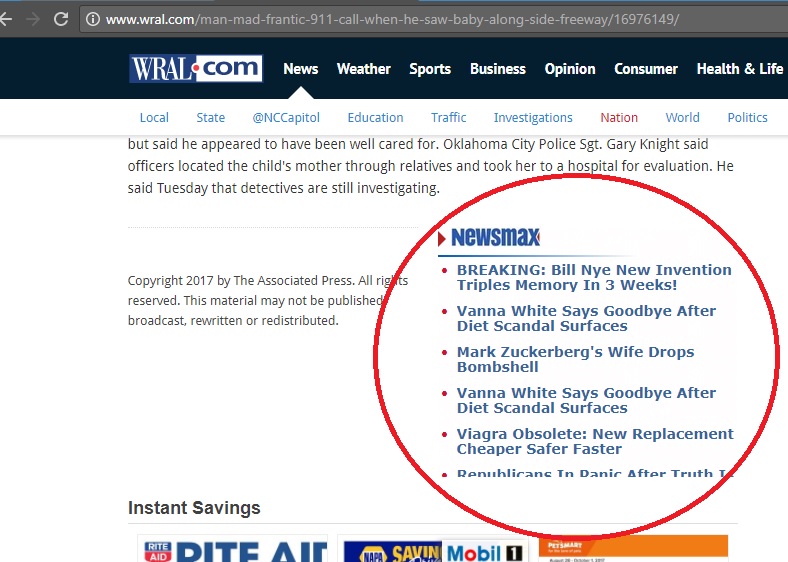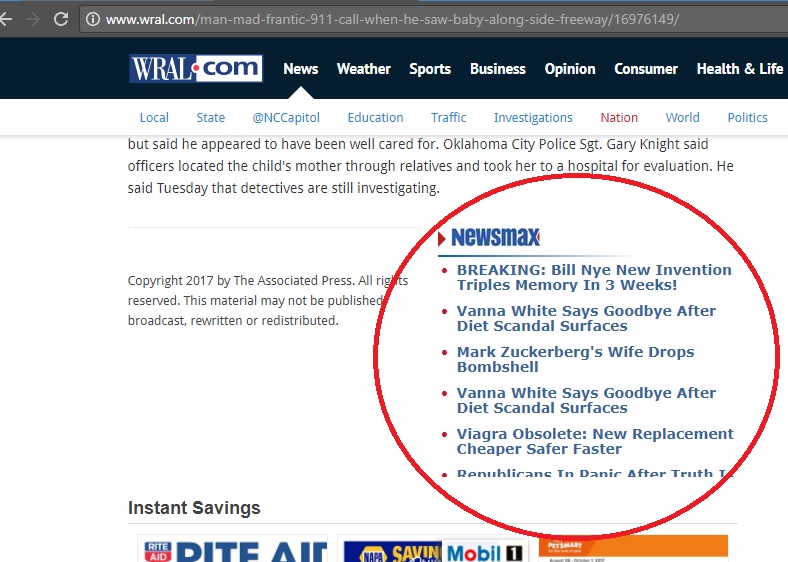 News organizations display ads, and sometimes "bad" ads slip in through their display advertising network.
Anyways, in this case I clicked the article which read "Vanna White Says Goodbye after Diet Scandal Surfaces". I knew before I clicked it that I'd see some magical weight loss pill, probably given away for "free". The problem with these deceptive ads though is that there is always fine print hidden away. People think they're getting something for free but it costs $90/mo pretty much forever. Anyways, if you have $40,000 or $50,000 to throw out please call me immediately. 🙂
Fake US Weekly Website
Upon clicking the fake headline I was greeted with a fake US Weekly website. The true US Weekly website is www.usmagazine.com, but this site is world-health-news.org. The fake site has a fake news headline which reads "Wheel of Fortune under fire after pressuring Vanna White to lose 15 pounds". I didn't read all of this article but it basically has a bunch of Dr. Oz quotes and goes on to talk about the miraculous capabilities of Garcinia Cambogia. Then, of course, there are blondes in bikinis who supposedly lost a pound a day: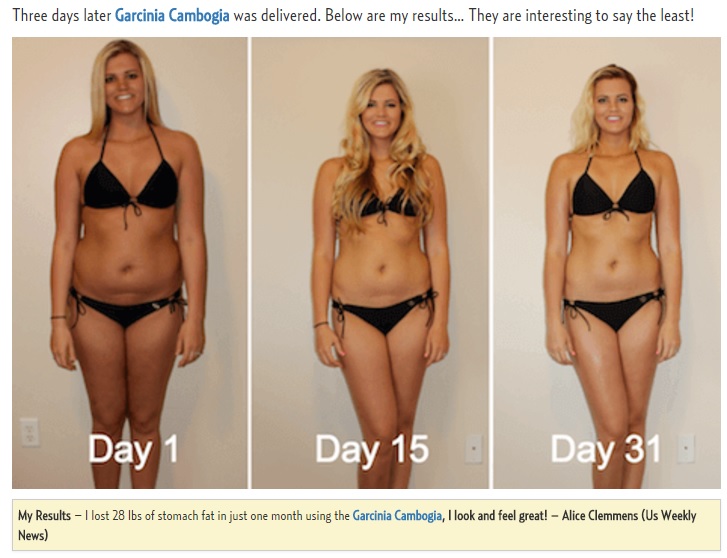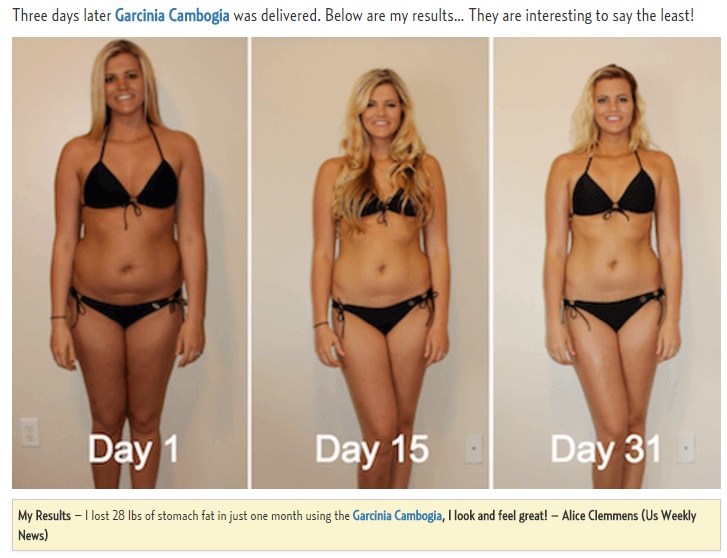 Garcinia Cambogia: a weight loss supplement or a scam?
Several scientific studies like this one have concluded that Hydroxycitric Acid (HSA), found in Garcinia Cambogia, does not help with weight loss. In fact, it may cause more harm than good. According to WebMD, users of Garcinia Cambogia may feel dizziness, dry mouth, headaches, upset stomach or diarrhea and could interract badly with asthma and allergy medication, diabetes medicine, iron, anemia, pain medications, prescriptions for psychiatric conditions, statis, drugs which lower cholesterol or Warfarin. They also warn that you definitely don't want to use it when you're pregnant or nursing, or if you have kidney or liver problems. It is possible that manic symptoms may emerge as a side effect.
Fake Facebook Comments
At the bottom of the fake US Weekly page, there are what appears to be recent Facebook comments in place. In the marketing world, some call this "social proof", however, these are not from a Facebook feed, these are indeed fake: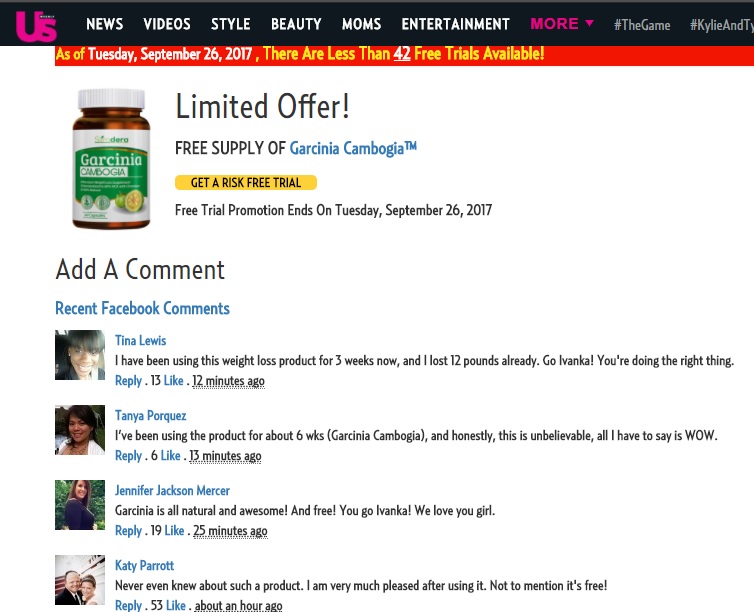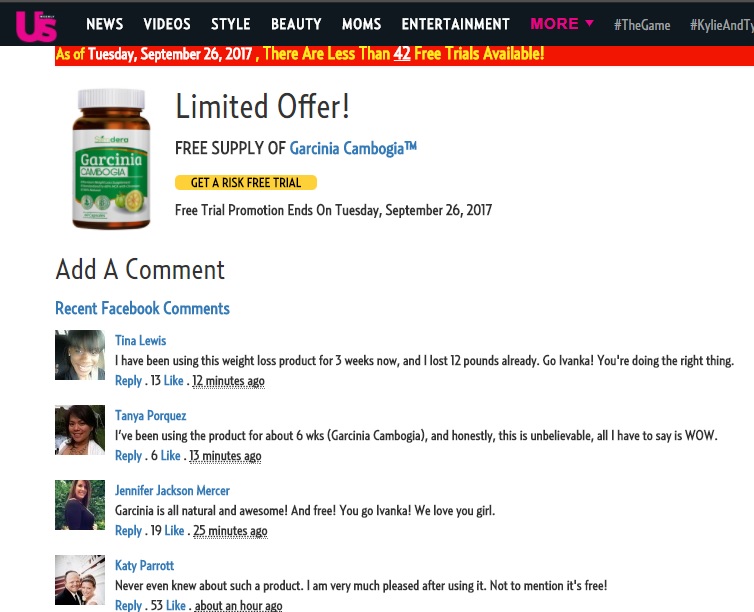 How to actually lose weight
A book which worked great for me that I found very inspirational was called "Body For Life". In it, the author, Bill Phillips, teaches you how to work out, what to eat, and how to make a habit of doing it. I learned you have so much MORE time after working out and there are really NO excuses. This book added years to my life and I'm now in my 40's and medication free, eat well and excersize. They just didn't teach us this stuff in school, did they? If you're overweight like most people, read this book! Yes, that is an Amazon affiliate link, but the point of this article is not to sell books. In fact if you buy the book and you don't lose weight after following the directions in it I will personally buy the book from you. Also, there are plenty of other books which teach us how to exercise and eat well and almost any of them work when they involve cardio, some weight training and eating correct portion sizes of quality food.
Did you get scammed?
Don't feel bad, the website looks very legitimate. Also, I'm not sure if this is technically breaking any laws or classified as a "scam" or not as I'm not an attorney. However, there is absolutely a significant amount of deception taking place here.
Please let us know below how you arrived at the fake website. This will help other people reading this artice. Was it through an advertisement on a news website like Fox, ABC or CNN?
If you purchased it, did you cancel the charges on your credit card?
Did you accidentally pay $90/mo after your free trial?