I spend much time in the coastal areas of the Carolinas and whenever I'm in Wilmington or Surf City and I flick on the TV there are advertisements for personal injury lawyers.
I work with multiple personal injury lawyers with monthly Internet marketing budgets of well over $30,000 and they wouldn't dream of touching a TV commercial. The best bang for the buck is on the Internet.
What I dislike about TV advertisements
Maybe the TV ads are cost effective. If so, that is fine, keep them going, just don't overlook the value of content. Think of it as an ad that is always playing, 24 hours a day, anytime someone is looking for it.
When you have content that answers people's questions, any time someone is injured in a car accident and they turn to the Internet for answers, they will find you if you have this niche content.
Also. Even though I have seen your ad 300 times, I have absolutely no idea who you are. There is no "branding" opportunity here in my opinion.
If I get hit by a truck and have my leg amputated, I am going to Google it. I am not going to say "Oh, I need to call attorney Bob!". Unless I happen to come out of surgery and see your television ad in the 3 seconds before I pick up my Samsung Galaxy phone and swipe off the lock screen and tap on the browser. Even if I intended on doing calling a personal injury attorney from a TV commercial, the Morphine would likely make me invert 2 of the digits, and instead of getting your secretary I'd be on the phone with Taco Bell's HQ wondering how I got there.:)
Content works. Really.
Of course, there are injury attorneys in the area who get plenty of referrals and don't even need a website. But, for those who want to advertise, content and good exposure online is hands down the most cost effective way to get new cases. Telapost is my 3rd successful company I have operated on content and SEO alone and I have plenty of references from other personal injury lawyers all over the United States who get cases from the Internet as well.
In a sea of misinformation and incompetent Internet marketers, above is the truth. For complete details feel free to visit my page on Personal Injury SEO and Content Marketing.
Current Rankings of Jacksonville Attorneys
Of the top 3 attorneys listed in local search there is 1 review. One! This is unheard of.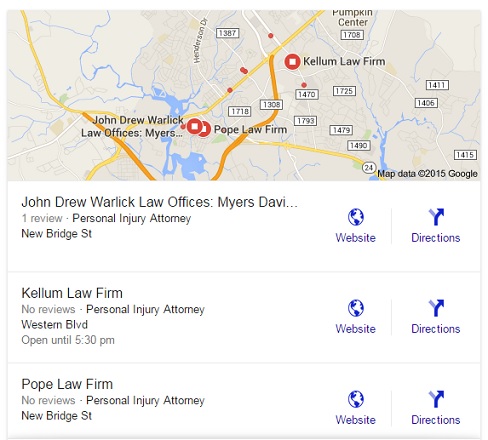 John Warlick Law Offices, Kellum Law Firm, and Pope Law Firm are all at the top at the moment. Over on page 2 I am seeing Riddle and Brantley doing some small blog posts.
Overall, Jacksonville is literally here for the taking. Does anyone want to start a law firm with me? hehe. Seriously though, compared to cities like LA that I work with, Jacksonville is literally a dream come true.