People these days want things now. We live in a now world with coffee and hot meals served to us in our vehicles in under 90 seconds after asking for them. The first thing people ask when getting SEO is "How long until I can rank on the front page of Google for term X". But there is a lot more to it than that, especially if you want lasting results. The same can be said for content. Quality content is great, but often more than JUST content is needed.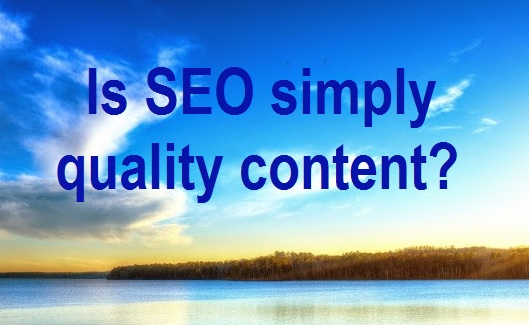 Does SEO boil down to making a site easily crawlable and consistently creating good and relevant content?
I saw this question on Moz's Whiteboard Friday. The answer to this varies. Let's use 3 hypothetical examples. Please note, I am not trying to boil down the answers! The answer to this question is not "yes or no". You could ask this question about 5,000 different websites and get 5,000 different answers.
Easy. If you sell polka dotted spaceships in Timbuktu, all you really need is a crummy landing page. Anyone that is in Timbuktu and looking to purchase a polka dotted spaceship will find you. In fact you'll likely rank on the front page of Google practically overnight. Heck, anyone on the planet that wants a polka dotted spaceship is going to find you.
Medium. In many niches, having an easy to use site combined with fresh, unique, helpful content is in fact enough. Let's say there are 5 criminal defense attorneys in 1 city. All 5 have a website, but 1 of them is putting up decent content and linking back to their own pages throughout their content. Will they outrank the competition? Maybe. If all of their sites are about the same age, load at the same speed, don't have any special inbound links, etc and are generally created equally (almost impossible) then yes, putting up unique and helpful content IS going to get them ranked above their competition. If they can handle this themselves, they do not even need an SEO person helping them.
Hard. The above two examples were for local SEO. In more competitive niches, or for people who wish to rank for keywords in search nationwide, the SEO strategy becomes significantly more complex. A site with unique, fresh content that is easy to crawl is just one of many components, and even creating the content itself becomes an art. I personally believe that in a long term strategy, the content component is easily 50-75%
Why you can't "boil down" SEO:
I love this video. This video articulates it much better than I can. The whole "boil down" analogy is brilliant.
Note: As stated above, each case is different, and not all sites need any sort of social engagement. In fact, I own sites which don't even allow comments and dissuade people from sharing which are topical authority sites and perform great. I do however believe that social is a ranking factor and will become even more important in the future.