Upon the sale of my last service oriented business, I purchased and read a book called The Four Hour Work Week. It became very clear to me to have a 4hr work week I would need a product and not a service. I still provide services, but I have decided to structure them differently.
Service oriented businesses are tough.
There is a lot of overhead involved in a service oriented business. People get emotional, and keeping them happy is tough. At my last company, we had billed out around 37,000 invoices. Happy customers included Kim "the cookie lady" who would bring us cookies, and Rashid, our guy who ran the neighboring Subway shop who would come in daily to say hi. We had a cigar guy, a beer guy, and a pizza lady. We had some very happy customers that we always went the extra mile for. You have to really provide a legit service to stay popular.
What happened to SEO companies?
Not all SEO companies are bad, but unfortunately, SEO has become a 4 letter word. Many SEO companies employ a churn and burn tactic; they are used to losing customers every so often but new customers are ready to take their place. What will happen when the flow of new customers slows?
Many are destined for failure simply due to the way they are structured. I almost went down the salesperson path when I opened Telapost. Fortunately, I did not. I had interviewed several seasoned salespeople who worked with several firms. We now operate via word of mouth here. Demand for what we do is extremely high, and in 2014 I decided that we simply do not have a need for a salesperson. SEO companies that have sales staff, managers, and a plethora of other expenses often provide very little to their clients in exchange for their advertising dollars.
Weeding out the good from the bad is difficult. The good companies will have a small army of extremely happy clients ready to vouch for them.
Demand is decreasing for SEO Companies and Telephone Books
Telephone books were disrupted by the Internet. SEO companies made their own reputation. Some people are still looking for both, but this is trending down as seen on this screenshot from Google Trends taken Nov 22, 2014. I suspect the decline will continue into 2015.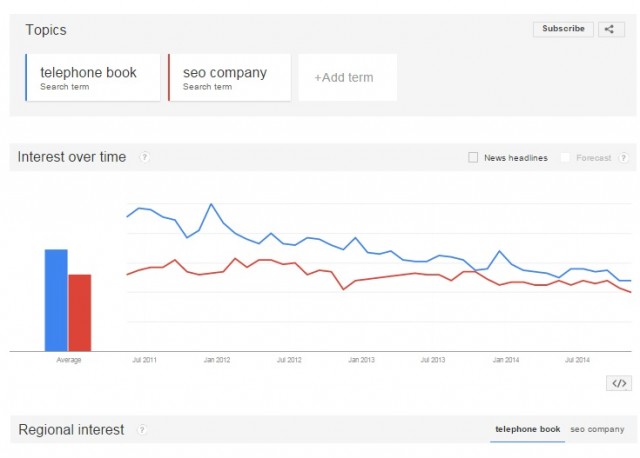 In 2015, I predict companies will continue to advertise online. Being found in search is huge for businesses. People are going to want real results and work though. Companies selling spam, press releases, and low quality content are going to be in trouble.