There is a bad smell in the air. It smells like duplicate content.
To see it for yourself, just Google (with quotes) "This is the time of year that has home buyers and home sellers alike excited"… You'll see 11,000 articles just like this one: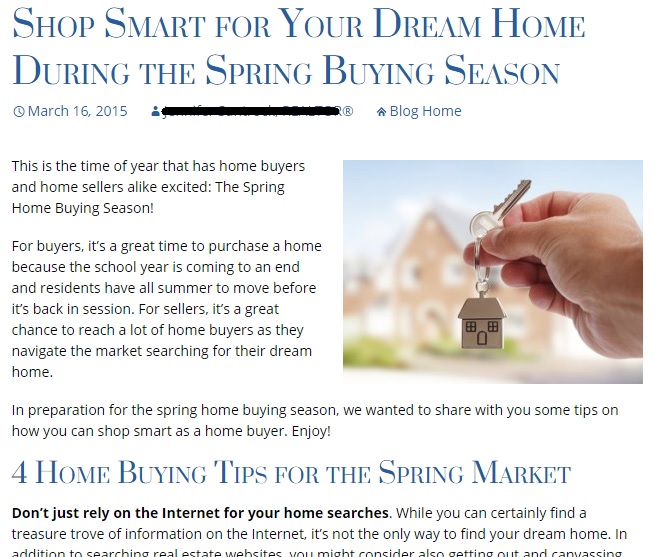 What Google wants
Google doesn't ask for much. They want to delver to people what they want. Fresh, unique, relevant content. When you own a website that delivers this, Google places a higher value on it. I have seen it time and time again.
What if the cable company did this to you?
Imagine, you site down at night with your remote, and start flipping through the channels, and every single channel was playing the same exact TV show. You'd scream and call your cable provider and be all like "WTF?!"
If you were a computer (or even a person), how would you judge the quality of these channels? Would you tell your friends about them? "Hey Joe, you've got to go over to channel 15!" No, you would never leave channel #1. In fact, it would be best if you could somehow penalize the other channels so that you never actually bumped into them again.
How search engines punish duplicate content
Just as you would penalize the duplicate TV stations, search engines punish websites by omitting them from search. I was only able to bring up 150 of the 11,000 offending sites because I used a very specific search sting with quotes. Even so, Google omitted 10,850 of the 11,000 sites from my search:

Crummy content is useless
I am not sure who is responsible for this duplicate content just yet. Honestly, I do not have time to look into this at the moment. Maybe at some point I will revisit this. Obviously, someone is selling this "content". At this point, everyone knows they need content, and all marketers know the value of true, unique content. Who is creating and spamming up the Internet with this? Will Google begin to punish sites that put out this type of content? Do they already?
Do you have spammy content on your real estate website?
STOP adding it. Delete the old content. I would never, ever, ever let duplicate content onto one of the 100+ domains that I manage- you could offer me $10,000 and I would still refuse to post a single article. Regardless of what any "marketer" tells you, in this case, no content is better than duplicate content.
If you need assistance creating content for your real estate website feel free to email me.