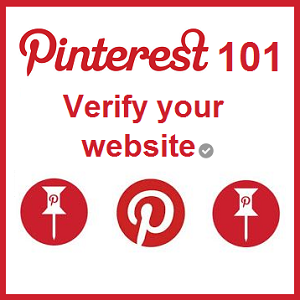 When you first configure your company (or blog's) Pinterest page, there is an option to verify your website.
Why verify your website?
If you ask me, every business should claim their presence on Pinterest and get their site verified. Pinterest is rapidly evolving and is absolutely a social media website that drives traffic and inbound links to your website. Site verification also shows other pinners that you are a trustworthy source. Once your website is verified you get a neat little checkmark beside your website's URL. You will also have access to your web analytics.
How to verify your website with a verification file:
Click on your username at the top right hand side of Pinterest, then click on "settings". On this page, scroll down to the "website" section. Enter your full URL eg: "http://www.telapost.com/". To the right, you will see a "verify website" button like this:

Select it and follow the instructions. Pinterest will give you a file to download which you will need to upload to your web server:
Just toss it right in the root public folder or your website, then go back to Pinterest and select "Complete Verification and you should receive a "Site Verified" message:

When you're all done your Pinterest profile will look like this:

How to verify your website with a meta tag:
If you'd like to verify your site with a meta tag or need assistance using your FTP program feel free to hire us to do this for you. Or if you can handle it, there are more instructions over here on help.pinterest.com.