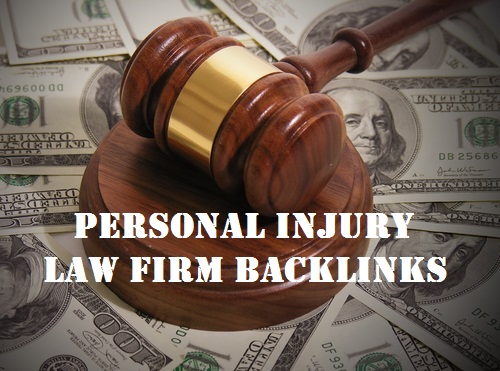 The #1 SEO factor in ranking personal injury sites for important key phrases is website authority, and as of 2015, this still comes from backlinks. If you do not agree with this feel free to see my Los Angeles Personal Injury SEO analysis for proof.
Building backlinks is no easy task; and this list is just the tip of the iceberg. Please also note that getting links to your site isn't going to make it instantly rank. In fact, some links do more harm than good! Links back to your personal injury attorney website come in Excellent, Good, Useless, and Ugly.
Good personal injury backlinks:
What makes one of these links "good"? I'm glad you asked. I consider a link "good" if it may actually pass traffic along. Is a human really going to find this and click on it with the intention of visiting your site? If so, then the link probably has some sort of value.
Good Directory Links
In general most directory sites are what I classify as useless. However, in the personal injury field, some of these links are actually good to have and come from high authority sites. Here are some good directory links:
HG.org
Justia.com
AVVO.com
lawyer.com
martindale.com
superlawyers.com
justlawlinks.com
injurylawyers.co
list-lawyers.com
Good Review Sites:
birdeye.com
credibility.com
merchantcircle.com
Yelp.com
Good Directories
Other Legal Directories
I'm not sure if these will do any good; it has been a while since I've reviewed them. They probably won't hurt things but they may not help. As long as you have other good links to your site, adding these probably isn't going to get you into trouble. I see these links in personal injury quite often:
braininjurylawyerdir.com
targetlaw.com
www.specificlawyer.com
injuryattorneydir.com
www.legalaidlist.com
lawyersadvisory.com
attorneyfee.com
www.attorneyshoppinglinks.com
www.uslawyerspages.com
lawyers.llrx.com
lawyers.onecle.com
hlawyers.oyez.org
www.mylegalpractice.com
www.lawlink.com
Also see:
www.lawheadlinesandnews.com
www.legalspecs.com
www.topix.com
litigationweb.com
YouTube, Flickr, audio, and podcast sites are even more places to look.
Social Links:
Most successful personal injury attorneys do not have time for social media and discover it a tough place to promote getting an injury, however, having the pages built out on these sites will at least result in links.
Google+
Scoop.it
Pinterest
YouTube
Storify
LinkedIn
Medium
Tsu.com
Ello.com
Excellent links:
There are many ways to get excellent links. Excellent links come from businesses geographically located near you, businesses you have a relationship with, .gov, .edu domains, etc. You could really make a full time job out of this. Here are a few ideas to get your started:
The state bar (This is often a great place to get a high authority .gov or .org link)
Colleges (There are a variety of ways to get colleges to link to you)
Sponsorships (Sponsoring events near you results in links to your site)
Networking with other professionals. A good car accident attorney will have relationships with 3D artists, chiropractors, plastic surgeons, other personal injury attorneys, dentists, oral surgeons, MDs, gastroenterology physicians, and more. Getting mentioned on these professional's websites in context is a very good thing.
Even better links:
Of course, the best links are natural. These come from creating excellent content. People find this content and want to share it. This does not happen from simply putting up a post called "What should I do after a car accident?". You really have to get creative.
Useless links:
Pushing out press releases and commenting on people's blogs is useless. Even in 2015 I have seen some deceptive SEO companies pushing this junk out in their proposals. At this point in time this is straight up misleading.
Bad links:
Go to any city in the US and check out the backlink portfolio of the top 10 personal injury attorneys and you will see at least one who is implementing black hat tactics to achieve front page rankings. I have seen personal injury attorneys with 10,000 backlinks from websites like 律師發售.com. Don't do this.
Other backlink factors:
Other backlink factors:
Link age is a thing. Old links are good. New links are good, too. Why this matters is beyond the scope of this article.
Should I buy backlinks?
There are actually personal injury "marketing firms" out there who pay bloggers to review your site and link to you. This is spam, and if Google catches you doing it, your site will be penalized, and you do not want this to happen to you. Ever. I work exclusively with reputable personal injury attorneys who want to grow a solid website presence the right way and would never condone this.
Can I get links from my content?
Great question! Content is extremely powerful. Content ON your site can internally link to other important pages, giving them a boost. Unique content can show up in search for all sorts of things while you battle for those big "money keywords".  I have attorneys who rank very well for "burn injury attorney Cityname ST" but only get 3 or 4 clicks a week to that page. I have others who get hundreds of hits per week to their content. It is also much easier to rank unique content than it is to rank for specific phrases that 100 other people are fighting over. Then again, ranking for one great term IS good even if it results in 1 or 2 extremely good cases once a year. Some attorneys want to rank for both! This is attainable with a high authority site.
The best links come from people who find your content and then link to it. If you have great content, you will receive a nice steady flow of links on an ongoing basis. Natural links are by far the best way to obtain links if you want your site to rank long term. Building out very large and comprehensive resources that people want to reference is one way of achieving this. Many law firms refuse to invest in this type of thing, but it is gold. I have plenty of real world examples of this, so feel free to email me if you'd like to see them for yourself.
Recap
Adding all of these links alone is not enough to make you rank. You can also get more exposure with unique content. If you need assistance getting more cases through search please visit my personal injury SEO page.