On October 23, 2019, a Google algorithm change rolled out.
There's a lot I do not know and will not know about this algorithm, but, I'm going to share what I do know.
First, let's start with a screenshot from RankRanger:
Sometimes the best change after a traffic loss is no change at all.
There are hundreds of millions of pages online and they're all going to be impacted when Google twists the dials on their algorithms, especially if you dabble in certain types of content such as medical content, nutritional content, mental health content or other various YMYL topics.
It should be crystal clear by now that the algorithms aren't perfect. Sometimes good sites get whacked. Sometimes bad sites get good rankings. Sometimes, there's really nothing to change at all and you just have to wait it out. That's tough, especially when so many "SEO experts" out there are claiming to be helping sites recover from Core Updates with silly technical fixes and ridiculous backlink disavows.
Here's a screenshot of a site that just seems to go up and down with every update!


A note about BERT:
To further complicate traffic data analysis, there's some flux this week with Featured Snippets which began on or around October 22, 2019 due to the BERT update to Google's algorithm.
The October 23, 2019 algorithm change is definitely separate from the BERT update.
Read full details on the BERT update and how to optimize for it.
A recovery from July 11, 2019.
Here's a website that I monitor which was negatively impacted by the July 11, 2019 algorithm update. The July 11 update affected some medical sites, especially sites which talk about nutrition and supplements.
No changes were made to this site!
Here it is:
Examine.com's visibility returns.
Examine.com is a site that I personally share with clients all the time. Why? It's a high quality site that got hit by Google twisting their dials. That's all there is to it.
Now, plenty of people will disagree with me. When Examine got whacked on 7/11/2019, all kinds of people looked at the site. There was indeed room to fix some little technical things. But to me the biggest correlation they had with other medical sites which lost visibility in other Broad Core updates was their lack of (very) high authority backlinks. That said, 7/11/19 was not a Broad Core update.
Sol Orwell shared Examine.com's data on Twitter for the world to see the recovery. I'm sure people are going to rush in and say X, Y or Z helped them recover. But, I am seeing a lot of nutrition sites return to where they were 7/11. Now, it's not a 100% reversal – some people are getting a little more or less traffic than they used to.
Anyways, here's Examine.com's search console data: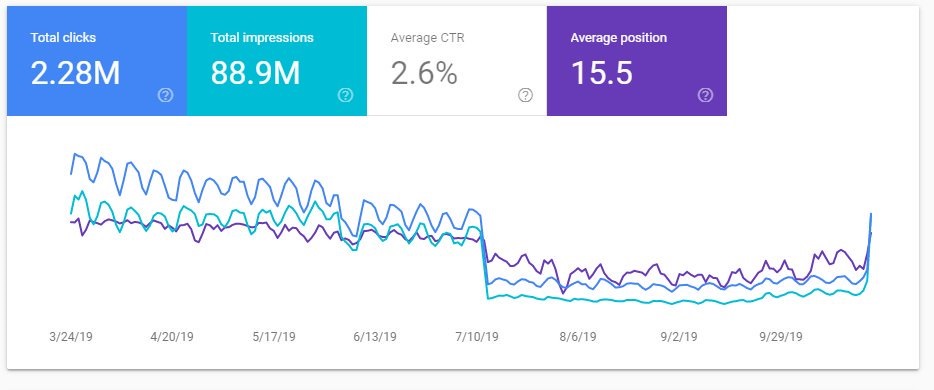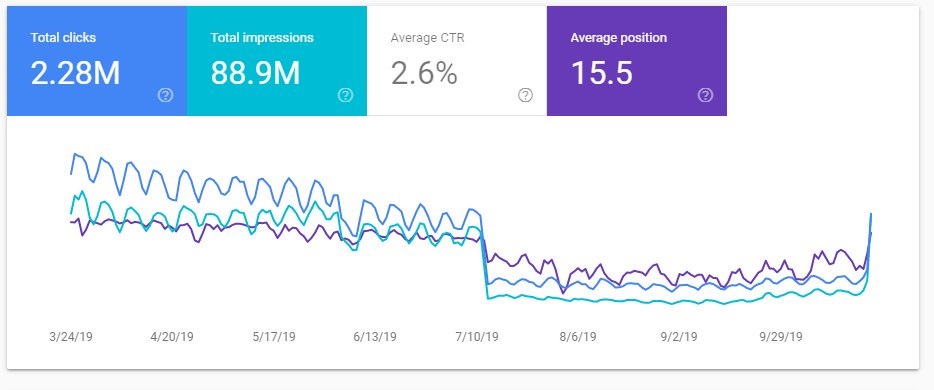 More medical websites gain traffic back:
Here's another site which made no changes. This was posted online here. As you can see, they may have been impacted by a separate update in May or June: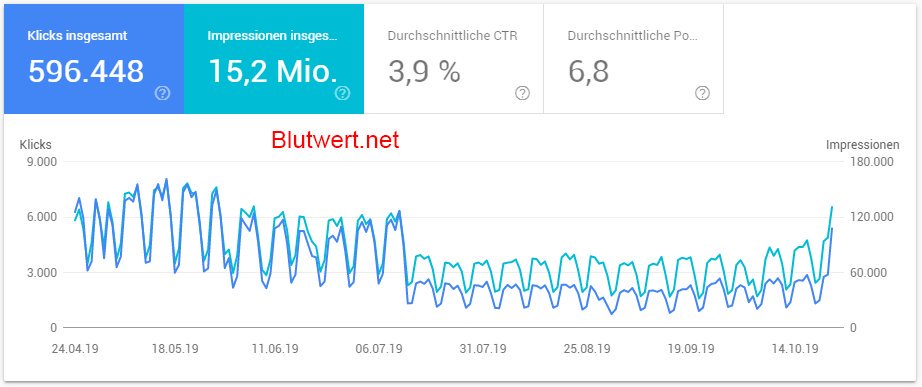 October 23 2019 Google Algorithm Update Takeaways:
I hate to not have any actionable advice, but, I wanted to document the algorithm change and touch on the 7/11 change also so that I can reference them in the future.
I do know:
Google twisted some dials.
They're going to continue twisting dials.
Most medical sites were not impacted, but some were.
Sometimes good sites are negatively impacted.
Dabble with medical content at your own risk. Having medical content on your site impacts the health of the entire domain. If you have medical content on your site, expect traffic gains, and expect traffic losses.
If you've lost traffic two or three times in a row, you have problems with your site.
There isn't always something "to do" after you've lost traffic from a medical related update.