Google tends to roll out lots of new features around the holidays, and in November 2017 there were several updates. One of which is going to hurt Amazon's organic traffic JUST as they begin their Black Friday week.
Did Google intentionally do this to Amazon?
If you know the history of Google and Amazon then you already know that there is indeed some battling going on. Amazon has tried to make search engines and Google has sells things online.. sort of. Was this specific change intentional? I don't know. I do know it will make life for many eCommerce websites more difficult. You never know when Google will change things.
As for evidence? Well, there is none. Google rolled this change out a few days ago and announced the updates to the Knowledge Panel on their blog yesterday, November 21, 2017 under an article called "A merry mobile holiday with Google Shopping". Google says this is in the best interest of their mobile users, and, if you shop by phone, it is. Well, sort of. Eg: I looked up the Nintendo Switch and Google displayed only 1 mediocre review. What?! The one search I did had a BIG problem…
I will also note this comes short on the heals of Google pulling YouTube from the Amazon Echo Show device. The Independent calls it a public feud.
A look at the chaos
When you Google a product via mobile, such as the Nintendo Switch, instead of ads and organic search results, or possibly a Featured Snippet, you are now greeted with this: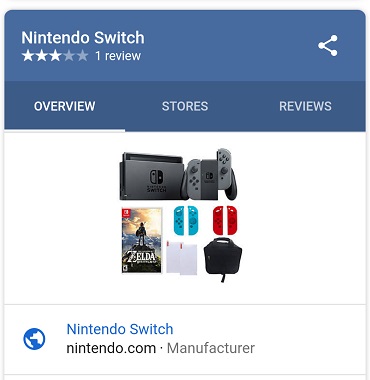 But that's just the tip of the iceberg. Google also added buying guides, comparisons and all kinds of other things to mobile search. This is likely coming to Desktop Search in the near future as well, since Google is now rolling out many changes to mobile first, as they should.
I'm personally used to just Googling a product and buying it via Amazon. I shop there almost daily, and even order food from Amazon Pantry. They usually have the lowest prices, and even if they're not I'm in love with the Prime shipping.
Anyways, here is the entire search result, via mobile, for Nintendo Switch, as November 21, 2017:

Here's a quick breakdown.
But my main takeaway here is that organic results do not begin until about 66% of the way down the page. That is several swipes of your finger to get to an organic result:
What do you think?
Do you shop via voice? If so, do you like this?
Would you rather have organic search results?
Should there be so many ads before the organic content? (Publishers are penalized for this by Google).
Do you think Google released this just before Black Friday as a jab at Amazon?