On July 1, 2018, a new wave of messages went out from Google to webmasters who have Google Search Console configured, previously called Google Webmaster Tools. These messages have been going out to website owners for a while now, but this appears to have been a major update. One of my clients asked me if the email was another scam as they are used to seeing emails impersonating Google and Google employees. The message is not a scam. So what's it mean?
What is Mobile First Indexing?
To make a very long story short, Google's search engine now indexes websites based on what is on their mobile site (even for desktop users). To many people this is no big deal at all. They have a WordPress or a Wix site and the site is responsive, meaning that people see the same thing on both cell phones and on desktop computers, just in a different resolution or in a slightly different layout. Where some websites are going to get into trouble is if they have one of those awful mobile specific app style sites which were pushed in 2010 or a site with an "m." subdomain which has content that is different on the mobile site than on the desktop site.
It is very rare, but there are also some custom WordPress themes, mostly used by law firm and attorneys, which have the ability to display different content or pages to mobile users than desktop users.
I called for this in 2014
Overall this is a good thing. In 2014 I wrote an article Why websites that are not mobile friendly should be penalized.In a nutshell, it was very frustrating to go to a website via your phone which ranked well due to their content only to see a telephone number to call a company. It was terrible and hopefully by now most people have mobile friendly sites. If they don't, well, now they'll be penalized like they should have been years ago. 🙂

Rankings drop after the mobile first update?
There have been many Google algorithm changes and features added in June and July 2018 which could contribute to a loss of traffic or a rankings drop in Google's search results. However, I do expect to be contacted by several people in the near future who have lost visibility in search after they received a notification about the Mobile First Index.
The notification
Here's a screenshot of what the notification looks like, followed by what it says: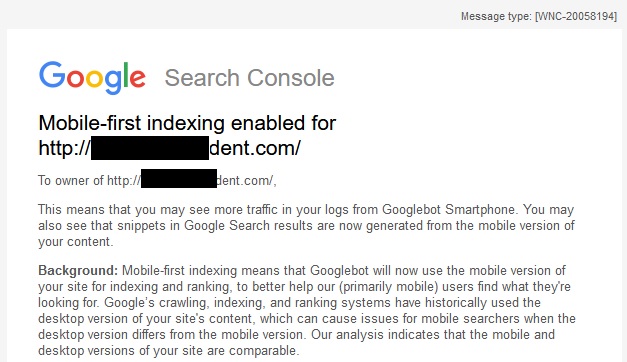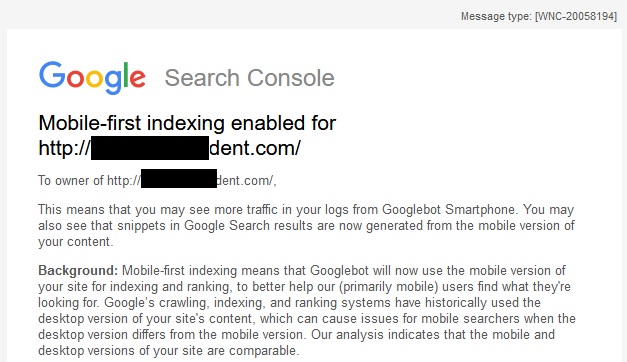 Message type: [WNC-20058194]

Mobile-first indexing enabled for http://website.com/

To owner of http://website.com/,

This means that you may see more traffic in your logs from Googlebot Smartphone. You may also see that snippets in Google Search results are now generated from the mobile version of your content.

Background: Mobile-first indexing means that Googlebot will now use the mobile version of your site for indexing and ranking, to better help our (primarily mobile) users find what they're looking for. Google's crawling, indexing, and ranking systems have historically used the desktop version of your site's content, which can cause issues for mobile searchers when the desktop version differs from the mobile version. Our analysis indicates that the mobile and desktop versions of your site are comparable.
Need help?
If you're still confused or you're losing rankings please feel free to comment below or email me for additional assistance.