On March 8, 2018, we published that a major algorithm change was on the way (technically that went live March 9 at 12:25AM). The tremors had been felt for days and one of my sources felt it could be days (or months) away. Then on Saturday, March 10, 2018, the Internet was abuzz and site owners all over the world confirmed that a Google algorithm change began taking place March 9, 2018. Google would later state the algorithm change began March 7, 2018, so maybe that was what my source had noticed. As noted in my previous article, the search results were initially impacted in SERPs in other countries outside of the US.
Initial observations:
One site I track had lost its Rich Snippets (review star ratings) in December 2017 and then lost page 1 positions in search results in mid January. March 11, the rankings AND the snippets came back and then March 12, everything was gone again.  (This is indeed a site which should be performing well). March 13th, the rankings and star ratings returned to stay.
Several websites which are ranked by spam using PBNs are still ranking wonderfully.
In late February I saw content thin websites lose rankings along with other websites targeting medical content.
The above 3 observations tells me that this was most likely an update to the way Google evaluates website quality. On March 12, Google commented and suggested impacted sites focus on quality content. Then again, Google always suggests this but in reality links are the most important ranking factor. By far.
The key dates in this change (so far) were March 8, March 9, March 10, March 11, March 12, March 13, March 14 and March 15.
Here's a RankRanger screenshot showing the fluctuations in SERPs for March so far. I may come back and update this once the dust settles: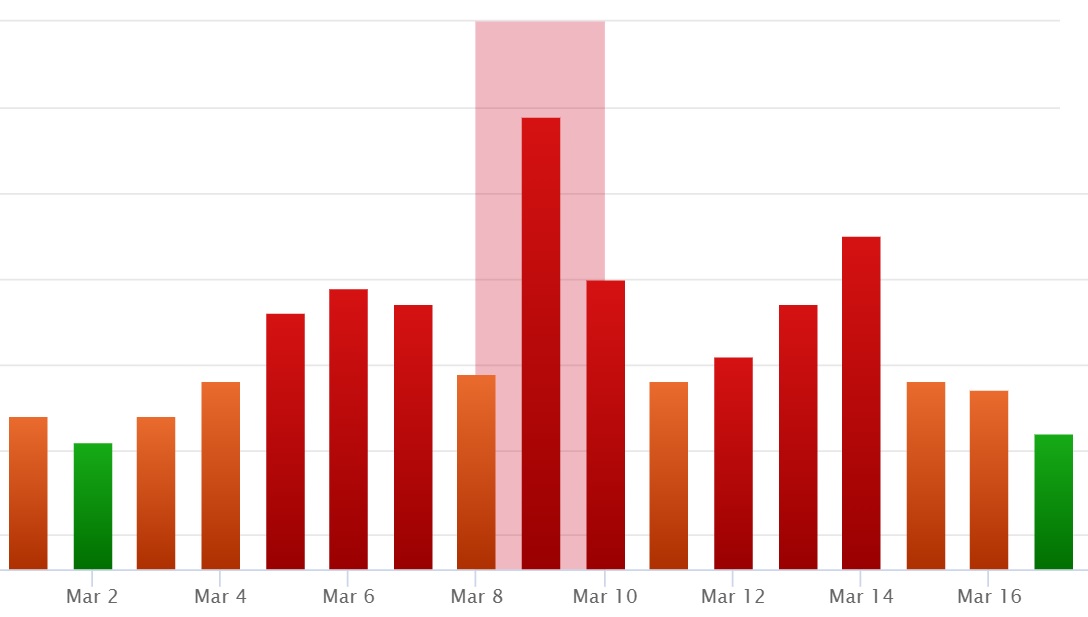 Updates as the algorithm rolls out:
All updates to this will go here.
March 13, 2018 update: As predicted above, the algorithm is indeed still rolling out. Today the changes off of a site I was tracking which lost rich snippets and page 1 rankings on March 11, 2018 returned back to page 1 with rich snippets. This change occurred around 10PM Eastern Time. This was a newer client site of mine where I had improved page speed, removed backlinks from low quality web directories and helped them obtain quality backlinks. If the changes remain yet or not remains yet to be seen.
March 14, 2018 update: I am still seeing many changes in search results. Today I noticed some sites which had 2 positions on page 1 of Google have lost 1 of the 2 positions. This is a good thing (unless you were listed twice on page one).
March 15, 2018 update: I think things are finally settling down today, at least of this morning. Please note this is only based on the sites I personally track.  I will post more observations when I have a moment.
March 17, 2018 update: Things have definitely cooled off now and I am concluding this article.
Case Study: A Website Positively Impacted


The website mentioned above is one I recently began working on. As mentioned, in December 2017 their Rich Snippets / review stars disappeared from search results and in January 2018 their ranking mysteriously dropped.
Problems identified and corrected:
Improved website speed. I am not a speed fanatic but in this case their website was indeed taking nearly 4 seconds to load. The designer had made one of those image heavy sites. I  was able to reduce the image size, implement caching and combine Javascript files and get the loading closer to two seconds. Faster isn't a huge ranking factor but a slow site could negatively impact rankings.
Removed Poor backlinks. In this case the site belonged to a law firm. Their previous SEO company had built them dozens of links from random "business directory websites" under the guise of "citation building". You do not need a million citations for a law firm. I very rarely disavow links but I scrapped all of those crummy links.
Obtained quality links. In this case I was able to get the attorneys several amazing links from their BAR association and other organizations they were a part of or sponsored. I figured out a way to get the local city government site to link to them along with the local high schools.
All of their important pages were on page 2 and came back to page 1 position 3 which is exactly where they were before they lost rankings a couple of months ago. Of course, they are ecstatic and I am now moving forward with looking at other ways to improve their rankings and crafting content which will bring in more traffic.
It's tough to say which of those three issues was holding them back. Was it one, two or all three things? Google had definitely demoted them in search.
One more example
Here's another website I communicate with regularly. Their primary source of traffic is social but they do get some traffic from organic search. They were negatively impacted in February 2017 by a quality update and have since made some changes with their advertisements they use for monetizing their site. They had a little spike on March 6 which may have been unrelated, then some recovery on March 12, 13 & 14. This is a publisher site with content for several countries:


Update: March 9, 2018 Analytics Traffic Loss
In June 2018 a webmaster contacted me and I checked out their analytics. Here's their traffic:
I diagnosed this particular website with a quality problem. In their case, their ads were too overbearing. There were too many ads, the ad placement was bad and just everything about the ads was bad.
Conclusions on the March 2018 Google Algorithm Update
This article originally went live just after midnight on March 13 and I have been updating it but I believe I am now done. After assessing several sites, here's what I have as of March 17, 2018:
Backlinks and trustworthiness.  There is most definitely a trustworthiness factor and Google still relies heavily upon the inbound links and referring domains which a website has as a factor in determining this trust.
Website quality. There are so many things Google uses to determine the quality of a website. If they have a problem with a site, the entire domain suffers. Factors here include User Experience factors such as page speed, backlinks a website has, content issues such as thin content, content barriers, obtrusive advertisements and more.
This is good news and this is essentially another "Fred" core algorithm style update. Back in the BBS days before there were websites or search engines, people had to evaluate an online service for themselves. Now, with millions of websites popping up every day, search engines must use algorithms to determine a site's quality as it is in their best interest to send people to websites which best match the intent of their search AND provide a good user experience. It only makes sense to have a nice website which works quickly and properly on every device accessing it.
Was your website impacted in March 2018?
I have data here on everything from small business sites to websites which get millions of hits per month and enjoy poking around in Analytics. If you would like me to check out your Analytics profile and site please email me.
Please feel free to comment below with your observations if your website was affected.