We have all seen it before. Some schmuck of a company ranks on page 1 of Google's results for a term such as "Charlotte SEO" or "Raleigh SEO" or "Los Angeles SEO" etc. So how did they get there?
Isn't the best at SEO company at the top for "SEO"?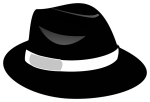 In many cases the company sitting at the top of Google has used black hat tactics to get that position.
The most popular black hat method is accomplished easily by web design companies. When they finish up their client's websites they then add an anchor text backlink in the footer of the website which reads "Cityname SEO by Blah Blah Guru Expert Company".
Is this black hat?
Definitely.
This is a link that a website owner would not decide to add on their own and it exists solely to manipulate Google search results.
If the Google Webspam team manually reviewed their backlink portfolio they would definitely receive a manual penalty.
Perception is Reality
Unfortunately most of their clients will never know what has happened. I hear it all the time "You're at the top of Google, you must be the best".
C'est la vie.
What to do
If you are shopping for SEO ask to see an example of another client's content and how they go about getting natural links and ranking for hundreds of key phrases. Good SEO companies are thrilled to show you a client's progress. I know I am.
If you stumble upon webspam feel free to report it here. It is tough to see a company's backlinks though, you can see a portion of them with tools like OSE or Semrush. I'm not sure if these spam complaints get lost in the Matrix or actually go somewhere, but if it makes you feel better, go for it. I personally don't care; someone asked me about this the other day, and I told them I'd put this article up for them (this one is for you, Greg).
I happen to know for a fact though, there really are not many good leads coming from these key phrases. I personally work with professionals and companies who have already dealt with places like this and are shopping around for the real deal, and they are much, much easier to work with.