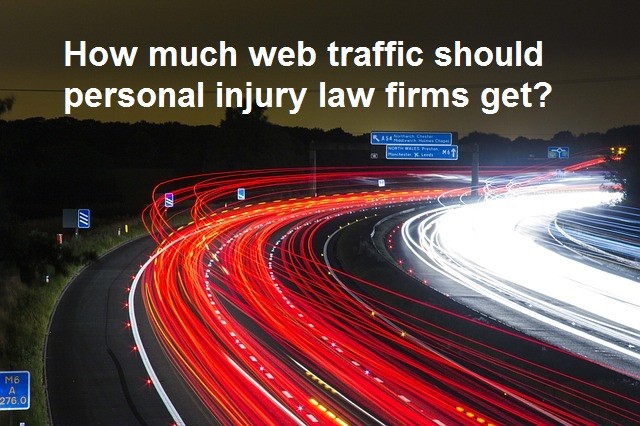 The amount of web traffic a personal injury website receives depends on a wide variety of factors. Most firms ranking on page 2 for competitive terms receive around 20 unique visitors per day.
Some factors.
How many pages are on the site?
Is there unique content which ranks on page 1?
How does the site perform in search?
What size city is this law firm in?
How big are the pages?
Some explanations.
One site I manage has over 600 very well written and optimized pages. It also ranks VERY well in search. this site in particular gets around 2,000 hits per month.
Unique personal injury articles such as "Do all cases go to trial?" get, generally speaking, around 20 visits each month.
If a page, such as a car accident + city name page (eg: Los Angeles Car Accident Lawyer), is on page 1, it may get 200 hits per month. However, if it is a BIG page, it will rank for all sorts of long tail search terms (eg: Honda accidents in California), and may get as many as 1,000 hits per month.
Larger cities tend to have more attorneys. In large cities, at least some of the results for big keywords on the front page are often hogged up by people bending Google's policy, and competing with them is tough if you are building a web presence that you want to last a lifetime, rather than some churn 'n burn black hat site.
Traffic tanks on personal injury websites on Saturday. All of them. 50% drops are completely normal.
4 months in to a reasonable SEO / content campaign you should usually be on page 3 for competitive keywords and getting 15 – 30 hits per day. I know, it isn't a lot. My dog has a blog with 4,000 Facebook followers and 10,000 new visitors a month. People would just rather see German Shepherds than brain injuries, what can I say. Still, a good content campaign is extremely cost effective when compared with other solutions.
Cases take time. There are a very wide variety of ways that lawyers get leads; the Internet is just one method. It is not safe to put all of your eggs into one basket, but, a lasting Internet presence will eventually pay for itself, often tenfold, if you give it time. With a decent, minimal budget, great rankings can indeed take quite some time. There are often factors outside of your SEO's control, such as domain age or a nearby attorney who is cheating or has inbound links from CNN from a high profile case. And, content for this niche can be produced on a permanent ongoing basis.
Actionable solutions.
My Rx for most PIs is to build out content while waiting for their site to rank for bigger key phrases, and, after it ranks, keep producing content. Forever.
As you can see by the numbers above, a plethora of unique content will eventually lead to more relevant traffic than a single high ranking page. Also, keeping on topic does indeed assist in these SEO efforts.
To learn more about SEO and content for PIs visit my page dedicated to personal injury SEO and content.