A few hours ago on June 22, 2017, an email came in that made me do a double take. It read "Make [your business] stand out with timely updates on Google". I clicked on it and was shocked to see that Google Posts is now rolling out to businesses.
If you see this in your email, your business now has the ability to use Google Posts: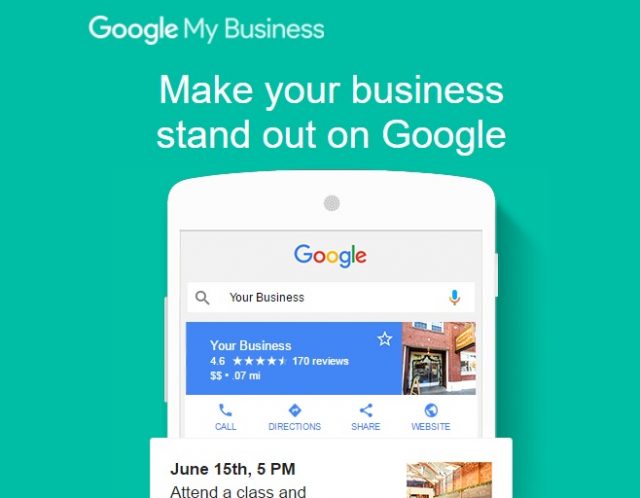 Below the image, the email reads "We've introduced a new feature that helps you catch customers' attention. Post special events, promotions and more on your Google listing."
At first I thought that the Google Posts feature may display in search results as it had during the initial phase (aka Google Podium), but, that would be too good to be true; business's posts simply display in their knowledge panel underneath the business information and above the reviews section (as seen below).
If you do not receive the email you can still visit your Google My Business (GMB) dashboard via https://business.google.com/ and you may see a "Posts" section.
This is what it looks like:

Features of Google Posts
So to be clear, Posts show up in a business's knowledge panel and allow businesses to (quoting the official announcement):
Share daily specials or current promotions that encourage new and existing customers to take advantage of your offers.
Promote events and tell customers about upcoming happenings at your location.
Showcase your top products and highlight new arrivals.
Choose one of the available options to connect with your customers directly from your Google listing: give them a one-click path to make a reservation, sign up for a newsletter, learn more about latest offers, or even buy a specific product from your website.
The posts do not show up in local search results, but if you have a Post up and a user clicks on your business they will see the Post in Maps (aka local finder) results.
And on mobile, Google Posts show up as an extra tab in a place's knowledge panel.
Also, users can share Posts: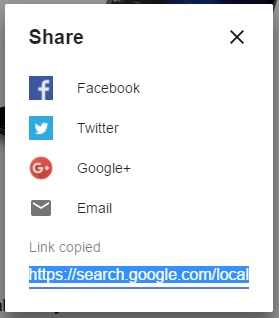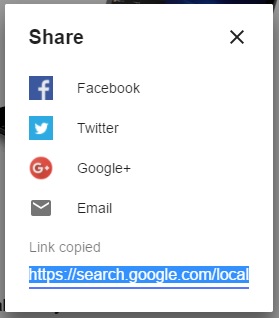 Posting on Google Posts
So of course I had to test this neat new feature. Simply add an image, enter a quick post, and hit publish. Here's an electronics retailer that added a post:

Here's what the post looks like to the end user on mobile: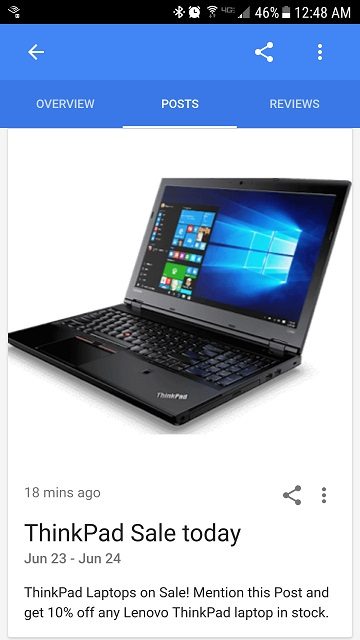 Events on Google Posts
This feature could be very useful for brands and venues which host events, or stores which offer an option to buy something online, etc.
Here's a screenshot of the events feature: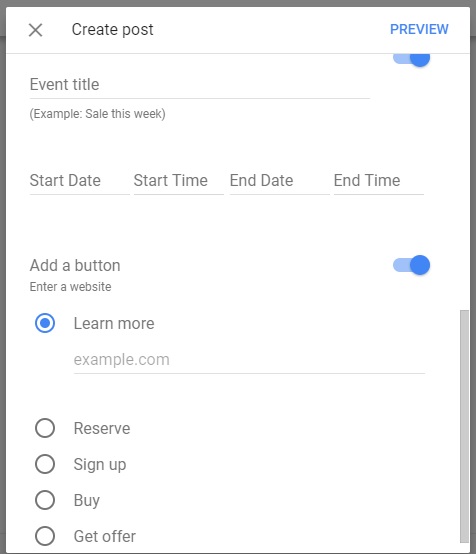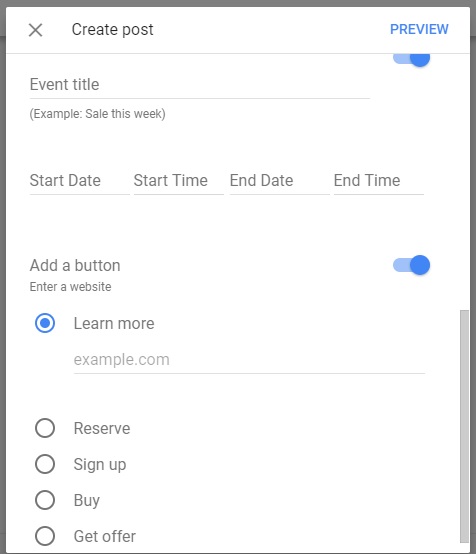 The learn more, reserve, sign up, buy and get offer links allow business owners to link out to pages that allow users to complete the action.
Will businesses use Google Posts?
I love the features, but, will businesses use them? Restaurants are still used to posting their specials over on Facebook where very few people ever see them.
The events feature is really cool although people using it may be contingent on businesses using the feature and users getting used to it.
I think in major cities businesses will begin using posts and I can see this being very important for certain verticals. Lawyers will likely offer free consultations and restaurants can display current deals. Black Friday discounts can be posted and links to take users directly to pages such as reservations pages can be easily provided. Brands will definitely want to take advantage of this, for example if Lowe's or Home Depot has a Labor Day special they can promote it right in their knowledge panel.
Which businesses have this?
I just scoured the web and it appears a few businesses have been able to test this since earlier in June. I am currently seeing it live across all verticals I work with in the USA, Australia and the UK. Mike Blumenthal notes on his blog that the rollout is worldwide but that hotels and B&Bs are currently excluded.
So… What are you waiting for? Get posting!