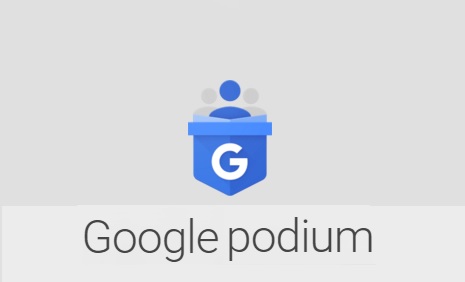 Google is testing some new content in Google search engine result pages called Google Podium.
While on the phone with my friend Jesse on 2/16/2016 we were scouring through search results examining current website rankings and we saw what first appeared to be a Google+ post. Upon further investigation and visiting https://www.google.com/posts/ we quickly discovered Google Podium. According to Google, Google Podium is "an experiment that is only available to the 2016 US presidential candidates."
Is Donald Trump making Google great again?
The first search result we saw was for a search for Donald Trump. This is what it looks like: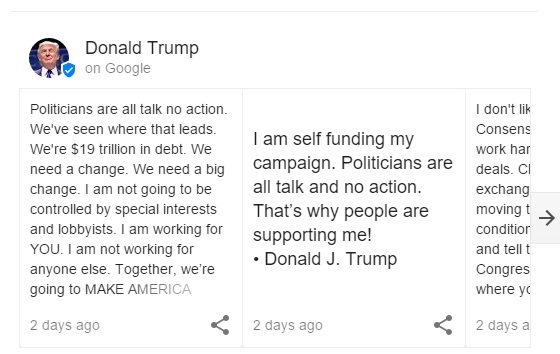 Google Podium observations
Google podium posts get their own permanent link such as this one:
https://posts.google.com/share/DtrcTZF8/nC0M_t
which also comes with its own shortened link:
https://goo.gl/KpBEoh
Google Podium results are currently displaying in both mobile and desktop search logged in or out.
The content can be easily shared via Twitter, Facebook, Google Plus, or Email with the click of the sharing button.
Google Podium results display for US presidential candidates except for Gary Johnson. Has he been invited?
From the Google Podium page:
Publish on Google
US presidential candidates can now communicate with text, images and videos directly on Google. Creating content is fast and simple, and once published, posts will appear instantly in search results related to the candidate. Each post can also be shared on popular social networks, amplifying the message even further.
It also appears that verified Google Podium users get a little badge next to their name.
People who wish to try out Google Podium can join the waitlist here.
What do you think about Google Podium?
I think it is a brilliant idea on Google's part because now people can just visit Google instead of a social platform such as Twitter.