In a move than very few business owners will ever even notice, Google+ Brand Pages are disappearing.
Warnings (not) sent in March 2018
Apparently, a small handful of business owners received a message via email in March 2018. Most people did not receive this email. In fact, I manage dozens of GMB accounts, and own multiple listings as well, and I can confirm I have never received the email. Anyways, it read:
Hello,

It looks like the Google+ page for [business name] has not been used in a while. To simplify your Google My Business listing, we will be removing this additional page from our system in 30 days.

This change won't affect your Google My Business listing – you can still be found on Google Search and Maps. You can download a copy of your old content before it's deleted by visiting this page. Alternatively, you can post or comment on someone else's post within 30 days to keep your Google+ page active.

Thank you, Your Google My Business team
Google+ Brand Pages are dead and content deleted
At one point in my life I had very high hopes for Google+. Unfortunately, the platform was horribly managed and completely overrun with spam. Brand pages could communicate directly with customers, just like they do on Twitter. But Google+ was incredibly complicated. Even though I was very involved I still can't even remember the difference between a Google Plus Business Page or a Google Plus Brand Page or a GMB generated Plus Page, etc. Who knows. Then… At one point they changed the algorithm – users could no longer see Google Plus Posts chronologically – posts were totally scattered in a random order. Tat was one of the final nails in the coffin before they attempted a Pinterest style layout.
As of late April 2018, most of these business pages are now gone. There is also no way to back up the content business owners had posted onto Google Plus.
Business owners who attempt to visit their Google Plus Brand Page will simply see a 404 (not found) error: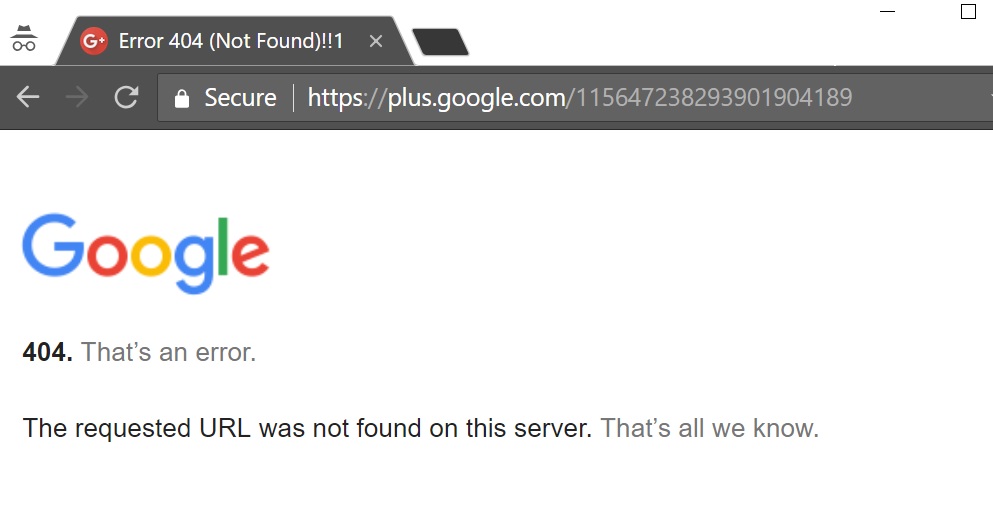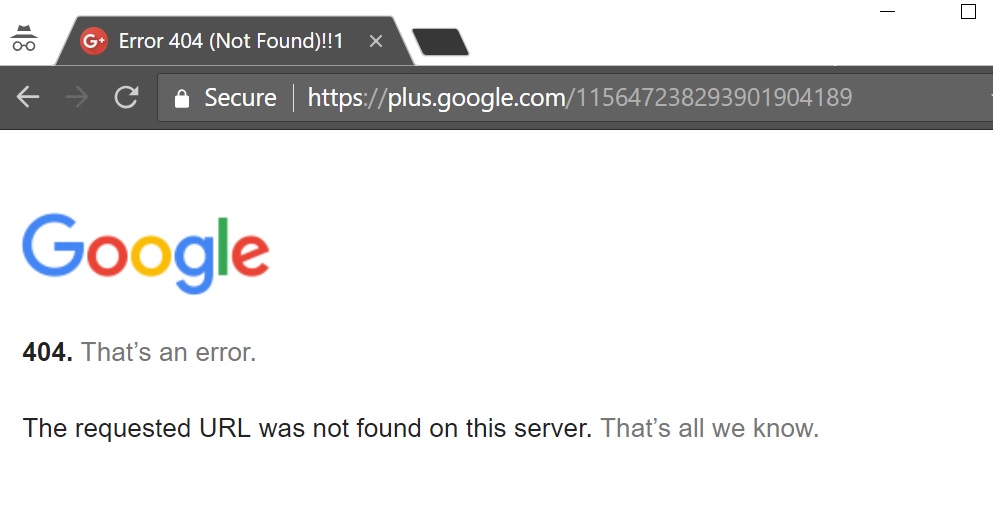 Never store content on a platform you don't own
I've said this 1,000 times by now, but the most important place anyone can put content is on their own website.
If you're still posting on Google Plus as a business, I would strongly recommend that you stop wasting your time.
Was your page deleted?
I am assuming that any brands which owned Google Plus Communities have now lost their ability to own / moderate / manage or even access the communities they used to own. If you have any input on that or experienced a missing Google Plus Brand Page please feel free to comment below.