Google My Business has been working on solutions for business owners during the COVID-19 Pandemic. There are several new options in Google My Business, and some other functions are limited. Here are ways you can update your company's Google My Business page to reflect your current status.
This page will be updated as new features are implemented.
Limited Google My Business Functionality:
First of all, let's briefly touch on GMB's "limited functionality".
GMB has set up a page on COVID-19 here letting business owners know:
There are delays in support requests
They're giving priority to health related businesses
They will prioritize reviews for edits critical to health-related businesses.
New reviews, review replies, and all Q&A will be unavailable during this time.
Google Posts and COVID-19 Updates:
In the Google My Business Admin "Posts" section, you'll see the new special tag for COVID-19 updates:


To create a new COVID-19 update, simply click the button and type up your update.
This feature is very useful if you operate a farmer's market, grocery store or other essential business which is open. Not everyone will see your post, but those who do will see your notice which is hopefully about social distancing. A farmer's market near me is taking orders in advance along with online payments and posting special instructions via Google Posts.
This feature was problematic at first but has been working well for me since March 26, 2020. During the brief time the COVID-19 post feature was not working, users received this message: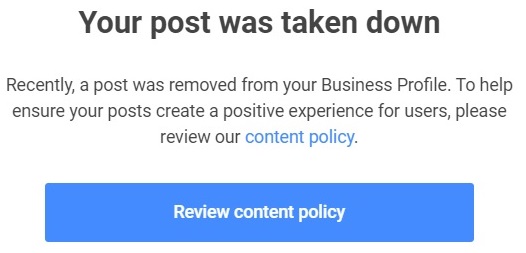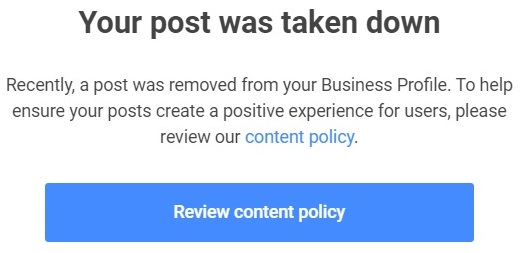 Should I Update my Hours if the Businesses is Operating Remotely?
My recommendation here is to leave your hours alone. Google is displaying warnings anyways.
If you're in an area with a Stay at Home Order, non-essential businesses are shut down.  However, if you're a law firm or an accounting firm or a real estate company, you're still open and working even though the physical office is closed.
If you change your business hours on Google My Business:
you won't show up in many searches
you will lose map pack rankings
in the event you do show up, will only discourage valuable potential clients from contacting you
Currently, Google My Business team is currently short staffed due to COVID-19. Updating hours can accidentally break a page. If your Google My Business page breaks during the pandemic, your business listing could disappear until who knows when.
Google Maps Warns Users Business Hours may Differ Due to COVID-19:
At the end of March 2020 I began seeing a notice in both the 3 pack and on business's pages which reads "Hours or services may differ due to COVID-19". So, even if you do not update your hours, people will get the message. Hopefully, they are staying at home in the first place.
Here's a screenshot of what that looks like: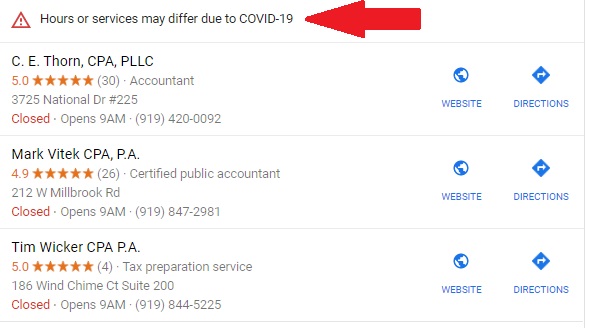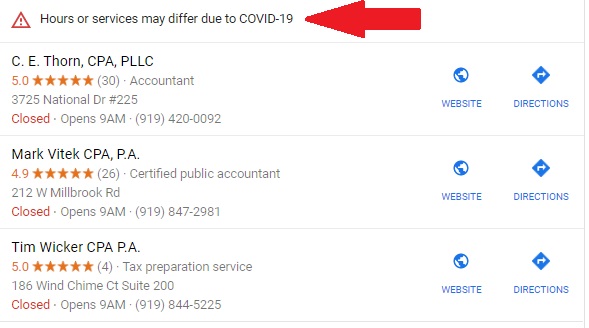 Temporarily Closed Options in Google My Business:
When managing your Google My Business page, you can go to the "Info" tab and temporarily close your business.
This is normally a feature I would avoid as it can cause you problems ranking in the 3 pack. However, as of March 29, 2020, I have heard this is no longer a problem. If you have a gym, spa, dentist office or other business which is temporarily closed to the public due to Stay at Home Orders, you can mark the business as Temporarily Closed.
If you'd like to set your business to "temporarily closed", you can do so in the Google My Business dashboard "info" section as seen here: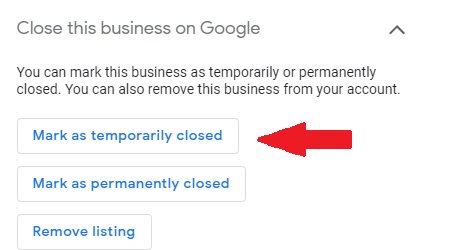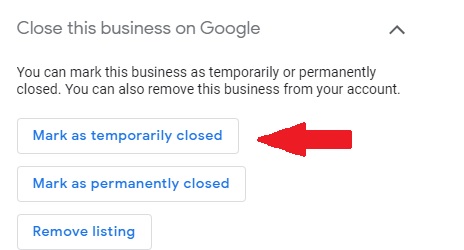 As a note, very few business owners are taking advantage of this option, and if people are minding the Stay at Home Orders anyways, it should not be a problem.
New Reviews are Not Displaying in Google My Business during COVID-19.
The last couple of weeks were a bit of a mystery to me. I would leave a company a review, and I would see the review in my own personal dashboard, however, the reviews were not displaying on the company's review page. Eventually, Google My Business issued guidance that said all reviews are paused until further notice as Google My Business is short staffed and operating under "limited functionality".
As of around March 30, 2020, I began getting this notice after leaving companies new reviews which says your contribution may be delayed at this time. For the record, your review WILL be delayed: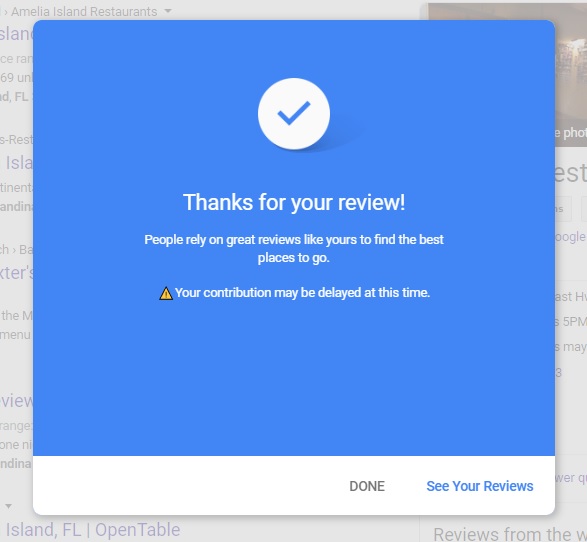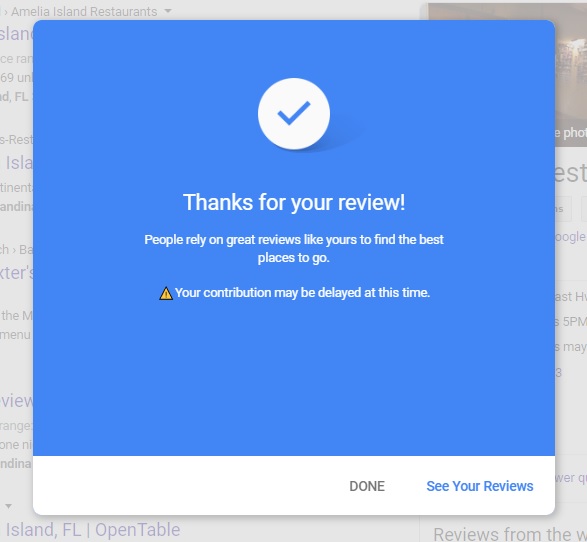 As a note, Yelp and Facebook reviews are working fine. If you love a local business, please leave them a review on as many platforms as possible.
Recap:
Google My Business is a huge mess. I've been complaining about it here and offering them constructive criticism since 2018 when the sharp decline in quality began. But this is a new level and totally unacceptable. It's like a neglected part of Google. Google needs to shape up or just start using Yelp's listings for local.
You can read more about this on Google My Business Help here: Businesses affected by COVID-19: Guidance on updating info and temporary closures.