Google has recently been suspending Google My Business pages belonging to personal injury lawyers. The new, aggressive suspensions began in 2019.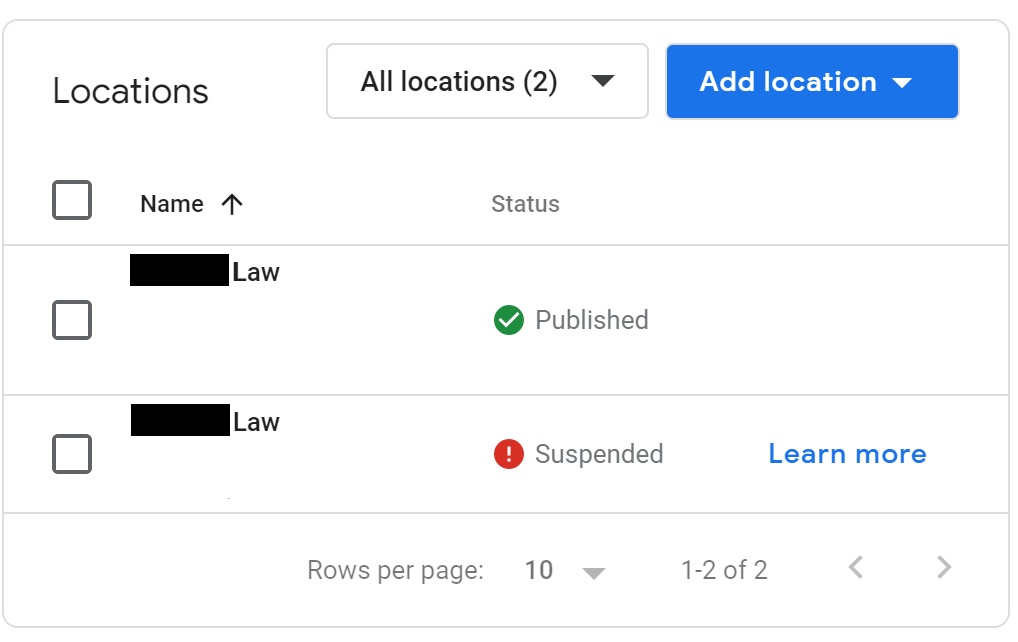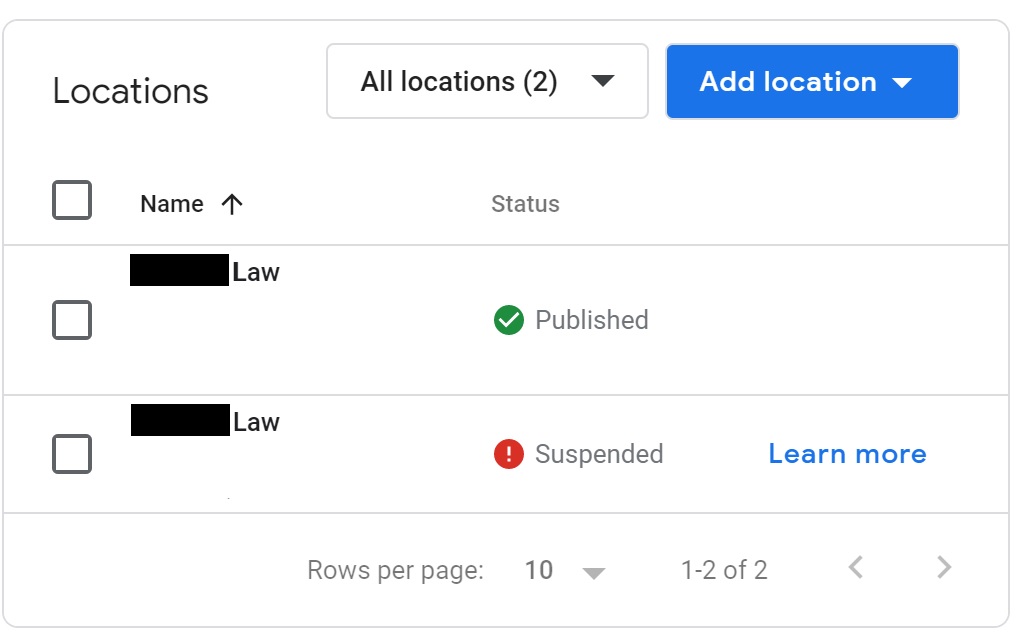 Here's why, and what to do about it.
How we got here:
I work with several personal injury law firms and it is no secret that some attorneys like setting up "fake" satellite offices and physical locations just for the purpose of getting a Google My Business page. Of course, having such a page gives them the chance to appear in the Local Pack and can result in inbound phone calls and new clients. While this is a violation of the GMB rules, historically there's been almost no downside other than the occasional suspension of the specific page which is bending the rules, and, it seems like almost everyone is doing it.
Then in late 2018 there was a massive abuse of GMB by lead gen company. I documented this massive personal injury spam outbreak here in March 2019. In a nutshell, someone set up around 5,000 fake GMB listings. As soon as enough marketers caught wind of this and complained to Google My Business they finally began cracking down.
Google My Business Pages Being Suspended:
I wrote about an uptick of GMB suspensions in May 2019. Thanks to some lawyers who emailed me after seeing that article I have now discovered that Google is routinely suspending GMB pages which belong to personal injury law firms. I believe this is algorithmic and requires no human intervention. Any little thing can send a page into suspension – in some cases – nothing at all seems to occur and the pages and up suspended. I have seen several legitimate personal injury Google My Business pages belonging to PI lawyers get suspended as well.
What if Your Real GMB Page is Suspended?
The warnings in GMB are vague and simply read "Your listing has been suspended due to quality issues. Learn More." and the "learn more" link just takes you here to some random nonsensical page.
If your legitimate page was suspended, begin an appeal here or just call Google. Be advised that they may ask you to prove to them that you are a legitimate business, especially if you're located inside of an office building. The process is frustrating and takes a few days, and no, you can't speed it up. They may be asking you for pictures of signs on the outside of the building or the building's directory (to make sure you're not using a Regus shared office space). You may be asked for other documentation such as a utility bill or business license. To call Google, while logged in to the account which manages GMB, click here to talk to a specialist. Alternatively, you can also request a callback. Note: If you request the call back, your phone will get a call from Mumbai, India, from a number such as +9-22-6101-4512.
What if Your Fake GMB Page is Suspended?
If your fake location is suspended you can still appeal the suspended listing. However, that is against the rules. Sometimes it works, sometimes it doesn't. As mentioned above, Google may request photos of the building or office space, and also business licenses and utility bills. If you have a shared office, you're not going to be able to supply these things.
A possible, slightly spammy solution: Instead of the $99 shared office, you could probably rent out a small office which runs about $600/mo. These seem to be available in every major city – usually someone somewhere has little 150sf offices available. This would give you a "real" location, and you could have your law firm's name on the office door. While this is technically a violation of GMB rules as it likely wouldn't be staffed during all business hours, I can't see how a GMB employee would be able to tell that from half way around the world. Someone could easily say to GMB "Yes, this is a real office, and here are the pictures to prove it, here's the documentation for it, and here's a video showing me walking to our law firm, and here's the door to it."
Here's an example I found on Craigslist: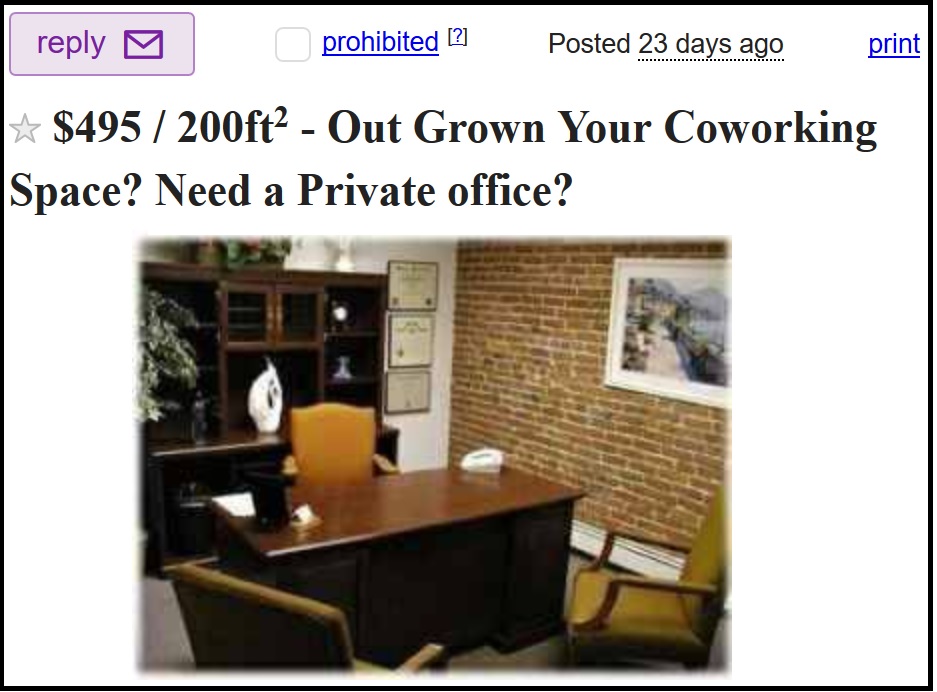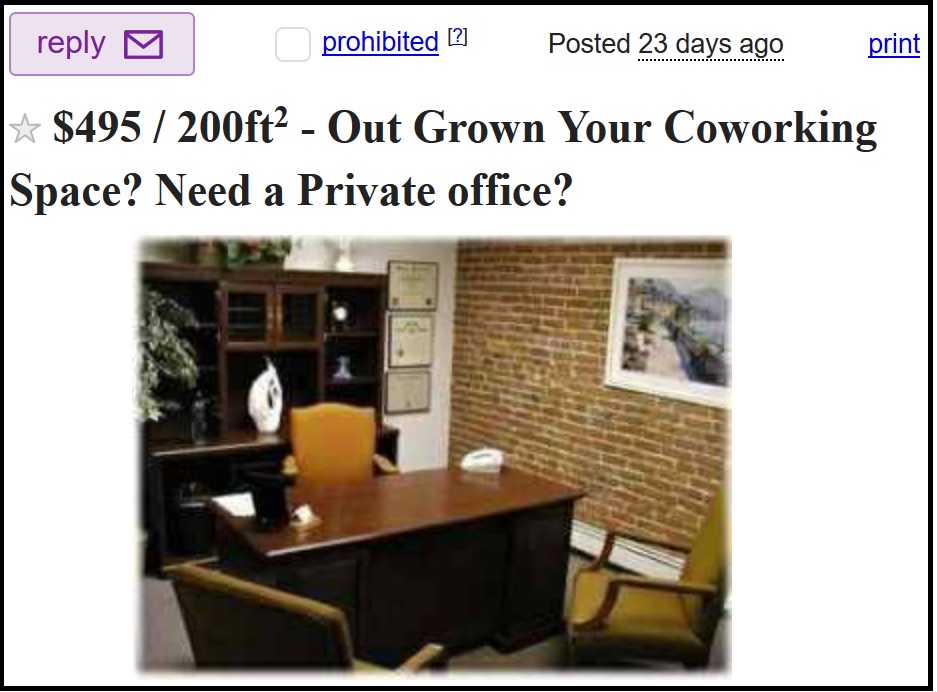 NOTE: Repeated Suspensions May Result in a BAN.
I have been hearing through the grapevine that if you are repeatedly suspended, the GMB team may permanently ban your account from having a GMB page. If you have a legitimate location and a few fake satellite locations, this would be really bad. It's just something to think about before repeatedly asking them to un-suspend an actual fake listing…
Recap
Due to years of abuse, Google is algorithmically cracking down on a few niches such as drug rehab clinics and personal injury attorneys.
If your legitimate page was suspended, you can appeal to have it reinstated. If you're in an office building, be prepared to prove you have a legitimate location.
If you have a fake location, beware that multiple suspensions may end in disaster.