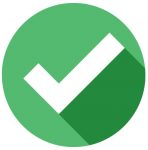 On July 28, 2020, Google Local Service Ads (LSAs) arrived to a wide variety of professionals, including attorneys, financial planners, accountants and real estate agents. The rollout occurred almost exactly 5 years to the day from when Google began testing "Home Service Ads" in 2015 for plumbers, HVAC techs and locksmiths.
As far as LSAs for professionals go, Google has been testing this with immigration lawyers and estate attorneys for quite some time.
Don't worry, organic rankings and the local pack will still remain far superior to LSAs. An extensive study shows LSAs receive only 13% of clicks.
As you may know, I work with several personal injury law firms. I'm currently recommending setting up LSAs and shifting budget from Google Ads to Local Service Ads to test it out. I have about a dozen firms in the signup process on the day of the rollout and I'll update this article as new information becomes available.
A picture is worth a thousand words, so without further ado, let's take a look at exactly what a Google page will look like with LSAs present. Please keep in mind that I crafted this image below to help you visualize what a page with LSAs, Google Ads and a 3 pack will look like. Not all pages will show all three.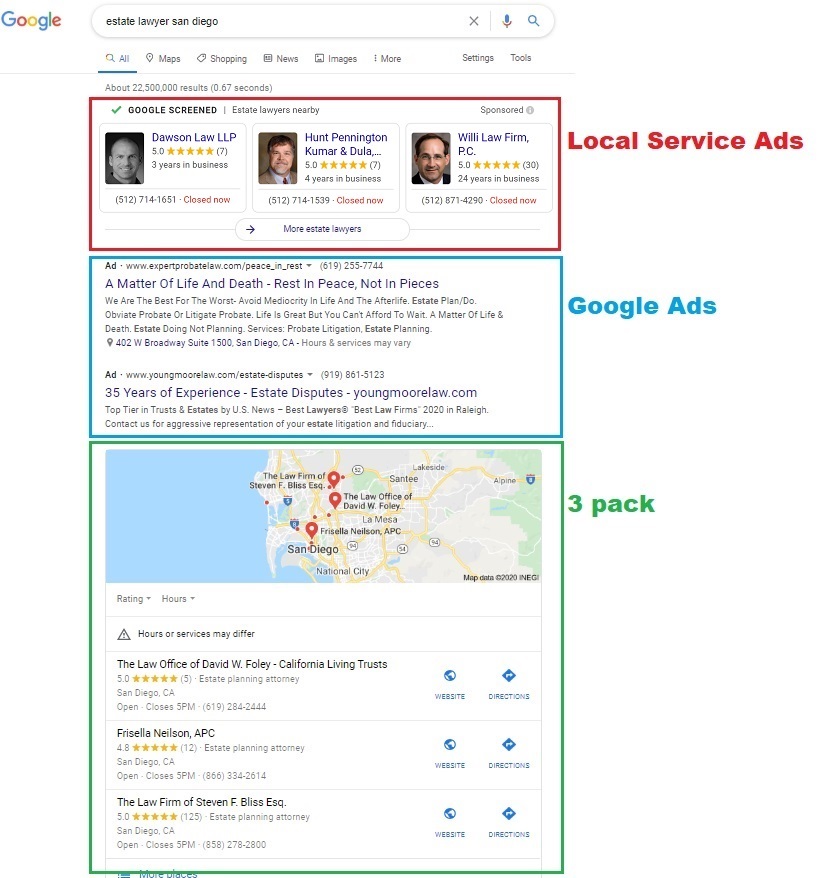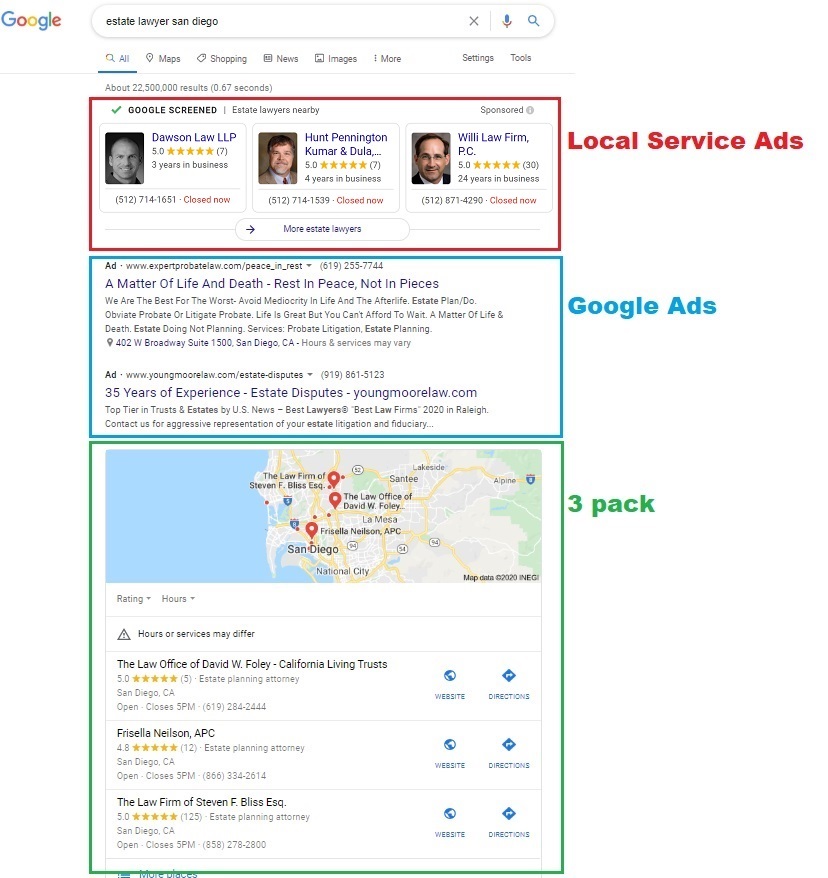 I should point out here that Personal Injury Attorneys will get their headshot in the ads. That's new. Plumbers, HVAC techs and other Home Service providers didn't get this feature, just professionals.
What I like about Local Service Ads.
It's brand new, so much remains yet to be seen, but so far, I like Home Service ads for several reasons:
Guaranteed Leads. You won't pay for clicks on LSAs, only calls.
Headshots. Every lawyer at your law firm can be in the headshots.
Google screened. It's a neat badge and Google is obviously going for click through rate here. Spammers won't be eligible for a screened badge as there is a real screening process.
What You'll Need to Setup Local Service Ads
Don't even bother starting the process unless you have a whole bunch of information handy. If you're having myself or another marketing expert configure your LSAs they'll need to get into your Google Account and act on your behalf.
Here's a list of what you'll need to sign up:
Business name (exactly as appears with the Secretary of State and/or Business License)
Owner's name (The majority shareholder or partner you'd like to account name under)
Total # of "professionals" (The total number of State licensed attorneys at your firm)
Year founded
Languages spoken
Headshots (You need at least one. You will need photos for all additional attorneys who would like their photo in LSAs.)
License information (You will need the bar number and expiration date for each and every attorney.)
Background check with Pinkerton (You will need to run a business background check. More on this later.)
Budget.
Attorney names (Hopefully you know these! You will need their full, exact name.)
EIN
How To Set up Local Service Ads:
Here's a list of steps to take to configure LSAs if you'd like to do it yourself:
1. Visit the Local Service Ads Signup form: https://ads.google.com/localservices/signup/eligibility
2. Setup your service area.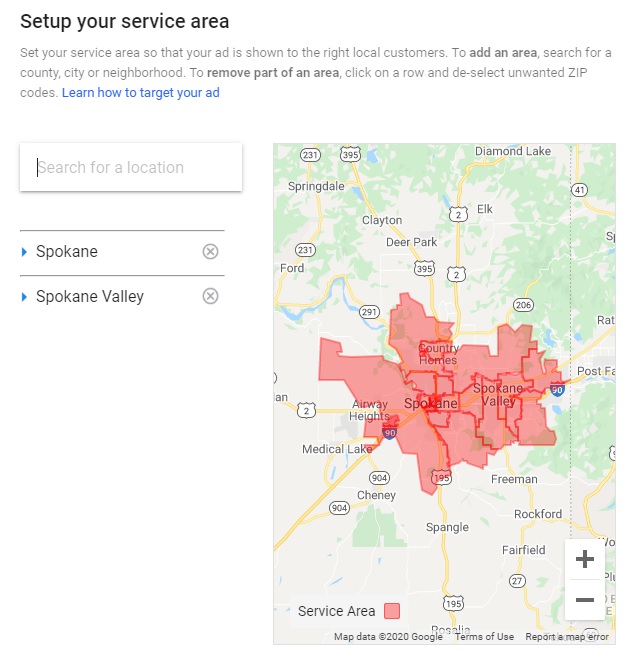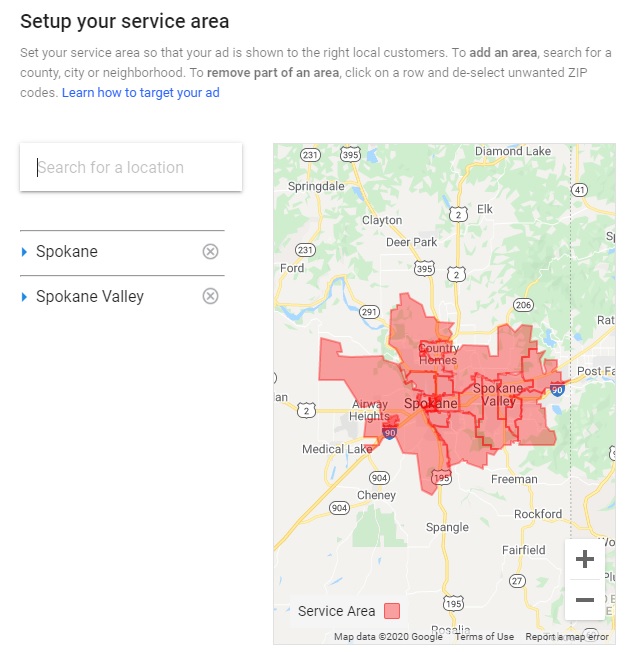 3. Select your service types. For personal injury lawyers, service types include medical malpractice, dog bites, auto accidents, etc.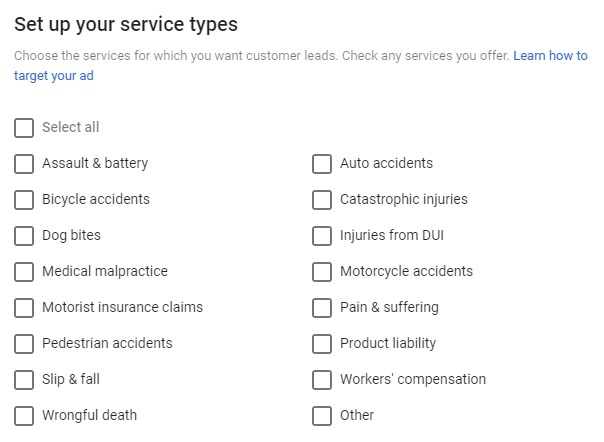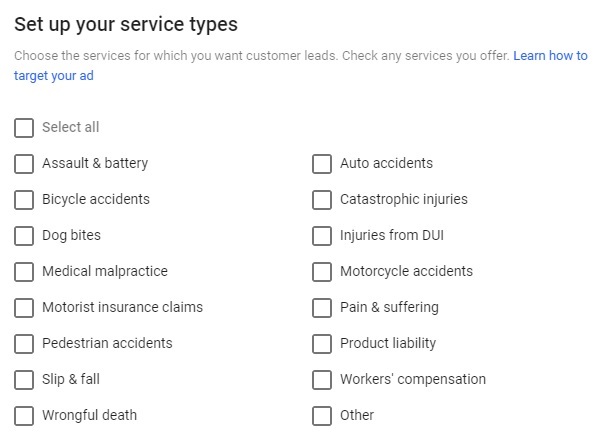 4. Add your business hours.
5. Preview your ad. Don't worry about your headshot not showing up on this screen.
6. Begin the verification process. This is where you will need all of the information as mentioned above. Once you've submitted the information, Google will need time to verify all of it. Pinkerton will need to run a background check. There's a lot of information needed, as mentioned above. Here's what the screen looks like: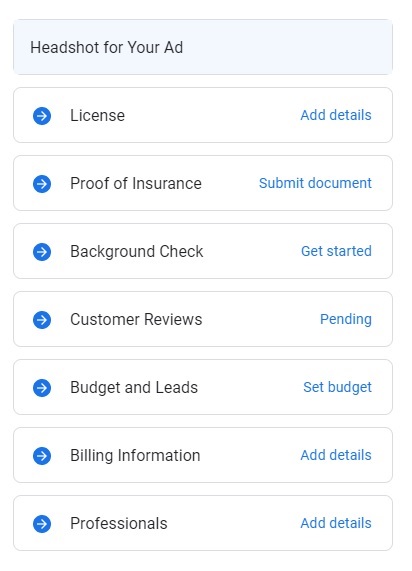 FAQs about Local Service Ads
As soon as the rollout began and I let my law firms know about it, my inbox exploded with questions. In fact, I sent over 100 emails today. These are great questions and I'll keep posting them here as I learn more.
Will Local Service Ads replace the 3 pack?
No. As I mentioned at the beginning of this article, in comprehensive studies, 87% of people scroll past LSAs. Lots of people won't click ads. Simple as that. The 3 pack is not being replaced by LSAs.
Isn't this just Google Ads (Adwords)?
No. This is different because you are not charged per click. You are charged per call.
When will I see Local Service Ads?
As of July 29, 2020, I'm not sure. But they'll be in search results soon, so I'd recommend signing up right now.
Will my reviews transfer?
Yes. Your existing reviews from Google My Business will be shown in the LSAs.
What should my budget be?
This depends on what your competitors are doing, how congested your area is and the service area that you're targeting. You will give Google a weekly budget. LSAs will display when you have budget remaining.
What types of lawyers are eligible for LSAs? 
Practice areas currently allowed by LSA include Bankruptcy lawyers, Business lawyers, Contract lawyers, Criminal lawyers, Disability lawyers, DUI lawyers, Estate lawyers, Family lawyers, Immigration lawyers, IP lawyers, Labor lawyers, Litigation lawyers, Malpractice lawyers, Personal Injury lawyers, Real Estate lawyers, Tax lawyers and Traffic lawyers.
I need to talk to Google about my ad.
Local Service Ads support is available Monday – Friday, 9 am – 9 pm ET at 1-833-272-1444, however, as of August 2020 the phone is not being answered. For help with an existing Local Services account use this number: 650-260-5700. You can also email Google LSA. And there's a help page here: http://g.co/ads/contact-localservices.
Will Google call to sell me these?
No! If someone calls to sell you LSAs, they're impersonating Google.
What do you think?
Local Service Ads look like they'll be an interesting addition to organic, Ads and the 3 pack. Please feel free to comment below with any questions or suggestions you may have about Local Service Ads for Personal Injury Lawyers.