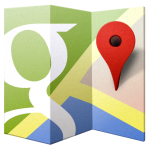 Most people call Google Local Search Results "Google Maps results". These local results completely changed last night, August 6, 2015. There is now a "3 pack" of local results in searches made via desktop computers.
If your business has lost its ranking in local search or you would like to rank in these search results feel free to contact me here now. Ranking in these results is greatly correlated with organic rankings and reviews. I have case studies available from around the world of white hat SEO in work to help pages rank organically and also offer reputation marketing to assist with getting more reviews from your clients.
You should have been expecting this change
Ok, I realize that nobody expected this change. But, we should have. Why? Mobile first.
The results changed to a 3 pack in Mobile Search long ago.
Google has been experimenting and implementing changes in Mobile Search for quite some time now. After they're satisfied with mobile, the changes then come over to the desktop.
Before and After
Over the last 12 months there have been 1 pack, 2 pack, 3 pack, 4 pack, 5, 6, & 7 packs. 7 packs were the most common and had A, B, C, D, E, F, and G positions in local search results.
Now, there is a uniform 3 pack across most search results.
What this means for business owners
Ranking in local search results and Google Maps is more important than ever.
This change just took place in the last 24 hours. I will be spending a lot of time digging through data and looking at various search results. I track search results all over the USA & Australia. Organic rankings and the number of reviews play a great role in how pages rank in local search. They are not everything though, and there is a portion of local search which is unknown. Sometimes pages which should rank do not. Anyone who tells you they know they "code" is either ignorant or flat out lying to you.  There are, however, ways to rank well organically, and this is done via SEO and Content.
More news on this as it becomes available.
Also – in some niches the local search results have been completely replaced with Ads! If you weren't aware of this, please read about the Google Home Services Beta.
UPDATE: See a list of changes and how it will impact businesses in my latest article August 2015 Search Results are all about the money.