As of February 2015, personal injury attorney law firms that rank well in Google Local results (aka Map Results) are correlated with the attorneys and firms who rank well in organic search. The people and firms in the local results get far more calls than the people who use paid advertising.
In today's example, we're looking at law firms in Raleigh North Carolina. The Google Local results fluctuate but in this image below, you can see the firms in the A – G position.
A. Whitley Law Firm
B. Law Offices of James Scott Farrin
C. Hardison & Cochran
D. HensonFuerst, P.A. Personal Injury Attorneys
E. Kurtz & Blum, PLLC
F. Zaytoun Law Firm
G. The Becton Law Group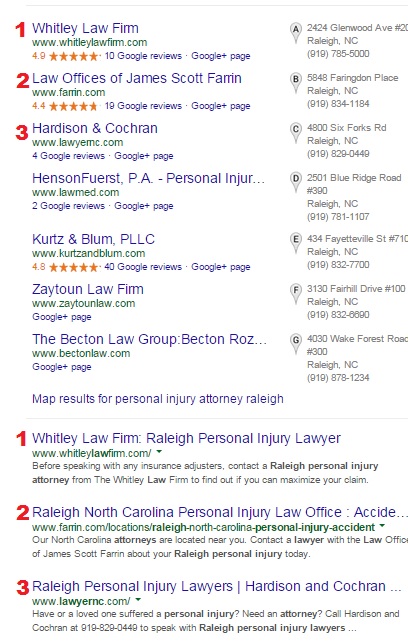 In the past, Google Local results were very easy to manipulate. Businesses located near the center of the city displayed first. Later, Google Local started taking into account the number of reviews. When Google Pigeon was released, all heck broke loose. In many niches, these results change depending on users location. I monitor these results in many large cities around the United States and Australia, and, as of early 2015, in personal injury, the local pack results have a very strong correlation with organic rankings.
Organic rankings and content are more important than ever.
If you need better ranking in this niche, feel free to visit my page dedicated to personal injury content & SEO.
I have never seen a niche quite like personal injury. All of my clients check their rankings on a daily basis. I have real estate agents who have never even visited their website. This is not the case with lawyers. They are always more SEO savvy than any other niche. Some know enough to get themselves into trouble, and others have a decent understanding of basic concepts. This is what makes them the perfect client for me, as I offer unique content solutions and completely white hat SEO. This is always cost effective for personal injury attorneys.
All niches perform a bit differently. Law firms performing in Google search always have good "authority". This comes from high quality backlinks. Please notice I did not say "quantity". Of course, if you are ranking for an area of practice that is nice and all but there are people who have absolutely no idea what wrongful death is. People search for all kinds of things, including "settlements for dead spouse". Large pieces of content rank well for long tail searches like this. What also helps is having content going up onto your blog on an ongoing basis. If you take a look, you will notice that Whitley, Farrin, and Hardison all have user friendly websites with active blogs on site.
Conclusion
Personal injury attorneys who have better Google Local results have good organic rankings and often have good (and recent) client reviews attached to their Google My Business page. Organic rankings are attained via website authority. Website authority is attained via great, unique content and quality links from high authority sites.